Being a good maintenance technician means you'll need to work well in a team and have a specific set of technical skills. Making a complete list of their duties and responsibilities is not an easy task. Many factors can dictate the day-to-day of a maintenance technician.
That being said, we will provide a thorough overview of all of the things you need to know if you want to become a maintenance technician and advance your career – or if you want to hire one to expand your maintenance department. 
What does a maintenance technician do?
Aa a maintenance technician you are responsible for the repair and upkeep of the facility you work in, including most of its assets.  Often, your responsibilities include general maintenance tasks that do not require specialized training. Part of your job is to recognize when the task is above your skill level and should be handled by an electrician, plumber, refrigeration mechanic, or another specialized technician.  In practice, many maintenance departments will look to hire people that have some background in one or more of those areas so they can handle most of the issues in-house. Maintenance teams do this to save money because outsourcing can be costly. Here are some general tasks and responsibilities you may see as part of a general maintenance technician job description, no matter the company:
Handling assigned work orders and PMs (inspections, oil changes, meter readings, etc.)

Performing a variety of

routine maintenance tasks

Dealing with incoming work requests

Communicating existing and potential issues with your supervisors; most often

maintenance manager

or

facilities manager

Using your CMMS or paper records to log maintenance work

Cleaning and maintaining the tools you work with

Abiding by different safety measures and policies
This is a very general list, so we'll break it down even more by zeroing in on the three most common job types and specific tasks you'll have to perform.
1) Industrial maintenance technician 
Industrial maintenance technicians are responsible for:
Solving mechanical, electrical, and hydraulic issues on various production and facility equipment

Reading, analyzing, and interpreting technical procedures, electrical

schematics

,

blueprints

, service manuals, and work orders to perform required maintenance work

(Dis)assembling/installing new machines, condition monitoring sensors, equipment, etc.
2) Building/property maintenance technician
Building maintenance and property maintenance essentially mean the same thing, so it is only natural that technicians working in those environments have similar duties: 
Evaluating, repairing, and maintaining plumbing,

carpentry

, electrical, and

HVAC

systems in the building 

Receiving and responding to tenant reports of mechanical or maintenance issues on their premises

Maintaining the fire, carbon monoxide, smoke, and other safety systems within the structure
3) Fleet maintenance technician
Fleet maintenance technicians, as the name suggests, have a little more specialized list of responsibilities:
Servicing, diagnosing, and repairing all fleet vehicles 

Performing

preventive maintenance

on all fleet vehicles

General maintenance

of their transit facility (repair shop and all stored equipment like pumps and vehicle lifts) and its surroundings
These are not complete lists, but they show the similarities and differences between maintenance technician specialties. If you're looking for a job in the maintenance space, you will find many similar positions advertised that have a lot of overlap in required skills and responsibilities. Some of these positions are maintenance mechanics and industrial electricians. Depending on how much specialized work there is on any given day, mechanics and electricians are often seen performing general maintenance work as well.
Skills you need to be a good maintenance technician
As a maintenance technician, you'll need to possess a few specific traits and skills to be successful.  (And if you're a manager, these are skills you'll want to help your team cultivate).
1) Problem-solving skills
No technician's skillset is complete without basic troubleshooting ability. As a maintenance technician, you need to finish assignments as soon as possible to reach predefined production numbers. It doesn't matter whether there's an unplanned breakdown or scheduled downtime. You will quickly learn that the solution to a problem is not always readily apparent. To find the solution, you will have to go through a series of steps:
Gather information

Synthesize it

Draw conclusions

Execute a solution
Maintenance checklists can help streamline some maintenance processes and repairs, but plenty of situations don't match any template. You will have to inspect the breakdown, check maintenance history, talk with machine operators, and take all of this information into account to correctly diagnose the cause of failure and perform needed corrective actions. 
2) Broad technical knowledge
Maintenance technicians are often expected to be the jack-of-all-trades. Your tasks often require you to know a little bit of everything. Having a basic knowledge of how to use standard hand tools and power tools will come in handy as you shift from one task to the next.  On top of that, if you want to become a strong addition to your maintenance team you'll need to put in extra effort to learn the ins and outs of all of the machines on the plant floor — something which industrial maintenance technicians are very familiar with.  Having the skills to work independently means you will pick things up faster and won't have to be watched over as much in their early days (which will make your manager very happy).
3) Attention to detail
When you're dealing with technical issues daily, having a well thought out approach and the ability to focus on minor details is highly beneficial.  Imagine this. A critical piece of equipment has an unexpected breakdown. You need to step in quickly to not only ensure the equipment gets back up and running fast, but also that no one gets injured. Carefully following safety protocols (like LOTO procedures) is essential. Missing a step could mean bad news for everyone. It's often small issues that are missed that create larger problems. When you have great attention to detail, you create a safer working environment for yourself and your coworkers. Bonus: It will benefit the company's bottom line by catching problems before they become a bigger issue (this should get you some bonus points with your manager).
4) Physical ability
Being a maintenance technician can be physically demanding. You cannot be someone who is hesitant to get your hands dirty. The job often requires you to work in awkward positions, carry heavy objects, spend lots of time on your feet, repeatedly climb up and down stairs, and so on.  Being focused and alert during your shifts and overtime work is also not easy if you're in poor physical shape. It goes without saying that being good with your hands and having strong manual dexterity is a big plus. You won't be defusing bombs, but will definitely feel like that a few times throughout your career.
5) Basic computer skills 
More and more organizations are moving from reactive to preventive maintenance. They are using modern CMMS solutions like Limble to make that transition as smooth as possible.  This means that you need to know how to use a mobile phone to read work orders, track work notifications, log performed maintenance work, etc. That being said, the responsibility of the CMMS provider is to ensure that their software is easy to use in the first place.  Here at Limble, simplicity is one of our key goals. Limble is a mobile-friendly CMMS that will let you automate your work management, which means you'll be able to work faster, ditch the busywork, and help the company save money (which will make your boss happy). To learn more about a CMMS, check out our What is a CMMS System and How Does it Work guide.
6) Patience 
Patience and people skills are not something you will often find on the list for technical job positions, but that doesn't make them any less critical. Finding the root cause of a specific breakdown is not always going to be easy. Dealing with constant interruptions in a reactive environment can be very annoying. Improvised solutions that result from not having the proper tools or parts won't often work on the first try.  It is much easier to deal with these kinds of problems if you can remain calm and patient.  Sometimes, you may have to deal with work requests from machine operators and people from other departments with unrealistic expectations. Patience will also come in handy in these situations as you work to resolve the issue and teach others what they can expect in the future.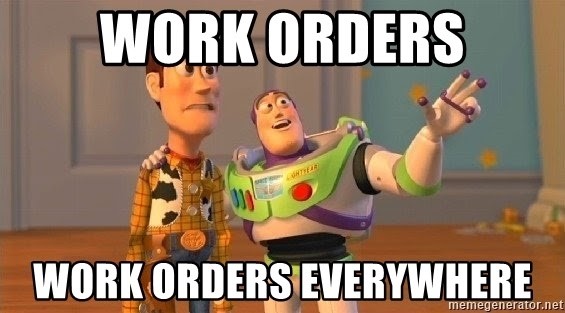 7) Communication skills
Strong communication skills are very important in the world of maintenance. It's imperative that you're able to excel in both verbal and written communication.  It's also important that you're able to provide clear instruction. This ensures that repairs are completed quickly and accurately.  Not only do you need to be able to communicate effectively, but you also need to be able to interpret others' communication properly. This will help you to more quickly comprehend instructions/directions as you read through manuals, documents, plans, and work orders. 
Maintenance Acronym Guide
Confused by PMs, MTTR, and DFMEA? This maintenance acronym guide will have you talking the talk in no time.
How much money can a maintenance technician make?
A maintenance technician salary depends on several factors. Here are just a few:
The industry you work for

The size of the organization you work for

Years of experience

under your belt
In our research, we found that entry-level positions at smaller organizations start at around $30k/year, while experienced technicians at top companies can earn upwards of $70k/year. Translated into hourly pay, the range is roughly between $15 and $22 per hour. You are probably more interested in the average yearly salary. Here is what the big job platforms say about yearly salary for the US market:
Payscale

says that the average hourly wage for

maintenance technicians

is $19.22, putting the

annual salary at about $40k.

There's potential for higher earnings with bonuses and overtime.

Salary.com

suggests that the average installation and

maintenance technician salary

is

just over $59k/year

. 

Indeed

says that the average hourly wage is

around $19.47, putting the annual salary at about $40k with an additional $7k earned by working overtime

.
Glassdoor puts the average base pay at $45k per year, with salaries varying somewhat across different industries.
Average maintenance technician salary in the United States. Updated Nov. 2021. Source: Glassdoor
Employers should definitely be on the lookout for new ways of attracting qualified workforce to combat the aging workforce and prevent labor shortage. 
Getting your first job as a maintenance technician 
You know you're good with your hands, you're a great problem solver, and you get a lot of satisfaction from doing things right the first time. You're confident this would make you a great maintenance technician, but how do you get a job doing something you've never done before? Here are a few tips to help you get your foot in the door as a maintenance technician.
1) Non-professional experiences count! 
Experience doesn't always have to be formal and it doesn't always have to be in the classroom to make an impact on your career. There are so many ways you can get hands-on, non-professional experience.  Here are a few examples of non-professional experience that lay a solid foundation for the beginning of your maintenance technician career. 
Classes you took in high school through school or community education.

Did you take a small engines class? Or maybe you took a class in

landscaping

, manufacturing, or even welding. Any beginner class is a great example of your interest and shows that you have the basic knowledge you need to get started in a maintenance tech career. 

A machine/appliance you fixed up for a friend.

Have you ever helped a friend or acquaintance fix their car? How about a toilet? Light fixture? Having experience diagnosing and fixing even small machines or appliances is the perfect start to your career! (Pro tip: Use this friend as a reference on your resume)!
A side-hustle helping neighbors maintain their vehicles.

Maybe you've started a side-hustle bringing in a little extra money by helping your neighbors maintain their vehicles. This is invaluable hands-on experience that perfectly prepares you for a career in maintenance. 

A summer job you had as a teen.

Did you mow the lawn for a little extra cash as a teen? I bet you had to fix your lawn mower from time to time, right? Other summer jobs that might provide non-professional experience are car washes, auto body shops,

landscaping

companies, etc. 
2) Leverage your networking skills 
Ok, we know! Networking is a scary word, but it's not as hard as it seems!
It also provides benefits beyond finding job opportunities. A few additional benefits of networking include expanding your knowledge, gaining a mentor/advisor to help you along in your career, and building confidence. There are many ways to successfully network in both professional and personal settings. Below are just a couple suggestions to help you get started. 
Industry groups
Industry groups are a great way to get connected quickly with like minded people. The following are examples of professional groups you can join based on your interest/speciality.  iATN – International Automotive Technicians Network: 
iATN provides an interactive environment where you can learn from your peers, search millions of real-world discussions and repairs, discover how to work more efficiently, and study best practices. 

Qualifications to join:

4

years of experience

or ASE certification

Cost:

$0 – $45/month, cost varies depending on your level of membership
BIN – Business Industrial Network:
BIN offers industrial training products, resources, and classes in industrial maintenance, engineering training, and other vocational education. With over a hundred industrial training products, you won't have a hard time finding the training that works best for you. 

Qualifications to join:

None

Cost:

No upfront membership fees, trainings/resources priced individually
FSETA – Flight Simulator Engineer and Technician Association
FSETA is an international accreditation and training program for flight simulator technical maintenance personnel that provides formal recognition and a specialized technical training guide for maintainers of qualified flight simulation training devices (FSTD's) all over the world.

 

Qualifications to join:

None

Cost:

$100 – $325, One time fee varies depending on membership level
PHCC – Plumbing Heating Cooling Contractors Association:
PHCC provides legislative advocacy, education and training to approximately 3,300 plumbing and HVACR open shop and union businesses and 65,000 technicians. 

Qualifications to join:

Own or work for a business in the field

Cost:

$1000 annually (This covers a whole business/company, so all employees automatically become members)
LinkedIn
If you do nothing else to network, make sure you're on LinkedIn. LinkedIn is a simple way to take the "work" out of networking.  If you don't already have a LinkedIn account, your first step is to sign up. Once you sign up with an account, you will want to connect with everyone you know. Think friends, family, past/current co-workers and bosses, classmates, neighbors, etc. Then comes the fun part – get active!  Here's a few tips to help you expand your network:
Join job search groups and start making connections
Connect with people with a title you're working towards
Connect with the colleagues and professionals you already know
Ask for recommendations from your contacts to include on your profile
3) Complete an apprenticeship or internship
Hands-on experience in a real world environment goes a long way to proving you have what it takes to be a good employee. Finding an apprenticeship or internship is similar to finding a job.  Just like in a job search, networking is a fantastic tool when searching for an apprenticeship or internship. The more people you're connected to, the more opportunities that will open up for you, but networking is not the end all be all.  Many apprenticeships/internships are listed on job boards like Indeed, Monster, Glassdoor, etc. that you can search for and apply to directly. Or, you may find that you can secure an entry-level job that provides on-the-job training in lieu of an apprenticeship/internship all together. 
4) Consider getting some technical training
Advancing your career may require a certification or credential of some kind. Depending on the specialty you're interested in, there are a variety of maintenance technician programs that provide great training opportunities.  We'll talk more about these in detail in a little bit, but a great place to start your search would be at your local technical college. (They can provide you with information about financial aid opportunities as well).
5) Prepare for the interview 
Update your resume and cover letter. If you don't know where to begin, check out CNET's suggestions for best resume writing services for 2021. Additionally, having a mentor give you feedback, searching for profiles with similar job titles on LinkedIn, and reading our blog facility maintenance resumes to inspire you are all great ways to start or improve your resume and cover letter.  It's also important that you prepare answers to commonly asked questions: What type of training do you have? How do you solve problems that arise unexpectedly?, and Why are you applying to this position? Head over to glassdoor to find a more extensive list of the 50 most common interview questions. 
Getting a promotion: From "technician" to "manager"
Looking to level up your job title? There are several specialty maintenance roles to choose from, but not all specialties are created equal — especially when it comes to career development and training.  You can start most entry level maintenance jobs with a high school diploma or GED. While additional training may not be required to move forward in your career, it is often helpful.  We've outlined five specialty maintenance jobs below along with required training, median wage, and overall earning potential. Wage information was taken from Monster.com
1) Plumbing maintenance
Training required

: No specific training is required, but you must be licensed in your state (requirements vary by state, check your state's department of labor for specifics) 

Median wage

: $76,159/yr

Earning potential

: $96,675/yr
2) Electrical maintenance 
Training required

: No specific training is required, but you must be licensed in your state (requirements vary by state, check your state's department of labor for specifics) 

Median wage

: $75,789/yr 

Earning potential

: $96,901/yr
3) HVAC maintenance 
Training required

: Most

HVAC

technician jobs will require, at minimum, one of the three trainings: Certificate, Associate degree, or an Apprenticeship. You must also be licensed with the EPA to work with refrigerants. Check your state's department of labor for other licensing requirements. 

Median wage

: $23.41/hr 

Earning potential

: $31.78/hr
4) Groundskeeping maintenance 
Training required

: Many groundskeepers receive on the job training, but most employers will expect some level of post-secondary training. A license is also required in most states. Check your state's department of labor for specifics on licensing requirements.

Median wage

: $14.09/hr

Earning potential

: $18.47/hr
5) Machinery and building maintenance 
Training required

: Generally speaking, an associate degree will be enough for someone to get started as a

building maintenance technician

, but additional training is never a bad thing! (To see some specific training suggestions, check out our blog on the

10 best facility maintenance training courses

)

Median wage

: $63,933/yr

Earning potential

: $91,672/yr
It's a good idea to continue training throughout your career to ensure you stay on top of rapidly changing technologies. Depending on the amount of training you would like to do, more doors may open for your career as well. 
Maintenance technicians are the foundation of every maintenance department
An organization can have expensive machines, perfect inventory control, and superb maintenance plans and schedules, but it's the technicians on the ground doing the work that keep things running. The world runs on the work of maintenance technicians. The work you do every day as a maintenance technician is essential to keeping a business functioning. Because of this, it's important to lighten your mental load as much as possible because when your job is easier you can do your job better, get the recognition you so deserve (i.e. A promotion or raise), and improve your quality of life. Limble is a tool that can help you do that.  Limble CMMS makes your life easier by…
Having an easy-to-use system that members across the company can utilize

Supporting proper training and onboarding practices

Ensuring maintenance work is completed on time

Follows industry best practices
If you're interested in testing out Limble CMMS for yourself, here are a few ways to get started: 
Proper maintenance training and onboarding, supported with an easy-to-use CMMS, will go a long way to ensure that the maintenance work is finished on time and follows the industry's best practices.