The machines that keep the world running can't operate without a skilled maintenance mechanic standing by. 
Whether you're looking to add one to your team or become one yourself, you already know how critical this position is to any maintenance department. 
In this article, we'll look at all the details you need to write or recognize a good maintenance mechanic job description including the job duties, required skills, and potential earnings for maintenance mechanics. We'll even share some tips and resources that separate the good from the great. 
The machines that keep the world running can't operate without a skilled maintenance mechanic standing by. 
Whether you're looking to add one to your team or become one yourself, you already know how critical this position is to any maintenance department. 
In this article, we'll look at the job duties, required skills, and potential earnings for maintenance mechanics and even share some tips and resources that separate the good from the great. 
What is a maintenance mechanic?
A maintenance mechanic takes care of equipment. They typically split their time between routine maintenance tasks and equipment installation and repair.
Maintenance mechanics are often confused with maintenance technicians, but the key difference is in the name. A maintenance mechanic specializes in machine upkeep while maintenance technicians often maintain the facility. Technicians typically do not have specialized training like mechanics do.
As a maintenance mechanic, you may be expected to assemble, inspect, install and test new pieces of equipment to ensure they are in good working order. You will need to troubleshoot and perform emergency repairs when something malfunctions.
Industries that need maintenance mechanics
Maintenance mechanics are in higher demand every day as the world becomes more reliant on technology and machines.
According to the Bureau of Labor and Statistics, "Overall employment of industrial machinery mechanics, machinery maintenance workers, and millwrights is projected to grow 19 percent from 2020 to 2030, much faster than the average for all occupations."
Maintenance mechanics can find work in a variety of fields: 
Aviation

Construction

Electronics

Energy

Manufacturing
In each of them, maintenance mechanics are responsible for equipment maintenance that keeps the business running.
Maintenance mechanic job description and responsibilities
In addition to production equipment maintenance, maintenance mechanics are also responsible for helping keep their facility in good operating condition by performing preventive maintenance, machine tests, troubleshooting, resolving technical issues, and performing emergency repairs.
Common job duties can include:
Installing and assembling new machines and equipment

Maintaining a

preventative maintenance

schedule for inspecting, servicing, and testing machinery

Diagnosing and repairing machine failures

Installing replacement parts (which you'll often fabricate yourself using machine shop instruments)

Using

power tools

and different

hand tools

to complete assigned maintenance tasks and

work orders

Following industry best practices,

SOPs

,

LOTO procedures

, and other safety guidelines

logging performed maintenance work through either paper documentation or a CMMS
There's plenty of opportunity for growth in the maintenance industry. 
When you move up in the ranks to become a senior maintenance mechanic, your job duties may change. You may be tasked with creating maintenance schedules and assigning work to other team members. You may also supervise and train new maintenance mechanics that enter the plant floor. 
With new opportunities often comes greater responsibility, but we know you're up to the challenge.
What makes a great maintenance mechanic?
If you're going to do a job, might as well do it right…right? Here is a shortlist of essential skills that will help you stand out from other jobseekers. 
Problem-solving skills
A good maintenance mechanic must be good on their toes. The job often requires identifying machine breakdown causes and creating solutions on the spot — sometimes under a great load of pressure.
Technical skills and qualifications
You will need to read schematics, use precision measurement tools (as well as many other maintenance tools), follow instructions, and understand general mechanical systems.
Different businesses will require different qualifications. For example, a maintenance mechanic that is a part of a building maintenance team might not need a forklift certification, but they will need one for HVAC.
Physical ability 
Being a maintenance mechanic can be physically demanding, too, with long hours and lots of time on your feet. You'll often spend time in awkward positions, picking up heavy tools, and moving large pieces of equipment.
Good with your hands
Having basic mechanical skills, along with steady hands and not being afraid to get your hands dirty are staples for every maintenance mechanic.
Basic computer skills
As more and more organizations focus on streamlining their business processes, using technology is unavoidable. The maintenance department is no exception. Using email, working a smartphone and other computer software programs are must-haves for a modern maintenance mechanic. 
Maintenance Acronym Guide
Confused by PMs, MTTR, and DFMEA? This maintenance acronym guide will have you talking the talk in no time.
Adding a CMMS to your toolbox
Speaking of computer skills, many organizations have started using CMMS or computerized maintenance management systems to improve efficiency.
A CMMS like Limble can help track performance metrics, show ways to improve, help streamline workflows, improve efficiency, and save money. Those who can see the big picture and find ways to save company resources (like a CMMS) undoubtedly stand out and get noticed…and maybe even get promoted. 
If your company doesn't use a CMMS yet, become the maintenance department rockstar by implementing one.
How to become a maintenance mechanic
So you want to be a maintenance mechanic. Here are a few steps to get you started down the path toward landing that job. 
First, you should have a high school diploma, GED, or equivalent. Next, think about what you enjoy doing, and choose a niche to specialize in that fits your background, interests, and skills. Think aviation, vehicles, construction, etc. 
Some jobs will want their maintenance mechanics to have a two-year associate's degree or certification from a similar program in industrial mechanics. See below for a couple suggestions on different accreditations. 
The most beneficial step you can take is to simply get that on-the-job experience. Much of a maintenance mechanic's expertise comes from daily practice. An apprenticeship may or may not be required, but hands-on experience with someone in the field always helps.
Standing out from the crowd
Career advancement generally requires additional certifications and training. Here are some popular maintenance mechanic certifications:
If you plan to work on electrical systems or plumbing, you may need state licensure. Once you find your specific niche, you can find certifications that might apply to your job.
Maintenance mechanic salary
How much cha-ching are we talking about for maintenance mechanics? Like most jobs, that depends on the size of the organization and your level of experience. But we can say that the average maintenance mechanic salary in the United States ranges from about $41,600 and $58,000. 
For example, Glassdoor lists the average base pay at around $53k for a full-time job in the private sector. In contrast, a government job could net you almost $61k on average.
These numbers will also vary based on where you're working. For instance, you'll earn more working in Los Angeles than in rural Nebraska. 
Your field will also depend on how much you earn, with full-time airline mechanics making the most, at nearly $64k on average (with higher earning potential over time).
Source: Glassdoor
To sum up, if you're just starting, the expected salary for an entry-level position is around $38k per year. Technicians with 10+ years of experience ready to take a more supervisory role can earn north of $60k per year.
Work Order Ticketing System Templates
These useful templates will help you get a handle on work order ticketing and management.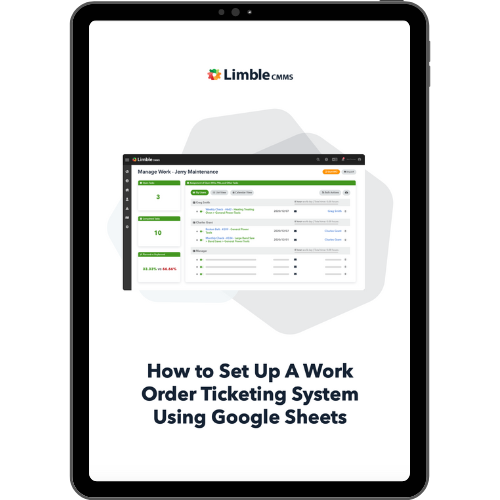 Getting a promotion: From "mechanic" to "manager"
If you think a paycheck of over $60,000 a year sounds pretty good, you'll need to get a promotion first. So how can you go from a mechanic to a manager? 
The first thing is to put in the time. The best way to get promoted is through time and experience. The more years you have under your belt doing great work, the more valuable you become.
However, that's not the only way to get a promotion. Other factors can influence the direction your career takes. 
Here are a few other tips for landing that promotion.
Get a degree
Many maintenance managers have degrees from trade schools in their chosen field. Although it is possible to obtain a position as a maintenance manager without a college degree, having one will increase the likelihood of promotion later. 
Some positions require a minimum of a bachelor's degree, especially for a technical or industrial facility. You can also complete coursework at a vocational school to gain additional knowledge.
Get leadership experience
A managerial position requires at least some experience not only in performing your primary job responsibilities but in leading others. Find specific projects or teams where you can play a leadership role now to start getting managerial expertise.
Earn certifications
As mentioned above, you'll find a wide range of certifications for maintenance mechanics. Find what you're interested in, and go after certification in that area. Once you're in a specific industry, you'll also find additional industry-specific certifications.
Don't be afraid to stick your neck out
This is one you can do right now, today. Speak up if you see something that could be improved, simplified, removed, or made more efficient.
Look for ways your team could be more effective and communicate positively and openly with management to share your suggestions. Showing that you have an eye toward improvement and the initiative to do something about it will show you got what it takes to handle a bigger role.
Update your skillset 
Being a manager requires other skills beyond what you do on the job:
Technical skills

: The advanced-level skills of your job.

Safety mentality

:

Understanding how to keep yourself and employees safe on the job.

Time management skills

: must manage and prioritize several projects and tasks, make and adhere to deadlines and create timelines for work completion.

Communication skills

: maintenance managers work with all types of people and departments, from employees to management staff and executives. Managers must be able to communicate effectively and explain complex ideas and processes to a non-technical audience.

Computer skills

: Many managerial-level jobs require some form of computer work. You'll need to create schedules, monitor and order stock, and complete educational classes.
A CMMS is a great tool to help maintenance managers keep everything running smoothly. A good CMMS is easy to use on a computer or mobile device and will be an essential tool in your arsenal.
Wrapping it all up
Maintenance mechanics are a vital part of many companies and industries. It offers a great job outlook offering stability, growth opportunity, and a variety of specializations to suit your interests.
Whether you are already a maintenance mechanic or have stepped your role up to manager, we've got the tools to help you succeed. Limble CMMS and customer success team can support you on every step of your journey.
Reach out to us today for a demo, and learn how to take your job to the next level.