Every piece of equipment in your company requires regular maintenance for smooth operations. Many companies only focus on reactive maintenance; however, a growing number of organizations are now developing preventive maintenance plans for machines.
Preventive maintenance helps with the upkeep of equipment, reduces equipment failure and unplanned downtime, and improves your machines' longevity.
In this article, we'll go over the steps to create a preventive maintenance plan for machines.
Let's get started.
Creating a Preventive Maintenance Plan for Machines
A preventive maintenance program, otherwise known as a preventative maintenance program, is a proactive maintenance planning strategy. Most companies focus on routine maintenance and reactive maintenance.
However, to ensure your machines' longevity, you should go for a proactive approach to maintenance. Preventive maintenance plans for machines include various maintenance tasks and a comprehensive preventive maintenance checklist in the end.
Many companies use computerized maintenance management systems (CMMS) or other maintenance software to ensure effective preventive maintenance. A CMMS software makes it easier to develop a maintenance strategy and enact your preventive maintenance plan. However, you still need to manually develop a preventive maintenance plan for machines.
Follow these six steps to develop an effective preventive maintenance plan for machines. 
Step One – Preventive Maintenance Plan Design
Every PM program is developed to increase the equipment life and reduce unscheduled downtime. However, you should list all other objectives of developing a PM plan.
That can include lowering costs, increasing savings, achieving minimal unplanned downtime, and minimal lost production opportunity time. Other things can include reducing spare parts usage, reducing manufacturing interruptions, reducing labor costs, increase machine life spans, improving the quality of products, and maximizing manufacturing time per machine.
PM procedures should be developed by maintenance team members that understand OEM recommendations. The maintenance team would have a good idea of the machines' performance history and service requirements. The same maintenance crew examines the static and dynamic systems, check the age of the machine, and observe the foundation, mechanical, electrical, support, hydraulic, pneumatic, control, and electronics systems.
The idea is to analyze how power spikes, power losses, operator errors, and environmental factors can affect each machine.
A large part of a preventive maintenance plan for machines includes predictive maintenance rather than corrective maintenance. Therefore, a detailed analysis to catch potential machine problems and repair them beforehand needs to be a priority in the PM tasks.
Lastly, your PM procedures usually require specialty tools, such as drills, scissor lifts, forklifts, and torque wrenches, among other tools. Your PM procedures should include details on how to safely use and maintain those specialty tools.
Step Two – PM Schedule
Once you're done listing the proper PM procedures, you would upload them in your Computerized Maintenance Management System (CMMS). At this point, you have to develop a maintenance schedule, with each PM procedure scheduled to efficiently make use of the people and resources available.
Preventive maintenance scheduling is done daily, weekly, monthly, quarterly, semi-annual, and annual PM events. Not all machines require daily or even weekly checks; however, they do need monthly, quarterly, and annual checks. Your preventive maintenance software keeps track of the maintenance checks for you.
You don't necessarily have to develop your preventive maintenance schedule from scratch every single time. Depending on the maintenance needs, some maintenance managers and maintenance technicians tend to bundle various monthly PM tasks into a quarterly PM task. The same can be done with multiple quarterly PM's that can be included in the bi-annual PM's with additional inspections.
Usually, this is done to reduce maintenance costs and the overall preventive maintenance work, while ensuring all preventive maintenance tasks are taken care of.
If an organization manages to set up their PM schedules effectively, properly, and efficiently, your total PM time can be minimized. It wouldn't reduce the cost of repairs with each machine or decrease failure modes, but it will save time and resources you can invest otherwise.
Checklist for Creating a Preventive Maintenance Plan
Following a consistent Preventive Maintenance Plan can make life easier. Use this checklist to create your own!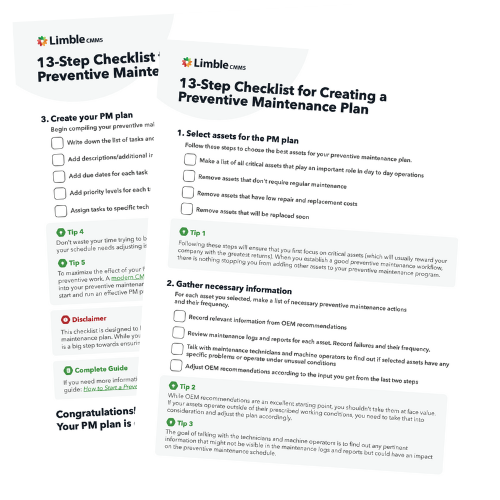 Step Three – Machine Lubrication Engineering in PM
Almost all of the manufacturer recommendations include the importance of lubricating rotating and reciprocating machine parts. Many maintenance professionals misunderstand the importance of lubrication in preventive maintenance; they consider the PM plan as a means of ensuring a lubrication program.
However, the reality is more complicated, and lubrication tasks require much more effort than is traditionally thought. You need to visually and physically inspect the machine and its components to write the appropriate PM procedures for the lubrication, for starters.
You need experienced professionals to tell you what lubricant you need for each machine. You need a clear idea of what lubricant needs to be used, in what quantity, and at what intervals.
You would have to track the lubrication program of each machine separately and determine the lubricant types, application quantities, and application frequency to move on.
After you've made your observations, you have to include the lube lists and relevant instructions with each PM task. This is extremely crucial for your critical assets and critical equipment.
Most importantly, despite the routine maintenance, you need to manage the lube storage. It's imperative to make sure that the storage area meets all the safety and legal requirements. Furthermore, you need to assign someone to do inventory on the lubricants and manage restocking logistics.
Lastly, you need a waste material disposal procedure. You can review and adjust your lubrication procedures to reduce costs, resources used, and improve the best practices.
Step Four – Preventive Maintenance Training
Your preventive maintenance plan for machines won't be successful if the maintenance crew doesn't understand it properly. Therefore, PM training is a major part of any PM plan.
Mostly, maintenance technicians and general maintenance workers consider themselves experts in their fields, especially when they've been at it for years. However, procedures change, machinery changes, and maintenance requirements change. In other cases, individuals will be doing something in a way that is compromising to the machine without even realizing it.
In any case, that can eventually lead to disaster and equipment downtime. As a result, it's essential to develop PM training programs where the labor and maintenance team is trained on the PM procedures and best practices.
It's crucial for each team member to understand all the steps for preventive maintenance in machines. It's very much possible that individuals are either not utilizing the right tools for maintenance or doing it completely wrong. In the short-term, that won't matter much, but in the long term, it can lead to multiple equipment failures.
The idea is to provide complete PM training to the point where any individual can offer the same training to a new recruit. It ensures that each maintenance worker understands their roles completely and can become a long-term asset.
It's best to offer continual feedback on work orders and maintenance activities to further solidify their training.
Step Five – PM Program Management Plan
It's crucial to have a proper preventive maintenance management system in place. The best way to go around that is to have a complete work order system in place that captures labor hours, materials, and task details.
With a great work order system, you can:
Check how many corrective work orders were required for different machines.

Notice the number of spare parts required by each work order.

Figure out the number of work orders addressing breakdowns.

Consider the number of man-hours required by each work order.
When you have the metrics above, you can track and manage your repair costs, equipment costs, and develop better PM tasks.
Planned maintenance can be managed by a simple checklist, but preventive maintenance management requires you to keep track of multiple factors. However, you can make PM management easier by doing the following.
Figure out the best CMMS reports you can use to gather the most information in the least amount of time.

Deduce how you want to spread PM responsibility, whether you want to give tasks to all maintenance team members or a select few.

Find out the most effective way to communicate PM program success to department managers and upper management.

Consider the pros and cons of a dedicated PM team for PM work.

Figure out whether the workers understand PM tasks or just following instructions.

Check whether the PM tasks are completed properly and effectively.
By the end of doing all of this, you can move on with your PM management.
Step Six – Communication and Collaboration
The last step of any successful preventive maintenance plan for machines is to develop proper communication channels. Communicating the past success of PM programs is essential for reaffirming your PM team and developing two-way feedback channels.
You don't only have to tell your workers what to do; you have to help them understand the procedure, its importance, and its implications. You also have to train them on performance measures to help them understand if they're doing enough.
Each preventative maintenance plan is adjustable and malleable, prone to continuous improvement. Therefore, it's crucial to have each team member's input to determine the best practices of your PM plan.
Even something as simple as a worker offering a better servicing procedure for your HVAC system should be taken seriously and considered. The idea here is to utilize the expertise and experience of every individual to develop better PM plans and implementation procedures.
Bottom Line for Creating a Preventive Maintenance Plan for Machines
Traditional maintenance includes corrective action, condition monitoring, and a reactive approach to maintenance. It always leads to a smaller machine lifecycle and a longer parts list over the years.
A preventive maintenance plan for machines uses proactive steps to ensure the longevity of your machines while reducing downtime.
The best way to reduce equipment, repair, and maintenance costs is to develop a tailored preventive maintenance plan for machines. Most importantly, follow up with it using a complete preventive maintenance checklist.
CMMS Buyer's Guide
Learn the questions to ask and the features to look for during the CMMS selection process - and find the right CMMS for you.