What is "smart" about smart maintenance?
The real magic behind smart maintenance is the ability to analyze and make sense of large amounts of raw maintenance data. 
Imagine having a CMMS that does everything modern CMMS systems can do but with one exception – it cannot generate reports. You would have to manually open every asset, part, vendor, work order, etc., to get the numbers you are looking for. 
That would not be efficient. And it certainly would not be smart.
Using all kinds of software, sensors, tools, and algorithms, often bundled together under the umbrella of IIoT (industrial internet of things) and Industry 4.0, companies can generate and analyze huge volumes of maintenance data. 
Advanced algorithms can use those data sets for a number of advanced functions such as:  
Automating specific tasks

Predicting equipment failures or malfunctions

Providing personalized recommendations to production and maintenance teams based on real-time production and asset condition data 
The end result is an efficient maintenance department that consistently makes smart maintenance decisions.
Technologies that enable smart maintenance

Smart maintenance usually involves a combination of the following technologies:
CMMS:

Used to capture, store, access, and manage maintenance data and automate maintenance workflows like planning, scheduling, and reporting

.

Condition-monitoring technology:

Raw data from condition-monitoring sensors is used in advanced maintenance strategies like PdM or RxM. It includes temperature, vibration, and noise sensors, as well as techniques like infrared thermography, ultrasound testing, corrosion monitoring, and motor current analysis. 

 
IIoT technology:

Proximity, pressure, smoke, motion, image, humidity, and optical sensors are just

few types of interconnected sensors IoT uses

to collect real-time data about your machines and facility. They help eliminate inefficiencies, improve quality control, and create a more sustainable working environment.   

Industrial networks:

Industrial networks are able to handle large volumes of data exchanged between multiple devices and across large spaces. It helps interconnect sensor and machine data with your industrial applications like production systems, CMMS software, energy management apps, and more.

Artificial intelligence, big data, and machine learning:

Organizations build complex algorithms using a vast amount of data collected through the above technologies. These models help predict equipment failures, implement just-in-time parts inventory management, optimize production, and reduce downtime and overall maintenance costs.  

Augmented and virtual reality:

AR and VR technology is applied on an operational level and used to improve the speed, quality, and safety of the maintenance work performed.
This is by no means a complete list, nor does a smart maintenance program require all these tools or a complete digital transformation in order to be effective. Smart maintenance can span a wide range of functions and technologies to meet the unique needs of the organization.
Checklist for Creating a Preventive Maintenance Plan
Following a consistent Preventive Maintenance Plan can make life easier. Use this checklist to create your own!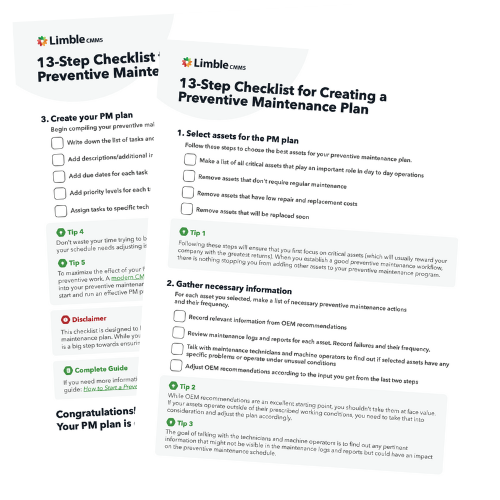 Common smart maintenance applications and examples
Here are a few major systems found on modern production floors that help companies run smarter and more efficiently. 
Predictive and prescriptive maintenance
The ability to consistently predict and prevent equipment failures just before they happen can only be achieved with properly trained predictive and prescriptive models.
Those algorithms need historical data about your assets, as well as a sufficient volume of in-service data coming from your condition-monitoring sensors. The more data they have, the more accurate their predictions and recommendations will be.
We always cite Dan Miklovic from LNS research, as he gave a great example of how these technologies can be applied in practice: 
Let's say a piece of equipment is showing increasing bearing temperature. Predictive analytics looks at the temperature profile and tells you it is likely to fail in X amount of time. On the other hand, prescriptive analytics tells you that if you slow the equipment down by Y%, the time to failure can be doubled, putting you within the already scheduled maintenance window and revealing whether you can still meet planned production requirements.
Read our guides on predictive maintenance and prescriptive maintenance to learn how they work and what their implementation requirements are.
Smart parts inventory management
You probably know that CMMS software can track the number of spare parts you have in stock and send you an alert (or even automatically make a purchase order) when you hit a predefined threshold.
You can achieve even more with smart parts management. 
A smart parts inventory system helps you:
Automate

parts tracking and tracing

using RFID, QR codes, BLE, and the magic of IoT technology 

Achieve real-time visibility into item status, quantity, and location

Generate in-depth reports to compare cost and quality between different parts and vendors

Analyze historical demand data and make accurate forecasting decisions. 
Augmented reality for complex maintenance and repair work
Augmented reality can be applied using headsets, smart glasses, tablets, and smartphones.
For example, maintenance technicians and engineers can wear headsets that can recognize the object they are looking at. The headset then projects additional information about the object or provides visual guidelines on how to perform a specific process.
AR applications in maintenance are spearheaded by industry giants like Bosch and Boeing. However, as the technology gets cheaper, we can expect greater adoption.
As an extension of AR, Virtual Reality has also been useful for maintenance techs, mainly for training purposes. Companies found that practicing delicate work on expensive assets is better done in a virtual environment. Rolls-Royce's Virtual Reality Maintenance Training Software is a perfect example.
All kinds of advanced (reliability) analysis
Maintenance departments will regularly perform all kinds of analyses to solve specific challenges:
FMEA

,

RCM

, and

criticality analysis

to determine the best maintenance strategy for their assets

Level of Repair analysis

to minimize money and time they spend on maintenance

RCA analysis

to identify the root cause behind recurring issues 

Repair vs replace analysis to see if an asset is worth repairing

And many more
What do you need to run all of those analyses? You need data. A lot of data.  
Luckily, if you have been using cloud-based CMMS for a while, you should have timely and reliable data at your fingertips. Data that will help you improve decision making about your assets and processes. 
Build a smart maintenance strategy with Limble CMMS
As a centralized digital platform that holds data about your assets, parts, KPIs, and processes, CMMS software is often the foundation for all other smart maintenance initiatives.
With Limble CMMS, you get an all-in-one solution that can:
Keep all of your asset and maintenance data safe

Plan, schedule, and organize all maintenance work

Help you implement a smart parts management system

Pick up data from various condition-based monitoring sensors

Integrate with advanced analytics software for running predictive and prescriptive maintenance programs

Do so much more.
To learn more about Limble, start a free trial or schedule a quick product demo.
Related Content
Explore our blog for insightful articles, personal reflections and ideas that inspire action on the topics you care about.