Looking to get a better understanding of what are the predictive maintenance tools that you can use to streamline your maintenance plan?
To remain competitive in today's market, organizations must guarantee efficiency and uptime for every machine in the facility.
And that means investing in more than just routine maintenance programs. A high-functioning maintenance program requires sophisticated predictive maintenance tools that leverage artificial intelligence to detect asset failures before they happen.
A proactive approach to enterprise asset management has numerous benefits that end up significantly increasing maintenance return on investment.
But deciding to invest in predictive maintenance is just the first step in leveling up your maintenance program. Choosing the right set of tools and resources is an important step in making it successful.
To help you make educated decisions, we will go over some of the main predictive maintenance tools in the market. And to make sure you get a better understanding of the functionalities of the tools, we will get into the details of how predictive maintenance works.
How Does PdM Work
A predictive maintenance program involves more moving parts than any other maintenance approach.
It uses condition-monitoring equipment to evaluate assets' performance. That means installing sensors into the machines to capture data about the piece of equipment to enable evaluation of the asset's efficiency. Sensors can capture different aspects such as temperature and pressure.
With condition-monitoring sensors, maintenance teams can have information about the asset's operating condition without having to open the machine. This diagnosis automation prevents teams from having excessive unplanned downtime.
By using the Internet of Things (IoT) technology, the different sensors installed in the machines can collect and share real-time data with a central database, that runs using WLAN or LAN-based connectivity or cloud technology.
The data collected is examined using predictive algorithms that identify trends to detect when an asset will require servicing or replacement. These algorithms follow a set of predetermined rules that compare the asset's current behavior against its expected behavior.
Through this exchange of information, maintenance managers can see all physical assets as a whole, allowing them to make sense of what's happening in the machines and identify any areas that require attention.
Checklist for Creating a Preventive Maintenance Plan
Following a consistent Preventive Maintenance Plan can make life easier. Use this checklist to create your own!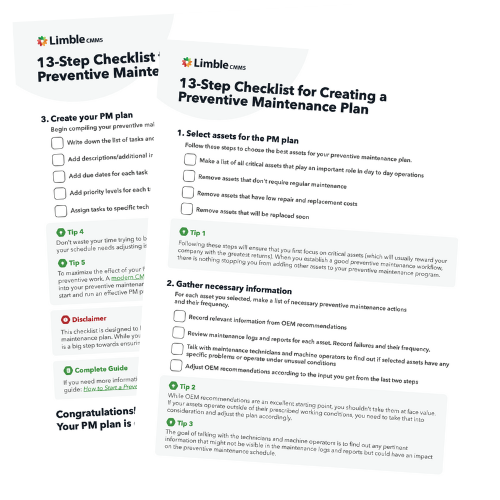 Best Predictive Maintenance Tools
Optimal returns on the maintenance strategy require selecting the best combination of tools and technology for the job. Let's explore the possibilities:
Infrared Analysis Sensors
Sensor data is vital in a predictive maintenance program. IoT Sensors measure different aspects of machines, including temperature, pressure, sounds, and more.
Infrared sensors are used specifically to compare the difference in temperature between components in one view or multiple views over time. Through Infrared Radiation (IR), sensors identify existing or upcoming issues with various types of assets, components, and materials.
Through the varying levels of light of a radiation's wavelength, which is invisible to human eyes, the sensor identifies an item's temperature. IR can compare temperature differences between components in one view or multiple views.
What is it Used For?
Infrared analysis can be used to monitor bearing temperatures in large motors, measure piping conditions, calculate process temperatures, estimate plumbing conditions, verify solar panel conditions, evaluate electrical components conditions (prevalent for ARC flash analysis), check temperature variations of mechanical components (such as motor cases), verify insulation situation, and more.
Is it Worth it?
Infrared thermography cameras and sensors are a common investment for managers structuring a PdM program. Thermal imaging is a great way to quickly measure and compare heat signatures that are not visible to naked eyes, without disrupting operations or putting technicians at risk.
It also allows workers to locate abnormal conditions obscured by other parts of the equipment. But keep in mind that if you need to measure temperature against reflective surfaces, that's not the best option.
Motor Circuit Analyzers
A motor circuit analyzer is a PdM tool that helps get a complete picture of an equipment's motor system's electrical health. Motor circuit analyzers can find faults and potential equipment failures based on electric motors' components.
Motor circuit analysis leverage electric signature analysis (ESA) to identify these faults. ESA measures a motor's supply voltage and operating current to determine issues. ESA works on AC and DC motors.
What is it Used For?
Motor circuit analysis is used to identify problems in incoming power and in motor mechanical components. It detects issues in the stator winding, abnormalities in the bearing, rotor problems, issues in the coupling, problems in attached load, efficiency and system load, and others.
Is it Worth it?
Motor circuit analysis is a practical way to verify pieces of equipment conditions while they are still running. Most motor circuit analyzer tools allow tests to be conducted in about 2 minutes.
It is used only to check electrical components — connected components can be tested, but not the entire equipment chain.
Vibration Analysis Sensors
Vibration analysis sensors read parts vibration to detect problem signals and send over information to a database. When connected to a modern CMMS, it is possible to perceive changes over time by comparing current to previous data. CMMS machine learning also organized data into actionable information.
What is it Used For?
Vibration is one of the top indicators for impeding failures when it comes to rotating equipment. Increased vibration intensity indicates equipment wear off, that without timely intervention lead to asset failures.
Vibration analysis is used to detect faults related to misalignment, mechanical looseness, gear defects, lack of lubrification, resonance, rubbing, cavitation, corrosion, and more. Therefore, it can be used in a variety of equipment types across all industries.
Is it Worth it?
One of the advantages of vibration analysis is that it can be used in a variety of assets. It collects real-time data about an equipment's velocity (speed of the vibration), displacement, and vibration frequency. Within one month of having sensors collecting data, there is enough information to take action. Keep in mind that optimal results require knowledge to select the proper tools.
Ultrasonic Analysis Microphone
Ultrasonic analysis (UA) detects possible issues in machines by using a sensitive microphone to pick up high-frequency sounds. The sound waves are sent to CMMS software and turned into audio and digital data.
Just like with vibration analysis, computer software compares new UA data with known previous recordings for performance tracking.
Portable UA sensors collect data both for immediate use or to compose a complete data set for further analysis.
What is it Used For?
Ultrasound analysis can be leveraged for electrical inspection, steam trap maintenance, optimal lubrification practices, leak detection, mechanical inspection, electric arc flash detection, and valve testing.
Some UA tools have embed thermometers or cameras that allow even higher data analysis.
Is it Worth it?
Ultrasound analysis has a lower acquisition cost when compared to other predictive maintenance technologies. It is also easy to use and to understand since the sounds can often be heard by technicians when using the software.
Another benefit of leveraging UA is that it offers rapid detection and precise location of potential issues. From there, technicians often have the ability to take measurements at a distance without contact.
One of the things to note is that repeatability is hard due to the position of the detector from a test subject.
Laser-shaft alignment tool
Laser-shaft alignment tools are used to test precision-align rotating shafts in a facility. That is because poor installation practices when putting equipment into service are one of the most frequent causes of mechanical failure.
What is it Used For?
Misaligned components, both angular or offset misalignments, place extraordinary pressure on all elements within an asset's drive train. Bearings frequently bear the brunt of misaligned shafts.
Laser-shaft alignment tools feature single laser measurement technology to decrease inaccuracy from backlash.
Is it Worth it?
Laser-shaft alignment tools provide an intuitive way to complete machine alignments. It guarantees proper shaft alignment, dramatically reducing mechanical failures.
One of the downsides is that equipment may need to be stopped to conduct analysis.
CMMS Buyer's Guide
Learn the questions to ask and the features to look for during the CMMS selection process - and find the right CMMS for you.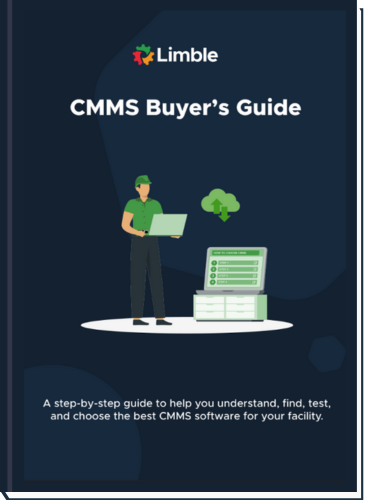 Leverage the Best Combination of Tools
Since predictive maintenance involves more moving parts than any other maintenance approach, it is worth it to make an educated choice when investing in the tools.
The tools mentioned on this list are some of the most commonly used in predictive maintenance activities. They can be leveraged by organizations in many different industries.
Note that there are other PdM tools available for specific industries, that are crucial to compose an efficient maintenance schedule and help reduce reactive maintenance tasks.
Oil analysis tools, for example, are indispensable for oil and gas organizations.
However, regardless of the industry that your organization operates in, investing in CMMS software, such as Limble CMMS, is key in every PdM strategy. That's because it integrates all sensor data and organizes it into valuable predictive analytics.
Predictive maintenance technology is in constant evolution, so being on top of the best tools is crucial to building a strong and cost-effective maintenance strategy.
Limble CMMS for Predictive Maintenance
If you don't want to go wrong and have a guaranteed return on your investment in PdM resources, Limble CMMS is your best solution.
Limble's Modular IoT approach allows you to easily test if a predictive maintenance program fits your facility's needs. Limble CMMS IoT sensors are equipped with:
An instant notification system that sends off notes when sensor levels reach unacceptable thresholds;

Easy-to-use plug and play sensor setup

A complete dashboard that makes it easy to visualize information and make decisions

Automatically triggered corrective work orders when pre-set thresholds are met

Real-time data combined with historical trends to make predictions, and more.
If you want to get more information about how your specific organization can leverage predictive maintenance tools, request a demo with one of our team members.