In the field of maintenance, the phrase, "If it ain't broke, don't fix it" definitely does NOT apply. Waiting until something breaks can result in catastrophic costs. But a little preventive maintenance goes a long way.
We'll share all the benefits of preventive maintenance – and there are many – as well as best practices to ensure you make the most of it.
What is preventive maintenance?
Preventative maintenance is a category of maintenance tasks performed on machinery, facilities, or equipment at regular intervals (before they break down) to prevent them from malfunctioning, or otherwise requiring repair. 
Every piece of equipment (industrial, commercial, etc.) needs regular maintenance to stay in good working condition. By investing a little in these tasks, you can save a lot by avoiding unplanned downtime.
To get a more in-depth understanding of preventive maintenance, take a look at our comprehensive "What is preventive maintenance" post. 
Creating an effective PM plan
Preventive Maintenance may feel overwhelming, especially if you are switching from reactive to preventive maintenance. It can take time and resources to build an effective preventive maintenance program and plan with the necessary components (with triggers, schedules, reporting, and more).  But by remaining focused on the benefits, and making use of broadly applicable best practices, it is worth the investment.
Checklist for Creating a Preventive Maintenance Plan
Following a consistent Preventive Maintenance Plan can make life easier. Use this checklist to create your own!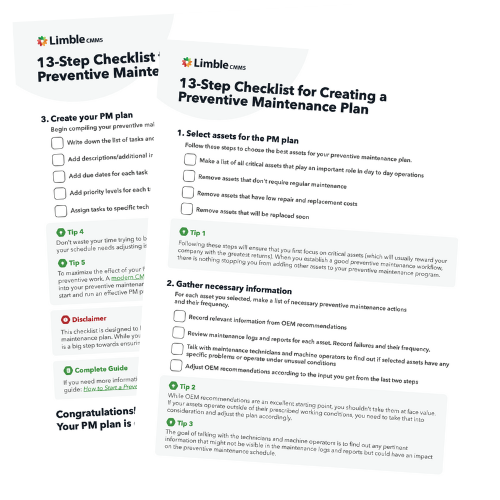 Benefits of preventive maintenance
All organizations with a maintenance function can benefit from a preventive maintenance program. Here are the top benefits – financial and otherwise – of preventative maintenance. 
More efficient use of maintenance resources
Depending on the type and complexity of the equipment a company runs or the property it manages, maintenance resources can be one of the biggest financial sinkholes.
A preventive maintenance plan can help circumvent this problem by more efficiently using resources available.  
More frequent low-complexity tasks consume fewer resources, allowing a smaller team to manage a greater range of assets

Regular cleaning and tune-ups prevent issues that could lead to failure or reduced productivity

High-level technical experts don't need to be hired for urgent or complex repairs as frequently
Furthermore, companies now have the added benefit of preventive maintenance software. These systems can provide regular maintenance checklists and help coordinate company-wide maintenance efforts, making it easier and more efficient than ever.
Early detection of malfunctioning symptoms
Thoroughly observing equipment disassembly and installation is a key preventive maintenance activity. It serves to reveal some obscure faults that would go undetected by a surface diagnosis.
Maintenance technicians discover potential malfunctions and resolve them before they occur

Machine disassembly reveals cavities and facets that are not visible from the outside

Examinations that occur during preventive maintenance reveal factors that can reduce machine productivity

Replacement of dirty or slightly faulty parts eliminates many serious defects

Installation of new functional software can implement auto diagnostics and fault-detection
Additionally, some computerized maintenance management software (CMMS) systems develop an IoT infrastructure that centralizes equipment performance reports. 
Reduced overall downtime
When downtime occurs, it severely impacts overall productivity. By reducing the likelihood of breakdowns, malfunctions, and lengthy repairs, preventive maintenance is the single most effectively way to avoid it.
Repairs can be done more quickly due to customized and well-researched preventive maintenance protocols

Improved equipment reliability prevents downtime altogether

Regularly maintained equipment eliminates production-line breakdowns and performance hampering
Fewer emergency work orders
Emergency maintenance is the most expensive and the most dreaded form of maintenance, especially for companies running high-value production equipment.
Regular preventive maintenance insulates an organization from these issues with the added benefit of avoiding overtime and diverting resources of maintenance staff.
Proactive maintenance scheduling allows for easier planning and procurement of parts and inventory needs

PM inspections identify and resolve potential failures that could otherwise lead to breakdowns requiring emergency repair

"Always on" systems such as elevators, ventilation, and HVAC have improved reliability

Static cosmetic fixtures have improved service life and quality 
A well-researched and well-executed PM program can render most emergency maintenance plans obsolete.
Prolonged asset life
Every piece of equipment eventually runs its course, requiring either repair or replacement. However, preventive maintenance can go a long way toward delaying the inevitable.
Here are some of the ways preventive maintenance prolongs asset health and overall life:
Helps detect and clear even the most minor faults

Allows technicians to judge whether a small adjustment or modification can be made to improve the running capacity of a machine

Enables machines to run cleaner, requiring fewer recalibrations

Allows calculation of asset depreciation, making better procurement decisions

Provides an entry point for effective computerized maintenance management systems to perform real-time monitoring
Smaller waste/scrap production
Poorly operating machines not only consume more power and material (grease, oil, etc.) but also slow down production, sometimes to a halt.
Preventive maintenance ensures no machine runs at less than optimal efficiency.  It also protects brand reputation by ensuring product quality and timeliness.
Here is how preventive maintenance results in waste reduction:
Ensures optimal operation and material consumption 

Provides regular opportunities for defect-detection

Saves on repair costs for more delicate parts, which could be a bigger cause of scrap

Allows engineers to develop better production parameters

Prevents late delivery which could result in wasted products
Some PM plans have built-in waste-reduction protocols that ingrain measures promoting waste-free production.
Preventive maintenance best practices
Preventive maintenance best practices have shifted as new technologies have emerged. Their applicability also varies based on a company's size and scope. Here are seven tried and true best practices that can be applied across a broad range of organizations and maintenance programs.
Run a CMMS system
CMMS systems are at the center of maintenance operations in most modern companies worldwide and themselves provide numerous efficiencies and benefits.A virtual platform that centralizes all maintenance management activities, CMMS software automates much of the administration and documentation involved in preventive maintenance. 
Among other benefits of a CMMS system, using one to facilitate your preventive maintenance program can:
Automate preventive maintenance task scheduling

Attach maintenance checklists to maintenance tasks

Perform real-time

inventory management

Report on KPIs and productivity metrics 

Facilitate documentation and workflows with customized fields
Continued training and development
Ongoing training is an essential component of any preventive maintenance program. It provides a venue to update your team on changes to your PM program and standard operating procedures (SOPs) that enable continuous improvement. 
A robust training and development program will result in:
Diversely talented maintenance personnel

More streamlined maintenance work

More efficient PM program implementation as training progresses

A steadily improving bottom line with no additional hires
Overall, maintenance staff training and development creates a stronger maintenance workforce, and a stronger maintenance program – both contributing to your bottom line.
Install performance monitoring sensors
Performance monitoring sensors can be installed on equipment to collect data which is then used to hone preventive maintenance plans. These IoT sensors can be set up and linked to a CMMS, allowing maintenance teams to see all the relevant data in one place for better management.
Installing these devices on machines has several benefits, including:
Automatic data collection for more precise and proactive maintenance

Remote monitoring for off-site machinery

Data-backed development of proactive maintenance programs

Reduced

mean time to repair

or completion for complicated maintenance tasks
The Essential Guide to CMMS
Download this helpful guide to everything a CMMS has to offer.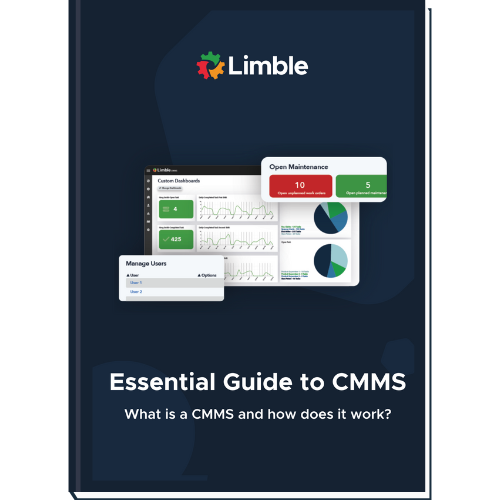 Get expert engineers to develop PM plans
The maintenance managers and crew who work with your equipment regularly know those assets better than anyone. They should be the subject matter experts who help create and customize your PM plans.
Developing expert-backed PM plans has several benefits, including:
Highly detailed insights on regular tasks

More cost-effective preventive maintenance programs

Fewer parts and tools needed for preventive maintenance tasks

Low-redundancy plans that efficiently allocate PM resources

Greater customization compared to PM stock plans
Leverage historical data and machine learning
Sometimes looking to the future means we first have to look at our past. Developing a preventative maintenance plan based on maintenance histories will improve a company's chances of eliminating resource waste. 
By tracking all maintenance tasks and finding patterns and ideal maintenance intervals you can determine which practices will help streamline your maintenance in the future. Analyzing long-term data offers several benefits to the PM framework. These include:
The ideal basis for a predictive maintenance strategy

More precise resource allocation for every job

Knowledge of maintenance parts, quality, and inventory needs 

Shorter troubleshooting and issue identification which reduces downtime
Prioritize tasks categorically
Most PM plans apply a one-size-fits-all approach to equipment maintenance. This means that some of the more valuable and complicated machinery get the same level of priority as other assets. Prioritizing and performing the most critical tasks first will make the biggest impact on your operations and maintenance goals.

Here are some of the advantages of categorically prioritized maintenance:
Increases the life of high-value machinery

Enables skill-based assignment of maintenance tasks, ensuring the right people are on the job

Prevents resource allocation to lower priority machinery

Saves time on individual service sessions

Allows for a smoother maintenance framework for newer companies
Final thoughts
While it may be tempting to rely on reactive maintenance, you will be better off investing the time to create and use a preventive maintenance plan. Not only will you improve the bottom line, but you will also reduce your overall downtime, increase the lifespan of assets, and decrease waste. 
And by sticking close to these best practices like utilizing a CMMS system, your program will begin to see results in no time. 
See for yourself what Limble can do for you, schedule a quick product demo or start a free trial.