Retaining your property's value is the name of the game, and you can't do that without regular upkeep. Here are some tips to give you the best shot at keeping your property in great shape over its lifetime.
Implement a preventive maintenance program
A preventive maintenance program is the fastest, cheapest, and easiest way to avoid large, costly repairs. Here are some examples of what your PM program might include:
Inspect plumbing fixtures and systems

Service air conditioners

Test smoke, CO2 alarms, and recharge fire extinguishers

Clean window wells and gutters to ensure rain can flow freely

Seal gaps in windows, doors, and walls to reduce the prevalence of pests

Seasonal projects like, properly winterize pools and other recreational equipment

Landscaping and maintaining large trees
Prioritize maintenance funding
When so many other issues in your property demand funding, it can be tempting to cut back on maintenance spending. But, this can lead to rapid asset deterioration and an uncontrollable deferred maintenance list which creates an ideal setting for safety hazards.
Usually, it is best to budget a minimum of between 2-4% of your property's current replacement value for your annual maintenance budget. Every dollar you spend on maintenance should save you $5 in the long run.
Buy and use durable components
To keep your property in good shape, use replacement parts that operate safely and last as long as possible. When you stock your spare parts inventory with high-quality goods (fan belts, HVAC parts, light bulbs, motors, pumps, etc.), you're investing in the longevity of your property.
Although very durable items may cost a little more at the onset, they help you save on future repairs and minimize frequent rework problems.
Enable regular property audits
Adopt a custom of regular facility condition assessments (FCA). An FCA will empower you with comprehensive baseline data about how the entire property and its systems perform. That information helps to highlight areas for improvement.
During an FCA, the inspection team will check things like the current condition of all the assets and identify any safety hazards for quick corrective action.

Automate maintenance management
No matter your maintenance team/service provider's competence, it can quickly become challenging to stay on top of every single maintenance task. Especially in multi-unit properties, tracking everything manually is a recipe for inaccuracies.
You can avoid this by automating maintenance management with a computerized maintenance management system (CMMS). A mobile CMMS will help you streamline and optimize every aspect of maintenance, handle repetitive administrative tasks, track safety, measure performance, reduce maintenance costs, and much more. More on this next.
The Essential Guide to CMMS
The Essential Guide to CMMS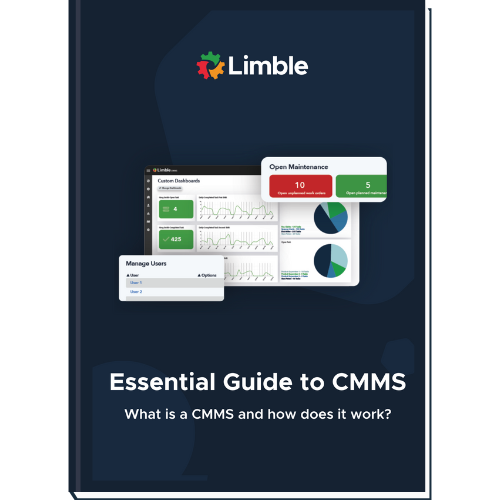 Improve property management with a CMMS
Whether with an in-house team or an outsourced service, a CMMS is the best way to stay on top of all property maintenance activities. To make it even easier, a modern CMMS will allow you to automate much of the administrative work that slows maintenance down. Let's look at how it works in Limble CMMS.
Asset management
In Limble, you can organize properties as "Assets" in a hierarchy, first listing the parcel as "parent" assets, followed by the individual units as "child" assets. In a multi-unit property, you might have each building listed as a parent asset, and each unit within the building listed as a child asset underneath that.
You can create custom fields in each asset so you can track the information that's most important for your business. This can include a unit number, tenant name and contact information, wall paint colors, and anything else that's important for your maintenance team to access.
Each asset contains a historical log of maintenance performed on it. If there's been a flood in the unit, that will be in the asset history. If there's a door with a lock that's often stuck, that might be in the asset history.
This information will help technicians do their jobs better and more efficiently. And, it will give you the tools and the information you need to keep your properties in the highest working order.
Multiple locations
Chances are, if you're working for a property management company, you are responsible for more than one property. With Limble, not only can you easily manage separate units, but you can also organize them easily into different locations.
You manage four different properties, all of which are apartment complexes. Each of the apartment complexes has several buildings within it, and each building, several units.
Within Limble, each property would be considered a "location," each building would be a "parent asset," and each unit, a "child asset." 
Here's a scenario: You may need to replace HVAC filters for each unit on every property each year. But one property has HVAC systems that are much older than the other two, and those filters need to be replaced several times per year. 
Setting up your property maintenance system this way not only helps you stay organized, but you can set up rules and automation that are specific to each property. On top of it all, you can track total costs, as well as compare costs and performance between different properties.
Work requests
Tenants can easily submit work requests through our mobile-friendly work order software. 
Once approved, work requests automatically generate a work order recorded in the unit's history. You can set up custom required fields on maintenance request forms, so you can collect the information you know you'll need.
Technicians can easily send status updates to tenants about their requests through Limble, making communication easier between tenants and the property manager.
Parts inventory
Limble lets you keep track of all your parts and attach them to each asset (or property) where they're used.
Say you're a maintenance technician at a large apartment building where half of the units have recently been remodeled. They all have new fixtures, carpets, and new blinds that have specific components required to maintain them. 
Managing your inventory with Limble would allow you to denote which units were the ones that were remodeled and attach the correct parts to them. So, when it's time to complete service, you know which parts you need before you even do the work.
Automated preventive maintenance
In Limble, you can schedule automated preventive maintenance tasks for each unit and property. PMs can be set up to work on a custom schedule and automatically assigned to specific technicians.
Say you have separate teams of technicians that work only on specific properties. Team 1 works on Property 1, and Team 2 works on Property 2. We don't want tasks for Property 2 getting assigned to Team 1. 
With Limble, you can ensure that your teams are always getting the right work in the right place at the right time.
Property maintenance news and resources
Stay on top of the property maintenance game with these resources:
It's your asset on the line
Whether you own it or manage it, good property maintenance is not something you can afford to overlook. It is required and regulated by law in most jurisdictions. But apart from obeying the law, the benefits of property maintenance are well worth the effort.
Fortunately, it doesn't have to take too much of your time if you stay organized. No matter how your team is organized, what matters is that maintenance is getting done, and done right.
If you're thinking about using CMMS software to improve different aspects of your property maintenance, set up a demo or contact us — we're always ready to chat.