If a large chunk of your company's money has gone into property and equipment, you better have a great way of keeping it all in good shape. That is where Enterprise Asset Management (EAM) comes in.
The purpose of this guide is to help you understand what enterprise asset management and EAM software are and how to use them to your advantage. We'll look at best practices for implementation and ways to keep everything humming along. 
What is EAM?
EAM stands for Enterprise Asset Management. It is a set of processes and tools that allow companies to track and manage their physical assets (machines, equipment, buildings, and vehicles) throughout their lifecycle – from procurement to disposal.
At its core, EAM is used to plan, optimize, execute, and track all maintenance activities with the associated priorities, skills, materials, tools, cost, and other information.
An EAM aims to:
Increase performance and

uptime

of your

physical assets

Reduce operational costs 

Boost environment, health, and safety (EHS)

initiatives

Streamline all activities related to asset management through a centralized platform 
By investing in enterprise asset management, you can get a reliable big-picture perspective of your assets across locations, departments, and facilities, whether those assets are fixed or movable.
All enterprise-level organizations can use EAM. You'll see it most often in asset-intensive industries like utilities, manufacturing, energy, and construction. 
What does EAM do?
Large organizations can have thousands of assets that need to be taken care of. EAM offers one central hub to manage and control this type of complex work environment. While still maintaining efficient production, operating, and service levels. EAM can help you manage work orders, contracts, asset lifecycle, supply chain, and a wide range of other capabilities to help you stay on top of your business.
Work Management
Work management includes managing all planned and unplanned maintenance work. It covers the management of incoming maintenance requests, planning maintenance schedules, tracking work in progress, and coordinating maintenance work with outside contractors. This is why work order management is a core feature in every asset maintenance and management software. 
Asset Lifecycle Management
An essential function of EAM is asset lifecycle management. This can help you move away from an asset tracking system that's kept on paper or spreadsheets and move this essential data into a centralized hub. It helps to plan and streamline asset tracking and management at every stage of an asset's life: 
developing a

procurement

strategy and commissioning the asset

maintaining and repairing the asset throughout its useful life

cost vs. replacement analysis and disposal
Labor Management
Labor Management includes organizing and tracking everything related to the labor force. It can help track the assessment, training, and certification for different employees and contractors. As a feature in the EAM system, labor management makes it easier to access, audit, and adjust work schedules, especially when the labor force grows. 
Supply Chain & MRO Management
EAM software comes with built-in features to improve your inventory and stock control procedures. It allows you to have a clear look at supply chain management at your company. It covers spare parts procurement, stock control, purchasing, estimating demand for materials, and making accurate inventory forecasts. This inventory can be anything from cleaning supplies to machinery spare parts and lubricants (basically all MRO inventory).
Contract Management
Asset management requires a lot of service contract management. Think contracts with employees, partners, vendors, and customers. And then managing those contracts to completion, which includes tracking things like compliance and financial expenditures. An EAM can help make contract management easier and all in one place. 
Analytics & Reporting
By using an EAM system, you'll have a complete overview of your maintenance operations. Combined with a wide variety of reports, an EAM gives you access to in-depth operational insights like:
A summary of the maintenance department's activity in

real-time

Asset performance management

to eliminate recurring problems and reduce unexpected

downtime

Track a variety of key performance indicators (

KPIs

) and

metrics

to find the root cause of any significant problem

A clear trail to track costs associated with every aspect of asset management (assets, parts, tasks, labor,

downtime, etc.

) 
A CMMS like Limble can do the heavy lifting for you when it comes to reporting. You can build custom reports and dashboards to see precisely the data that will help improve the performance of your assets.
Financial Management
Managing finances means using the EAM to gather data on spending across departments and forward that data to accounting. From there, accounting can monitor expenses and project spending. This can help you stay in line with your company's financial goals.
What type of software do I need?
In the past, clouds were in the sky, and the floppy disk reigned supreme. Today, kids see a floppy disk and think we 3D printed the "Save" icon. But we digress. 
Today, we access our software via the cloud or on-site servers. Both have their merits and disadvantages regarding how you and your employees access the necessary programs. Which option you choose is based mainly on your company's unique needs, so let's look at the two choices.
Cloud-based solutions 
Cloud-based means all data isn't stored locally but rather in "the cloud." Cloud-based solutions are often referred to as SaaS – Software as a Service and are hosted on the vendor's servers.
You don't have to physically install anything, and you can immediately access the software through a web browser or a mobile app. Generally, you pay a monthly/yearly subscription to access and use the software. 
Benefits of cloud-based solutions:
Lower startup costs 

You are not involved in the maintenance of the software 

Data security and more regular backups

It can be adjusted to fit your budget
Disadvantages of cloud-based solutions: 
They can be more expensive 

Potentially impacted by

downtime

 

Rely and depend on the strength of your company's internet connection 

May not be secure enough for

multi-tenanted environments 
On-premise solutions
On-premise software has to be installed locally on the company-owned internal servers. While it can be subscription-based, you'll usually pay a one-time fee to get a perpetual license to use the software. 
There are some considerations for on-premise software. You may want everything stored on-premise if: 
You want to have complete control over your business data and its security

You already have an on-premise

ERP

system you want to integrate with

You plan to buy a perpetual license for the

EAM

module because you need to heavily modify it to fit your business needs
Benefits of on-premise solutions:
More customizable

: gives you the ability to add in advanced capabilities or features that can support various departments.

Dedicated IT support on-site

: since the software is on-site, you'll have IT support when you need it. 

Data security

: on-site data is less susceptible to cyber threats. Your organization will be responsible for securing its data rather than handing it off to a third party.

It can be

cost-effective

over the long term.
Disadvantages of on-premise solutions: 
Longer, more complicated setup and installation

Not as mobile-friendly as a cloud-based system

More difficult to move if you need to relocate

Higher

maintenance costs

Not as easily scaled when your company grows
Hybrid-cloud implementation as a third option
The hybrid-cloud system gives you the best of both worlds. Some data is stored on in-house servers, while your day-to-day information is stored in the cloud for faster access by employees. 
Benefits of hybrid-cloud:
Adaptable

: gives your company the agility to change based on their needs

Better support for a remote workforce

: can keep your sensitive data on-premise and other less-critical data on the cloud for employees to access anywhere.

Reduced costs

: easier and less expensive to upgrade/expand as demand spikes. 

Improved business continuity, decreasing downtime

: data can be backed up from the servers to the cloud. As demands fluctuate, some can be shifted to the cloud not to overburden the servers.

Greater control over security

: can choose where to house data and workloads based on compliance, policy, or security requirements. The hybrid environment also lets security teams standardize redundant cloud storage, an important aspect of disaster recovery and data insurance.
Disadvantages of hybrid-cloud:
Hardware costs

: building and maintaining your own hybrid infrastructure can be expensive. 

Managing multiple vendors and platforms

: managing them over both platforms can be a challenge.

Less visibility

: dividing your computing environments across two or more clouds makes for a complicated operation. This can make it difficult to establish a clear picture of your overall cloud environment, including all the systems, processes, applications, platforms, and requirements you have to manage.
EAM as a concept vs. EAM software
Enterprise Asset Management can be looked at in two different ways: as a concept or as a thing (in this case, software or a computer program). You could say that EAM software can help you accomplish EAM. (Whoa). Let's take a closer look:

EAM as a concept 
This refers to the act of managing the assets of a business. It includes a combination of software, systems, and services to maintain and control operational assets and equipment and is an integral part of facility management. The aim of EAM as a concept is to manage the quality and usage of assets throughout their lifecycle. The ultimate goal is saving money, maximizing use, and improving the quality of your assets.
EAM software
This is the tool for managing assets. It provides a complete overview of your organization's physical assets and infrastructure throughout the entire lifecycle of each asset. It also tracks and manages assets from design, commission/procurement to operation, maintenance, disposal, and replacement.
The Essential Guide to CMMS
The Essential Guide to CMMS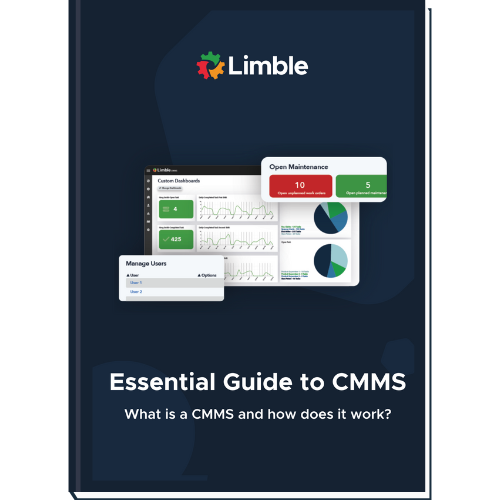 Best practices for using EAM software
When you implement EAM software, you should establish best practices to make everything run smoothly. Having an established set of best practices gets everyone on the same page, from the people on your team to the top levels of your organization. 
As we've seen before, software is an excellent tool for solving problems, but it's not the solution that will fix every issue. 
Suppose your goal is to reduce operational costs and improve profit margins. In that case, it's in your best interest to develop a strategic approach to asset management. Here are some things to consider when looking for the right fit.
Look for the right software support
Effectively managing a large volume of assets is impossible without the proper software support. Whether it's an EAM or a CMMS, every organization needs to have software to manage its physical assets, labor, inventory, and associated costs. 
It's a big job, and EAM software is the tool to get that job done. It's crucial to find the right software that will fit your unique needs and give you everything you're looking for without a lot of extra unnecessary fluff. Selecting the right software is just as important as choosing the right tool for any sort of repair. 
Improve asset database and data capture
Detailed, accurate, and up-to-date data is the foundation of a robust enterprise asset management strategy. It can be downright dangerous to pass along misinformation and make decisions based on inaccurate information.
When using EAM software, it is crucial to ensure the data entered into the system is accurate and up to date. For an enterprise, that might mean developing and implementing a data strategy. 
ERP, EAM, and CMMS software are gaining traction because they serve as a centralized hub, where employees can access the data they need from one spot. This also eliminates data silos (where only one group of people has access to specific data).
Implement the right mix of maintenance strategies 
Your choice of maintenance strategy decides, well, almost everything. It impacts the amount of routine and preventive work, how much spare parts inventory you need to hold, and the amount of unplanned vs. scheduled downtime.
There isn't a one-size-fits-all solution when it comes to maintenance. This is why we think that the best approach is to implement a mix of different maintenance strategies. For example, you can use condition-based maintenance or predictive maintenance on expensive/critical assets and preventive maintenance for all other essential assets.
Every strategy comes with its own set of pros and cons. The final decision depends on your available resources. You should focus on proactive maintenance because the alternative is dangerous in more ways than one. 
For a more in-depth look at maintenance strategies and which one is right for your business, check out our head-to-head comparison of 5 most popular maintenance strategies.
Standardize everything you can
As an organization grows, the rules and guidelines seem to increase at the same rate. As more people join the company, the more critical it is to have everything standardized and documented. 
It may seem trivial or tedious at times, but these guidelines help set up a structure that prevents things from falling apart. But one key thing to be aware of is to make sure you leave some flexibility so that structure doesn't become too rigid. 
When it comes to EAM, many different things can be standardized like:
Setting guidelines is just the first step. Making sure that your team follows these new rules is a whole different challenge. 
But that challenge doesn't have to be as daunting as it might sound. One way to make sure that everyone is following the established rules is by standardizing training. Set up a procedure to ensure that each employee gets the proper training and education specific to their role. 
The second solution is to go digital. Digitizing specific business processes can help streamline workflows and generate automated reports. And most importantly, digital processes leave a paper trail (so to speak) that can improve accountability throughout the organization. Take advantage of automation features that your system provides to help with standardization as well.
Improve communication between roles and departments
In their lifecycle, assets will go through many different hands, and information about those assets will go past even more eyes. If you want to keep them operating smoothly, you need to have a good information flow:
Machine operators and other non-maintenance employees need to report asset issues and submit

maintenance tickets

easily. 

The maintenance team has to be able to schedule and coordinate work between technicians. 

Field mechanics should have a simple way to submit field data and reports. 

Inventory managers

need to get timely notifications so they can create emergency orders or cancel an automated purchase. 

Accounting wants to be able to review and approve those kinds of orders quickly. 
Using a CMMS or enterprise asset management solution and integrating it with your ERP system is usually the best way to ensure quick access and exchange of relevant information.
Set up automated reports for identified goals and metrics
Defining your asset management goals and metrics is the only path to progressive and sustainable improvement. Organizations that cannot accurately track different performance indicators often tend to focus too much on cost. Cost in isolation tells you nothing. You can have significant performance improvements that won't be directly reflected in the total cost.
This is why it is essential to define and track metrics relevant to your goals.
Once again, the software comes to the rescue. Solutions like Limble CMMS offer granular reporting and the ability to set up custom reports. These features allow you to drill down to find the root cause of identified problems.
For instance, let's say you set up monthly reports for inventory costs, unscheduled downtime, and labor costs. You notice that in the last month there was a significant increase in inventory costs. By drilling down into this report, you can quickly identify a problematic asset that breaks down a lot and has expensive spare parts. Then you can see whether the maintenance manager had to make a few emergency purchase orders or if they restocked several months' worth of inventory. 
Check out our guide on the relationship between maintenance metrics and KPIs for more information.
Bonus tip: Compare maintenance cost and team performance across different locations
If you have a business with very similar setups across different locations, you can use this to your advantage. By comparing performance reports, you can see which sites are doing best and which ones are lagging behind. You can then use this information to review best practices from top-performing sites and implement them across the entire organization.
Of course, you have to make sure that the locations operate in similar conditions, so you don't end up comparing apples and oranges.
Will EAM software work for my company?
By now, you're probably seeing the value that EAM software can bring to your job. But is it something that will work for you? There's a lot to take in here. 
You know you'll need to consider all the different EAM software configurations and options. But you also need to consider the vendor you choose. The right vendor makes a big difference in your success (or lack of it) when implementing and getting everyone on board with an EAM program. 
Here are a few things to consider when you're weighing whether or not it will work for your business.
Here are a few things to consider when looking into software and choosing the right vendor. 
Cost:

what are you getting for the price beyond just the initial buy-in cost. On-site hosting and cloud-based solutions each have their merits and drawbacks. Consider your company's most significant needs regarding the value of the features compared with the cost to help make your decision.

Experience specialization

: you want your

EAM

provider

to have a deep understanding of your industry's needs and requirements and to take the time to get to know your specific operation. Ideally, your

EAM software

suite should be customized to your needs and agile enough to update and grow as your business evolves.

Initial implementation

: your

EAM system

should come ready to go and be reasonably easy to use. It should come preconfigured with codes and

metrics

that you need.

Mobility:

a good

EAM system

can be accessed by your employees no matter where they are, either in or out of the office. Ideally accessible on any

mobile device

.

Support and service:

your

EAM

provider

should be with you every step of the way, available any time for technical support.

Scalability:

your

EAM solution

should be able to grow as your company grows. 

Integration:

if you already have software in place, you'll want your new

EAM system

to fit seamlessly with what you already have.
Some time back we outlined the step-by-step process for selecting and evaluating CMMS vendors. You can apply the same process for choosing an EAM vendor. Click here to access that guide.
Head-to-head: EAM software vs. CMMS
Both systems help companies steer away from a reactive maintenance approach and toward a preventive maintenance strategy by automating maintenance activities. However, there are a few defining differences. Let's take a look at CMMS vs. EAM.
Computerized maintenance management systems (CMMS) are software solutions specifically designed and dedicated to automating and streamlining all tasks related to maintenance management. CMMS focuses primarily on managing maintenance when the asset is operational – the time it's up and running and productive. The main functions include maintenance scheduling, managing spare parts inventory and work orders, and tracking asset data.
EAM software covers all of that and builds upon it with additional functionality like tracking asset lifecycle, offering different accounting and finance management functionality, and more. It tries to take a more broad and holistic approach. An EAM system focuses on managing the entire lifecycle of a company's assets, from their design and creation to their disposal. Can also handle tasks related to accounting, finances, HR, and procurement.
In short, EAM solutions have some CMMS capability, but not all CMMS tools have EAM functionality. What if we told you there was a way to have the best of both worlds: an EAM in a CMMS? 
Using Limble CMMS as your Enterprise Asset Management software
There are many options at your fingertips, and it's easy to get overwhelmed. 
Limble has a robust (yet approachable) set of features, and we'd take up the better part of a workday listing them all. So here are a few CMMS features that will be most important to you. 
With Limble, you'll have:
One account

to track up to 1,000,000 assets over 1,000 locations. And you can organize those assets in a clear parent-to-child hierarchy.

Asset information

is structured in

centralized asset cards,

which puts all the relevant information in one place (general asset info, maintenance logs, PMs, WOs, reports). Check out everything you can

customize on your asset cards

with Limble.
QR codes

make managing assets easier. After a technician scans the barcode with their

mobile device

, Limble automatically opens the corresponding asset card. 
Track only what you want.

With our simple and completely customizable fields, you can track location, make, model, manuals, pictures, mileage, hours run, meter readings, and any other information that is important to your company. 
Complete and detailed maintenance logs

for every asset. View all past

Work Orders

, PMs and Work Requests in one easy-to-navigate screen on mobile or desktop, allowing for faster diagnostics and an actionable audit trail.

Real-time reporting

. Know precisely how much a single asset or group of assets costs you, how quickly they are getting repaired (MTTR), how often they are breaking down (MTBF), what parts have been used on them, and how much time has been spent maintaining them.
Customer support?

Our customer success team is the friendliest, most helpful team around — and we're not exaggerating. Our customers love our support team and enjoy getting to work with them over long periods. 
To ensure that all features are fully utilized, we've made Limble intuitive and easy to use. The less training is needed for the software to be adopted, the faster you can see results and return your investment into CMMS. And Limble requires very little training.
If Limble CMMS is on your list of vendors you want to test and review, we have three different options for you:
Schedule a demo

: Contact us, and someone on our team will give you a walkthrough and get you familiar with all of the significant features.

Try a simulated self-demo

: Clicking on this button will refresh your browser tab and load a simulated test environment where you check how Limble works at your own pace.

Start a free trial

: You can sign-up for a free 30-day trial to evaluate if Limble

CMMS

is a good fit for your organization.
Putting technology to work for you
Any way you look at it, managing a high volume of assets is expensive. But, you know what's even more costly? Not managing them.
If you can't track assets throughout their lifecycle or stick to a proactive maintenance plan to maximize their useful life, all you can expect is constant operational issues and an overblown maintenance budget. Now that you're armed with the info you need, choosing an EAM solution should be easier…and if you're still unsure, we're always here to help guide you through the process.