November 11 2020
Maintenance, Repair, and Operations: the Complete MRO Explainer
The maintenance industry is chronically undervalued. Far more than just fixing things, Maintenance, Repair, and Operations (MRO) is an entire field of study. Nothing else a business does matters if it fails to execute on MRO. You can't deliver value amid downtime, stockouts, or safety incidents.
On the flip side, if you know how to measure the impact of your MRO, you can make the case for more staff, bigger budgets, and new equipment.
By the end of this article, you will understand MRO strategies, best practices, career paths, and ways to leverage CMMS data to prove your value.
What does MRO stand for?
The term MRO stands for Maintenance Repair and Operations (also referred to as Maintenance Repair and Overhaul). MRO includes everything the maintenance crew does to keep your facility (and the equipment inside it) in good operating condition. In other words, the main goal of MRO is to keep your business operations running smoothly. 
We know that you know how important MRO is. But that doesn't mean everyone in your company understands this. (Did someone say "Finance"?)
Getting your company to take MRO seriously
Picture a run-down factory. The lights are flickering. Loose, frayed wires are hanging about. And there are suspicious puddles of goo under the machinery. Production has been down on your highest selling product for weeks because you haven't been able to get the budget approved for a crucial repair for one of the machines that produces it. What a bummer.
Now, picture a clean, well-maintained facility. The warehouse is organized neatly and everything is running smoothly. In fact, everything's been running so smoothly that you've had above-average production volume — and the sales numbers to match it! This is the dream.
That's the difference between a company that neglects MRO and a company that takes it seriously. But it's only possible when you get the support you need from other departments. 
Again, you know this. But how do you get buy-in from the rest of your company?
It's all about how you tell the story.
In the following sections, we will introduce the concepts behind that story. Then we will show you how to use a CMMS — in this case, Limble — to pull the exact figures for your company to make the argument even more compelling. Armed with that information, you will find departments are more readily on your side.
Benefits of actively managing Maintenance, Repair, and Operations
Companies that prioritize Maintenance, Repair, and Overhaul management will have better control over processes that affect their cash flow (at the end of the day, that's what it's all about, right?). This next section is full of useful tips to help you illustrate just how important your work is to overall business success.
Keep disruptions to a minimum
When equipment breaks down suddenly, it costs the company a lot of money. By managing your MRO effectively, you can reduce the frequency of unplanned downtime because you'll be able to work proactively. You can make sure you've got the right parts, equipment, and staff to keep things moving when and where you need them.
Good news for you: You're the hero! When faced with a problem that stops business in its tracks, it's you and your team that have the goods to fix it. With a CMMS like Limble, you can back your story up with hard proof. Now you've got back to show that 1) your team has been on top of preventive maintenance; 2) that you've stocked inventory properly; 3) that they've reduced the amount of time it takes to respond to problems; and 4) that they're solving problems faster than ever. Now, you have the leverage to reframe any situation in your favor.  
The script flips from "why isn't maintenance keeping this running?" to "everything breaks at some point — thank goodness we've got a capable maintenance team to take care of it"! 
Good news for your company: Business gets to keep moving! Downtime is expensive — like, really expensive. If you can reduce downtime, that means money keeps moving. And that's precisely what your company leaders want. With a CMMS like Limble, you can set up custom dashboards that generate reports on exactly how much money you're saving your company by reducing downtime. Send 'em upstairs weekly, monthly, quarterly, or however often you need to. It won't take long for Management to notice how effective you and your team are.
Keep your inventory in the sweet spot
Inventory management can be a tricky thing. You don't want to have too much, and you don't want to have too little. Ideally, you want to keep your inventory levels just right as much as possible. 
Holding too much inventory at one time means wasted money. On the other hand, stockouts can lead to costly downtime — and you never know how long it'll take to get back up and running again. Either way, it's expensive. But effective MRO management can help you hit the sweet spot.
Good news for you: Your job gets way more manageable if you've got the right supplies on hand at all times. When you've got the right stuff, you can make sure things keep running on time. A CMMS like Limble can tell you when parts in your maintenance storeroom are already reserved for other jobs. It will also alert you when stock is low on parts, how many you need to reorder, and from whom. It can even alert you when you get parts back in stock so you can pick up where you left off.
Good news for your company: There are significant cost savings found in properly managed inventory levels. And any time you can save money instead of spending it will make your Finance team happy. If you've got the right parts on hand, you can avoid downtime and address maintenance requests right away. Likewise, you can also work toward decreasing stock on items you rarely use. Why spend money on parts you don't need? In Limble, you can set a "stale threshold" which will let you know when you can retire an inventory part if it hasn't been used within a specific time frame that you set.
Beat the breakdowns to the punch
This is a big one. Wouldn't it be nice to follow a predictable schedule of repairs to catch problems before they happen, instead of waiting until after you've got a disaster on your hands? Sounds nice, doesn't it?
Maintenance and repairs are inevitable in any industry. However, depending on which maintenance strategy you use, maintenance costs and benefits can vary greatly. No matter the situation, it's pretty much always better to be ahead of a problem rather than behind it.
Good news for you: Once again, your job is much easier when you can avoid as many problems as possible. When things run as expected, you and your team can be much more effective at your jobs. Inside Limble, you can set up automatically generated tasks, so nothing falls through the cracks. You can even set those tasks to be assigned to specific technicians, so it automatically shows up on their to-do list when it's time to do the work. And if something changes, you can easily reprioritize or reassign tasks with a simple drag-and-drop.
Good news for your company: There's more cost savings potential here too. While you can't expect everything to run perfectly all the time, it's much better when the company's only got to repair a critical piece of equipment, rather than having to replace it entirely. With a CMMS, you can track your company's transition from reactive maintenance to proactive maintenance. Limble's way of doing this is with custom dashboards. You can generate reports that show the number of hours worked on preventive maintenance tasks vs. unplanned tasks and show how breakdowns are declining over time. The perk? You can easily show Management exactly how effective you and your team are at saving them money regularly.
Did we get the point across? Maybe this will move the needle if they still don't believe you after showing them all the data. Check this out: Peerless Research Group runs an annual MRO survey, and its findings pretty much confirm what we just talked about – 94% of businesses think that MRO is important for their organization.
Peerless Research Group annual MRO survey
(Sorry if you work for one of the 6% of companies who don't. Good news: There's a labor shortage, so you can probably find a good job somewhere else.)
The scope of MRO management

Maintenance, repair, and operations activities can be roughly grouped into five categories: 
1) Production equipment repair and maintenance
You can't sell goods without the machinery that creates the end product (we call this MRO inventory or MRO supplies). Over time, wear and tear of production equipment causes malfunctioning, delays, downtime, and other setbacks. These setbacks can hurt both profits and brand reputation in industries that depend a lot on equipment (like manufacturing).
What does Maintenance, Repair, and Operations look like in a manufacturing setting? You've got routine maintenance, emergency repairs, inventory control, vendor management, and regularly monitoring the condition of your equipment (with the help of some additional — you guessed it, equipment!).
To minimize breakdowns and delays, more and more businesses are switching from reactive to preventive and may also be implementing predictive maintenance. On top of that, they are combining proactive maintenance strategies with a modern CMMS solution to stay on top of all of their maintenance KPIs. Keep reading to get all the gritty details on how a CMMS can do all the heavy lifting for you. 
2) Material handling equipment repair and maintenance
Production can't start if your materials can't find their way from the warehouse to the front of the production line. You've got the equipment (like a forklift or a pallet positioner) to get it to the right spot at the right time. But if they are broken, you are in trouble. We call these items your material handling equipment; it's the things that get parts from point A to point B so you can make the goods that your company sells.
Here's an example. If your conveyor systems and robotics arms are poorly maintained and experience a malfunction, you've now got a production line that will indefinitely sit idle waiting for material because there's a break in your production line process.
Material handling equipment encompasses a range of different machinery. While some of the equipment might not be directly involved in the production, they are still essential elements that ensure a stable production process – and should be treated as such.
3) Managing tools and consumables
What about all the little, day-to-day things that keep equipment running properly? We're talking tightening screws, greasing up a sticky wheel, and cleaning up sawdust and debris. These tasks, although small and mundane, play a big part in keeping your shop running smoothly. 
To make it all happen, you need the right equipment to get the job done. This equipment is referred to as MRO tools and consumables:
power tools (drills, electric saws, grinders, sanders…)
hand tools (wrenches, sockets, pliers, cutters, clamps, screwdrivers…)
consumable items (adhesives, lubricants, sandpaper, welding rods…)
PPE (masks, safety glasses, gloves, face shields…)
cleaning supplies
office supplies
What about the raw materials themselves?
We're glad you asked! Raw materials and other production items eventually become the end product your company sells by way of the manufacturing process.
When it comes to production items, inventory control is of supreme importance. If you've got all the parts, you can assemble them, sell them, ship them, and you're on your way! However, if you have all the parts except even one of them, production is halted — which means no sales. Bad news for everyone.
This is when it's handy to have a good relationship with your suppliers.
4) Infrastructure maintenance
Like everything else, building infrastructure needs regular maintenance, too. It won't matter how well-maintained everything is inside your manufacturing plant if the building is falling apart. 
It could look like this: The parking lot needs new asphalt, or your team won't have anywhere to park. The plumbing needs to be updated so it's up to code, or no one will have a bathroom to use. The HVAC system should be upgraded to one that's more energy-efficient, or you're going to hear about the enormous bill — stuff like that.
But this is where things can start to look a little different, based on how your company wants to handle them. Sometimes, companies have an in-house maintenance team to handle MRO. Other times, companies want to contract out Maintenance, Repair, and Overhaul to a third party. There are benefits and drawbacks both ways.
In-house MRO
Benefits:
More control over the maintenance process to avoid unplanned failures
Better qualified and experienced staff
MRO strategy is better integrated across systems
Higher cost savings in repair and maintenance costs over time 
Drawbacks:
Have to stock MRO inventory yourself, which comes at a cost
Staffing can be costly and not always targeted to the specific needs of the business or specialized equipment
Outsourced MRO
Benefits:
More time to focus on primary business functions (and not get bogged down with maintenance jargon)
Can hire service techs with skills specialized to the maintenance required (instead of a jack-of-all-trades)
Buying leverage — it's much easier to make a deal with a service provider or vendor, making this approach very cost-effective.
Drawbacks:
You're not always getting the best talent. MRO service providers won't always tell you if they can't do something. So they'll outsource the job to a provider that often costs more and has less experience.
Response time can be slow. If you've got an emergency, you want it fixed ASAP, but an MRO service provider may not be able to respond right away.
Redundancy and duplication of efforts. With outsourced MRO, it's harder to see if you've got two guys working on the same thing, which may be unnecessary and costly (a good CMMS will help you avoid running into this, too).
The direction you choose will largely depend on your budget, available staffing, what's in your leasing agreement, and how much control your company wants over the maintenance process.
The same MRO survey we referenced earlier asked the participants to vote for the benefits of each approach:
Peerless Research Group annual MRO survey
5) Supply chain management and procurement
Your team has many suppliers that get you the parts you need to make the products your company sells — potentially hundreds of thousands of suppliers. Some items are more important ("critical") than others. And if you find yourself in a pickle, you'll want to make sure you've put some time and energy into building positive relationships with those suppliers.
That's where a Supplier Relationship Management program comes into play. For example, what happens if your factory runs out of that one specific screw that goes with every product you manufacture? You might be, well — screwed. 
Having a good relationship with the supplier who supplies that screw might come in handy to help get your hands on critical parts on short notice if you've got orders to fulfill. It's a "scratch my back, and I'll scratch yours" kind of deal. Being able to solve problems like this in real-time is an extremely valuable skill for your company.
Part of effective MRO management is making sure that there are no broken links in your supply chain that could stop production. This comes full circle with inventory control and supplier relations: making sure you've got the right parts on hand to make your products and that you've got a supplier on your side who can help you if you don't.
Managing Maintenance, Repair, Operations with a CMMS
Using a CMMS like Limble is the best way to manage all Maintenance, Repair, and Overhaul work. You can easily keep tabs on planned maintenance schedules, set up an efficient inventory system, and stay in control of all maintenance-related costs. It might sound biased coming from us, but we firmly believe that implementing CMMS is necessary for proactive, efficient, and cost-effective asset management.
Sometimes it can seem like managing all the work you have to do is a full-time job in itself. Maintenance calendars, budgets, work orders — it's a lot to keep track of. A CMMS like Limble can do the heavy lifting for you.
Automated planned maintenance
As you know, it's much easier to fix something when you can catch the problem before you head into disaster territory. Implementing a preventive maintenance program can help you do that — but it's much easier said than done.
One of Limble's most powerful features is the ability to help you automate preventive maintenance schedules. No more paper, no more whiteboards, no more Excel spreadsheets. 
In Limble, you can:
Enter a preventive maintenance routine once and never have to think about it again.
Set the schedule to daily, weekly, monthly, yearly, or based on events or meter readings.
Attach a standard operating procedure checklist.
Receive automated notifications when a PM is created or due.
View all open work and upcoming PM schedules on our easy-to-use calendar
Quickly change due dates by simply dragging and dropping within the calendar.
See all completed work on the asset's maintenance log.
The best part is that Limble requires little to no training to use. Watch how easy it is to build a PM in Limble: 
Streamlined Work Order management
Limble can easily track all of your Work Orders and Tasks for you. And with Limble's mobile-friendly app, you can see all the work that's queued up, in progress, or completed on any device.
Take a look at everything you can do with Limble right from your phone:
View all of your Tasks, including WOs, PMs, and Work Requests.
Set Task priority, so the right work gets done first.
View a calendar of current and upcoming Tasks.
View critical KPIs such as actual completed work, time spent, and planned vs. unplanned work.
No more tracking down a technician to give you the status of the work. You can say goodbye to the long walks to look for forms at the office. Now, it can all be on your phone.
Maintenance workload overview inside Limble CMMS
Not missing (any) important Work Requests
Work requests come through many different channels: phone, email, someone complaining directly at you, etc. All these channels of communication help your team solve problems quickly. But it can be tough to manage when the information doesn't end up in one central hub.
With a robust Work Request system, you can receive requests in a way that helps your team get the work done much faster.
Submit maintenance tickets using Limble's Work Request portal
With Limble, you can:
Avoid the vast majority of duplicate work requests.
Provide instant feedback to requestors that the solution to their problem may already be in progress.
Facilitate instant communication between requesters on similar requests.
Configure sensitivity levels and scope, so only requests in specific areas are compared against each other.
Improve your requestor's experience while saving your maintenance team time.
Managing spare parts inventory
Inventory can be an expensive pain in the side if not handled strategically. A CMMS can help.
On average Limble users reduce their inventory cost by 17%. Let's take a look at how.
Not sure what parts you have in stock or where they are being used? Don't know when your parts will run out or if your technicians will have the necessary parts to do their jobs?
Limble's parts management features can help you solve those problems and more:
Get email and push notifications to reorder when a part's quantity is low. 
Quickly see if a part is in stock from inside a Work Order.
Access real-time inventory updates as Work Orders or PMs use parts.
Instantly view forecasting for a part to see how many parts you'll use within the next year, and clear out inventory you don't ever use.
Find out where your parts are going, who uses them most often, and what it costs.
Make your inventory easy to track and access with custom QR codes.
Inventory tracking inside Limble CMMS
Managing all of your vendors
Keeping track of all your vendors can be tough (is that drawer full of business cards really working for you?). With Limble CMMS, Vendors are fully and seamlessly integrated into your maintenance system:
Store all Vendor information (names, addresses, emails, phone numbers, contracts, etc.) within Limble.
Push out purchase orders directly to your vendors from Limble.
Associate Vendors to Assets they maintain or Parts they supply.
Automatically maintain a record of a Vendor's time, Parts used, Invoices, and other desired data.
Maintain an all-time history of all Work Orders that the Vendor has completed for your company.
Gain insights into how much money you are spending on the Vendor
Simplify communication with Vendors through detailed instructions, Limble comments, and automated email notifications.
Vendor management view inside Limble CMMS
Assigning work
Of course, we can't forget all the people that help you get all the work done. Can you imagine being a one-person show? No way. 
It's tough to keep track of who's doing what when you've got a big team. With Limble, you can:
Have work orders auto-assigned to the right technicians based on data in the work request
Drag-and-drop to reassign work if team members are out or if staffing changes
Automatically track how many hours your technicians are working and how much work they are completing with Custom Dashboards.
Inspire team camaraderie, encourage productivity, and enjoy a little healthy competition with Custom Dashboards that show how many tasks each team member has completed.
Track important KPIs in real-time with our Custom Dashboards
All of that being said, no two businesses are the same, so no two companies will manage their MRO the same. Here are a couple of examples to paint the picture for you.
MRO for University Campus Management
College and university campuses are unique when it comes to Maintenance, Repair, and Operations because there are so many wildly different kinds of facilities on campus. You've got state-of-the-art science labs, multiple athletic fields, acoustically-engineered performing arts halls, dormitories full of emotional support animals, and medical facilities where people's lives are on the line — the list goes on.
Top priorities
The name of the game is keeping everything running at all times so that students, faculty, and staff can focus on education without interruption. No one wants to show up on the first day of Fall semester to find the HVAC system blowing hot air into their lecture hall. It's history class, not a 300-person sauna.
But with the wide variety of facilities on a large campus, there's an opportunity for a lot of things to go wrong at any given time, and that gets really busy. 
What day-to-day looks like
Work requests. Lots of work requests. A campus maintenance team will get a broad span of requests that could include anything from moving a whiteboard or painting a room to adjusting the power supply on lasers that blast atoms apart.
If there's any hope of tackling all those work requests, it's imperative that your team has a way to record and track the tasks in a central hub. This makes it so everyone has the same information. Everyone on your team can know what needs to be done, how urgent it is, and who should be working on it.
With a digital Work Request system, this becomes a much simpler task. If you are not ready for a CMMS, you can look into free maintenance ticketing systems as a temporary solution.
Top challenges in the industry
Did we mention that campus maintenance is extremely busy? As much as a campus maintenance team would love to do all planned maintenance perfectly on schedule, it usually isn't in the cards. The team falls behind in routine maintenance, which leaves room for things to break down… which further gets in the way of routine maintenance. A vicious cycle, indeed.
Additionally, each department on campus has wildly different needs to match the space they occupy. This might seem obvious, but when you think about the volume of people that a campus maintenance team serves, it's enough to make your brain scramble. 
Imagine — everyone comes hollering at you with their problems, and it's your job to fix them. It's your job to sort through all the noise, identify the most critical issues, develop a strategic solution, and deploy your team to tackle the challenge. 
Good news: despite the many challenges of campus management, working at a university can be gratifying. You are literally providing the infrastructure that makes it possible for breakthrough research to happen and for an up-and-coming generation to find their sense of purpose.
MRO for a Wastewater Treatment Facility
Water — one of earth's most precious resources. As it turns out, water requires a lot of maintenance to keep communities and their constituents safe and healthy.
Top priorities
The main goal is to keep critical systems running correctly at all times. Wastewater must get treated according to regulations to ensure public health and safety. When it doesn't … Houston, we have a problem.
When wastewater isn't handled properly, it can lead to hazardous situations like the spread of disease, ingesting toxic chemicals, and beyond. What starts as a maintenance issue at one wastewater plant can quickly devolve into a public health crisis. The stakes are high.
What day-to-day looks like
All MRO best practices revolve around preventive maintenance, but here, it's the rule of law.
Preventative maintenance in a wastewater treatment plant occurs regularly, with some tasks occurring weekly, monthly, quarterly, or annually. The goal is to continue providing communities with safe, clean water. An added benefit is that it extends the life of the equipment and reduces costs that come with breakdowns. 
In a wastewater treatment plant, everything is governed by a calendar that is connected to sensors and alarms. If something goes wrong, the maintenance team is quickly alerted. When it comes to repairing a problem, every action has a specific what-to-do-next checklist. The team, although small, is highly skilled and well-versed on every piece of equipment so they know how to tackle problems when they happen.

Top challenges in the industry
Now — just because we are prioritizing preventive maintenance doesn't mean that there aren't things out of our control that throw a wrench in your day-to-day plans.
One of the unique challenges in a wastewater treatment facility is dealing with ever-changing government regulations. It's your job to translate those updates into infrastructure.
Here's an interesting story: In 2009, Atlanta experienced some epic flooding. There was a wild storm with multiple days of heavy rainfall. The volume of the water was more than the local sewage system could handle. To make matters worse, old sewage systems in this area combined runoff with domestic sewage and industrial wastewater all in the same pipes. When the sewers overflowed, it exposed the community to untreated human waste and toxic industrial chemicals.
An overflowing sewer. Source: US Geological Survey
This type of combined sewer overflow (CSO) is an example of outdated infrastructure that creates real challenges for wastewater maintenance crews. All you maintenance people out there who update these essential systems and keep clean water running out of our faucets — you're the real heroes. 
Careers in Maintenance Repair and Operations
Wondering what a career in MRO might look like? If you're interested, we have some good news. Nearly 60% of MRO professionals will retire within the next decade. Even now, companies are struggling to find the talent they need — which means there's a massive demand for qualified professionals in this line of work.
Considering this, here's a look at what a career trajectory in MRO might look like for you in an enterprise-level organization: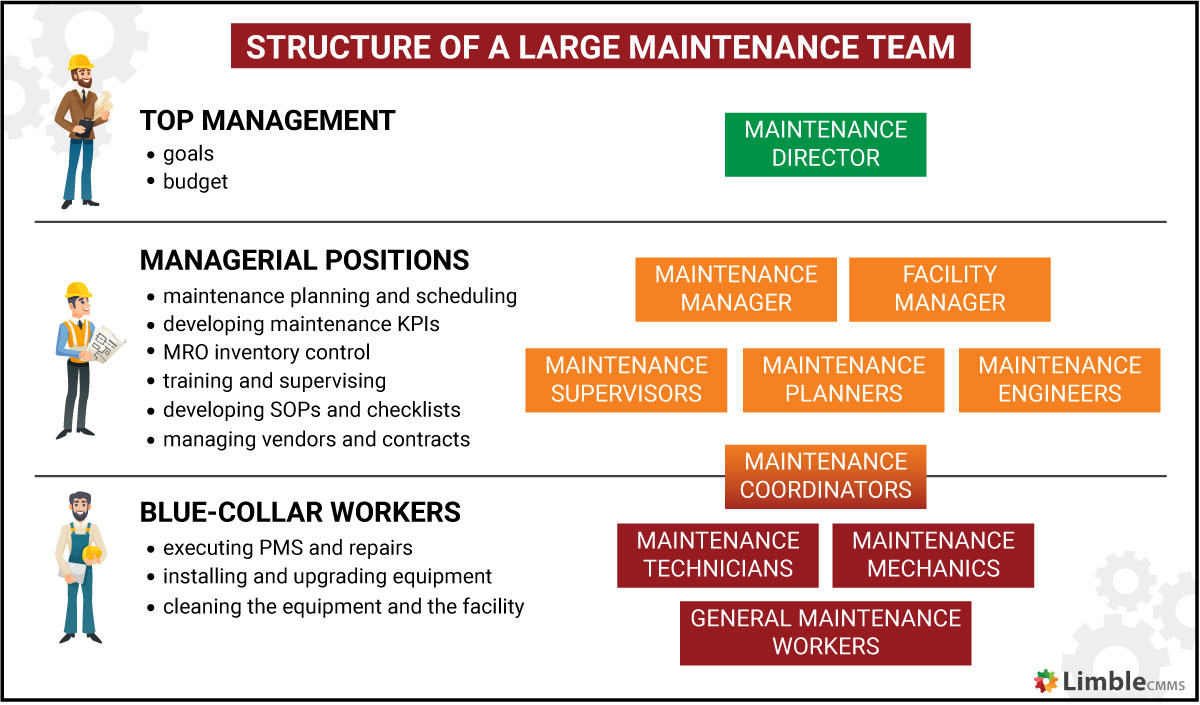 The exact set of available roles and their duties will depend on the size of the maintenance team and what industry we are talking about. 
Over the years, we covered each of those job positions in depth. Many of them have significant overlap. Still, if it is a career you are considering, it is worth knowing the difference.
Each of the articles we link to below discusses required skills, main duties and responsibilities, and average salaries. Let's start from the bottom:
This is not an end-all be-all list, but it covers all of the standard positions you can find in a maintenance department. Creating a balanced maintenance team is easier said than done, especially with the looming labor shortage. 
For more information on how to build a cohesive team that matches the needs of your organization, read our How To Organize A Maintenance Department guide.
The work you do matters
Work performed under maintenance, repair, and operations affects every aspect of the business. It's easy to take for granted, but you are the ones who keep things moving. As we say at Limble, you're the unsung heroes whose impact is felt far and wide.
A CMMS will make your department more effective and tell the story to the company about how much value you're producing. At Limble, we want to help make your life easier and help you tell a story that gets the company on your side. Learn more about Limble by setting up a demo or getting started with a free trial.
4 Comments
Zaid Rashed

June 6, 2021, 8:38 am

I am really grateful for you , it is really worthy article. Thanks a lot
Can you please guide me to more references or websites for MRO

Senko

June 10, 2021, 6:57 am

Feel free to browse more through Limble blog. Most of our content is related to MRO in one way or another 🙂

Nina

July 1, 2021, 9:06 am

I have read peer-reviewed scholarly articles and everything in my textbook on MRO and was just not getting it. Frustration and confusion shut me down from writing my paper. THANK YOU! Now it all makes sense, and I finally get it.

aviationinfrastructure

October 4, 2021, 10:43 am

Thanks for sharing this blog. MRO's strategy is an important part of most manufacturing and service businesses. Even if these items aren't considered as a direct part of the assembled product, they help maintain appropriate operating standards, thereby ensuring that all different areas of the business have the functions required for normal operation.
X
Limble
Ranked #1

by maintenance experts in the field

>
<
Nov 07

Very easy to use, functionality is great

"I can track my inventory and it sends me emails when I'm running low on an item. Also that I can track how much time I'm spending on certain jobs over an extended period of time."

Dec 19

Very easy to use, access

"I like the price, the fact I can see it on my phone or the computer. I like that it is internet-based."

Dec 03

It just works

"Honestly - the customer support has been fabulous. We had a minor feature request that was deployed within 24 hours - which is unheard of. Even better when you consider our business is located in a completely different time zone (somewhere in Australia). Limble is quite intuitive and I love the ability to have assets nested within each other."

Jan 30

Great for smaller or larger facilities

"We haven't fully integrated Limble yet but we are already seeing improvements in our efficiency. As we fully integrate Limble we expect to see more benefits and increase our response and completion times. The customer support has been outstanding. The Limble team is very quick to respond to any questions and they are very open to suggestions."

Jan 18

Limble is the best thing to happen to this company

"Limble does such a good job at keeping track of what's been done and letting me know when and what I need to do next."

Jan 11

Great product at a great price

"Terrific customer service, easy to use, and at a great value. Our old Maintenance software was very difficult to use and was very expensive."