5 Best Predictive Maintenance Techniques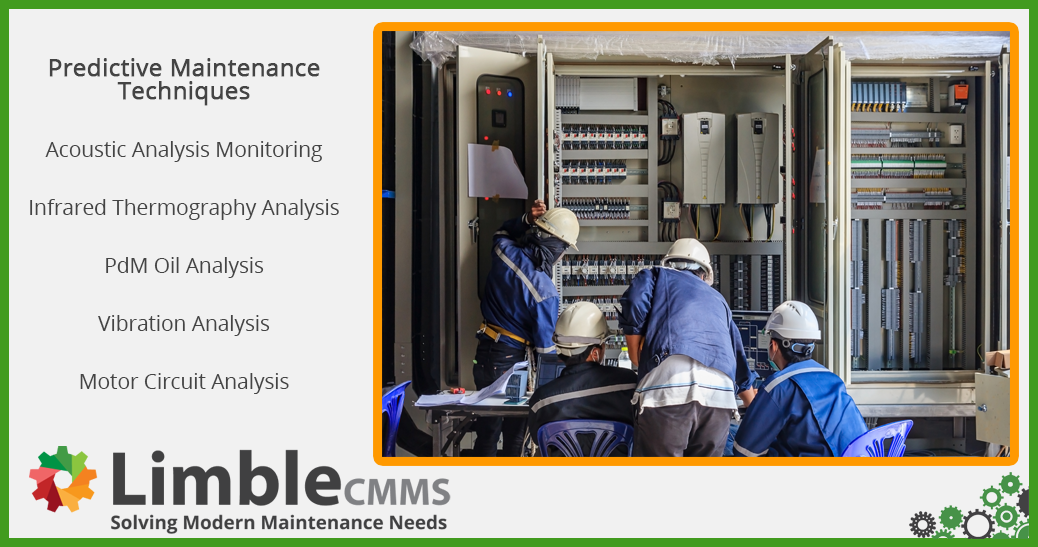 If you are interested in implementing an effective PdM strategy you must learn about the main predictive maintenance techniques in order to choose the best ones for your assets.

The PdM techniques and tools to be used will depend on the type of machinery that your company operates. Most organizations need a combination of different approaches and technologies to structure the most cost-effective plan.


Why Investing in a Predictive Maintenance Technique?
As the name suggests, predictive maintenance is meant to forecast when maintenance will be needed, and with that, avoid three costly situations:
1.
Reactive maintenance
after a machine failure or breakdown
2. Equipment downtime that can decrease production returns
3. Overdoing preventive maintenance that can take up much of technicians time and decrease productivity
Predictive maintenance technologies allow for non-destructive tests (NDT), which are crucial to diagnosing potential failures within an asset's infrastructure without compromising its other parts or shutting it down. With the right resources at hand, teams can perform corrective maintenance before reactive work orders appear.
If we were to compare machines with the human body, predictive maintenance would be equivalent to medical check-ups in individuals with a predisposition to present some kind of disease.
It is not functional to cut patients' bodies open in order to verify if there is a problem. Instead, doctors leverage non-invasive techniques to perform predictive exams. Some examples include ultrasound scans and using a stethoscope to hear the heart.
The same type of approach should be used to maintain the health of an organization's set of machinery. Let's go over the main techniques that leverage machine learning, big data, and the internet of things to monitor a piece of equipment conditions.
Reduce Reactive Maintenance by 73.2%
See the Results Red Hawk Enjoys With Limble
5 Best Predictive Maintenance Techniques
Most condition-monitoring devices and techniques include a sensor that must be installed on assets to collect data and send it to
CMMS software
. The software combines real-time sensor data with historical data and predictive models in order to provide maintenance teams with complete predictive analytics.
Sensor data is a central part of a
predictive maintenance program
. IoT Sensors can measure different aspects of pieces of equipment operations, including temperature, vibration, pressure, sounds, and more.
Optimal returns on the maintenance strategy require selecting the best combination of technologies and PdM techniques for the circumstance. Here are some of the main techniques:
Acoustic Analysis Monitoring
This technique monitors machines' sound frequencies to detect problems in their technical performance, and pinpoint the source of the problem.
Most machines produce sound waves during operation, even if they are not detected by human ears. Acoustic sensors make it possible for technicians to hear friction and stress in rotating machinery, which indicates deterioration.  Through acoustic technologies, maintenance teams can detect gas, liquid, or vacuum leaks in equipment on a sonic or ultrasonic level.
Even though this predictive maintenance method is considered less expensive than other technologies, such as ultrasonic technology, it has limited use. 
Acoustic analysis monitoring is especially useful for pipelines carrying liquids or gas.
Keep in mind that not all equipment necessarily needs a sensor to detect sound frequency changes. Some machines produce sounds loud enough for the human ear to detect changes. If that is the case, that might be a more cost-effective option. However, historical data would not be stored on the CMMS, consequently, predictive models will not be created.
Infrared Thermography Analysis
Infrared Thermography leverage IR cameras to detect high temperatures in pieces of equipment. Imagiology can be applied to a wide variety of equipment types to detect wear, rusting, delaminations, and disconnections that tend to go unnoticed to the naked eye.
Infrareds also allow maintenance teams to make surface temperature maps that can be used, for instance, in the maintenance of heating systems. Sensors detect thermal anomalies with process systems relying on heat retention and transfer.
Worn equipment elements, including malfunctioning electrical circuits, typically emit heat that will display as a hotspot on a thermal image. This way, technicians can intervene with the right maintenance work and avoid equipment failure and even big accidents.
This nondestructive testing technology is considered one of the most versatile predictive maintenance technologies available. It can be used to analyze everything from individual parts of machinery to plant systems and even entire facilities.
PdM Oil Analysis
Oil analysis is another noninvasive PdM technique with effective results. This method uses oil samples to determine equipment wear. It measures the particularities of oil samples, such as number and size, in order to determine machine deterioration.
Besides particle counts, some oil analysis tests can reveal the viscosity, presence of water or wear metals, and the acid number or base number.
A hydraulic system, for instance, is composed of two main elements – the rotating parts and the lubrication part. As machines start declining their operating conditions, the oil sample will contain byproducts of overheating and erosion. These particles reveal many potential issues and allow teams to come up with maintenance solutions before unplanned downtime happens.
With oil analysis, setting up the standards with historical data is easy for any organization operating in the oil and gas industry. The initial tests automatically set a baseline for the new machine and the results are stored in the database. If properly implemented, oil analysis yields a multitude of results that contribute to a successful predictive maintenance management plan.
Vibration Analysis
This predictive maintenance technique uses built-in real-time sensors or handheld analyzers to monitor a machine's vibration.
Since machines tend to have a regular vibration frequency during peak operation, it is possible to detect when there is an abnormal vibration pattern. Different vibration patterns occur when equipment parts like bearings and shafts start wearing off.
With continuous monitoring, CMMS software's algorithm compares the real-time data with failure modes and understands when maintenance tasks are needed.
This predictive maintenance technique is employed primarily for high-speed rotating equipment. Among the issues that can be detected with vibration analysis include misalignment, bent shafts, unbalanced components, loose mechanical components, and motor problems.
Keep in mind that the cost associated with the implementation of this PdM approach is higher than the cost associated with the other techniques.
Motor Circuit Analysis
Motor circuit analysis leverages electronic signature analysis (ESA) to identify issues and potential equipment failures based on electric motors' components. Electronic signature analysis measures a motor's supply voltage and operating current to determine issues.
This technique helps maintenance teams to get a complete picture of critical equipment's motor system's electrical health. It can recognize problems in the stator winding, issues in the bearing, rotor problems, problems in the coupling, abnormalities in attached load, efficiency and system load, and others.
An advantage of this method is that motor circuit analyzer maintenance tools allow tests to be conducted in about 2 minutes and while they are still running
Streamline All PdM Techniques with Effective CMMS
Regardless of the PdM techniques, you will need to leverage on your maintenance activities, investing in
modern CMMS
software will significantly increase productivity, cost-savings, automation, and ROI.
That's because it integrates all sensor data and organizes it into valuable predictive analytics.
Predictive maintenance technology is in constant evolution, so being on top of the best tools is crucial to building a strong and cost-effective maintenance strategy.
Limble's Modular IoT approach allows you to easily implement a predictive maintenance strategy that fits your facility's needs.
If you want to get more information about how your specific organization can leverage predictive maintenance techniques, request a demo with one of our team members.
Predictive Maintenance Guides
Predictive Maintenance Tools
Predictive Maintenance Resources
Hear what
Limble CMMS customers

have to say...




Jan 6th
It takes me about 10 seconds.
"Limble made my job easier pretty much right off the bat. Now I create Work Orders on the fly. It takes me about 10 seconds."
Aug 07
Wow. You guys are amazing...
"Wow. You guys are amazing... your software really one-up's the competition. I've found several with some of the functionality, but much clunkier designs. I reviewed 16 CMMS packages, and yours was an easy choice. Thank you again. Well done."
Jan 1
Limble CMMS is a great product and is very intuitive
"This CMMS checks many boxes for what we were looking for. Flexible. Mobile App for in the field use. Cost-Effective. Reporting. Great Dashboard. Great Support. Cloud Based. Cost-Effective."
Jul 10
Great user friendly product
"Love the fact that the product can be used on my phone, tablet, and laptop. It also has made several updates to make an even better product."
Aug 10
I spent a long time evaluating systems I'm so glad I chose Limble
"Limble is super easy to use. For technicians receiving work orders, it requires almost no training. The app makes it quick and easy to create work orders (with pictures) from your phone. PM's are also very easy to set up. Limble is also the least expensive."
Sept 6
The best value available in CMMS Software
"This software is very easy to use. All CMMS suppliers say that, but I found this one to be exactly that. This software, in my opinion, is the best value out there in the CMMS world. My team of maintenance techs got on board quickly and loves the app. Anytime you can get 8 of 8 maintenance techs to get on board, you have a winner."
Sept 17
Great Product, Even better support!
"I started using Limble after trying out many other off the shelf CMMS software and I quickly fell in love with the ease of use, intuitiveness yet the power this tool provided me and my team. The ability to see automatically generated and customized reports meant that I could choose whether I wanted to see things at a micro level or a macro one, or both of them together."
Nov 8
A must for any maintenance department
"The thing that I loved the most right from the start was the ease of use of the Limble software. The customization options available when setting up PM's are great. I love the flexibility it gives to tailor the PM to exactly what your needs are."
I'm amazed with the functionality & customer service
"Executive summary software produces to give me a snapshot of where each contact center is at in preventative maintenance on critical building assets."
Nov 21
Awesome Product with REAL support!
"Our team reviewed & demoed 6 different CMMS companies and the decision was easy! The functionality was extremely easy, but still provides the analytics needed to track our companies time and money spent on maintenance. Their support is top-notch! I've dealt with numerous software companies in my position and can tell you, you will not find one better!"