While there's truth to the saying "if it ain't broke, don't fix it," it doesn't mean that a pile of paper and spreadsheets is the best way to go about managing maintenance. Chances are if you're here, you already know that the benefits of CMMS are worth the investment — but how, exactly?
In this article, you'll learn all the ways a CMMS can make your job easier and improve your job satisfaction in ways you probably haven't considered before.
Benefit 1: Money saved & money earned
A CMMS can save you a lot of money. But saying as much may not be enough to sway your finance department to cough up the budget for it. Turns out, you can calculate the ROI on your CMMS before you even implement one.
But before we dive that deep, let's look at a few real ways a CMMS can save your company money.
Reduce downtime
Unplanned downtime costs industrial manufacturers an estimated $50 billion every year. Even if you're not in the industrial manufacturing space, when you encounter an equipment failure it's hard to see anything but dollar signs (and not the good kind).
A computerized maintenance management system helps automate predictive and preventive maintenance strategies without even thinking about it, so you and your team can tackle problems before you're facing a major disaster.
The effects multiply from there. With fewer breakdowns and repairs, your overall repair costs will drop, too. High uptime and healthy equipment reduces the need for major repairs. It means less labor and fewer parts. In the long run, this can add up to significant savings.
More uptime leads to higher earnings
Repairing equipment faster means more money in your pocket.
What if you could trade all your equipment downtime for uptime? Instead of incurring a huge cost-per-hour for downtime, you instead have equipment running longer, which ultimately leads to higher revenues.
By reducing downtime, you save money. By increasing uptime, you make money. (And we all know that's what your boss wants to see.)
Prolong the life of your assets
A CMMS isn't just for making things better right now. It's a long-game approach, too.
A well-maintained machine will experience fewer breakdowns throughout its life. Fewer breakdowns mean less unnecessary wear and tear.
With a well-implemented maintenance management software and preventive maintenance plan, your assets will always be well-maintained and working efficiently. This means you won't have to replace them as often, which reduces your costs.
A CMMS makes preventive maintenance easy (and possible)
Speaking of preventive maintenance — it is one of the most effective ways to reduce your maintenance costs. A recent study by Jones Lang Laselle showed that a preventive maintenance plan had a 545% ROI for a large telecommunications company.
Then why are so many companies hesitant to implement a PM program? Implementing a PM program without a CMMS solution is virtually impossible to maintain over time. A CMMS will automate most of the work needed to run an effective preventive maintenance schedule, rather than keeping track of separate maintenance schedules, inventory logs, and assigning work.
Choosing the right maintenance software for your company is imperative to getting your PM program off the ground.
Improve your budgeting
A CMMS not only tracks your maintenance activities and KPIs but also your maintenance costs.
If you've got no idea how much money your maintenance department spends, it's hard to make forecasts for the future. This includes more than just tangible parts — it's also intangible things like overtime and downtime.
Tracking your expenses is the first step in optimizing your maintenance budget. Over time, you can easily track your overall operating costs without extra work, as shown in the image below. Once you've got that taken care of with your CMMS, you can more effectively use your resources.
The Essential Guide to CMMS
Download this helpful guide to everything a CMMS has to offer.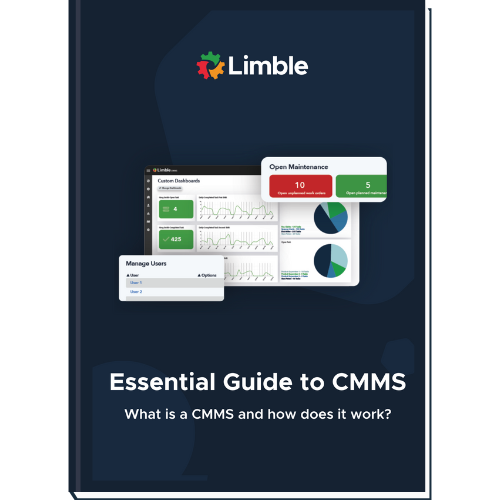 Benefit 2: Job satisfaction
It's a lot easier to like your job when things go smoothly, you have the resources you need, and you're not stuck with tedious paperwork. Here's how a CMMS can help with that.
Better workflows & communication
Mobile maintenance app creates better workflows for maintenance departments. Managers can quickly change work priorities, work orders, and due dates and communicate them quickly to the whole maintenance team.
A good CMMS will have a dedicated app where your technicians can access work orders, asset history, spare parts inventory, and more directly from their mobile devices. No more walking back to a desk to access a desktop computer. All the information is right there on your phone.
Limble offers the ability to upload pictures to work orders as some things are much easier and faster to explain through a picture than through words, as you see below.
Less paperwork
According to a report published by ServiceNow in 2015, managers surveyed said they spend an average of two days per week on administrative tasks, which prevents them from doing more productive (and more fun) work.
Two days' worth of data entry each week means a manager loses more than 800 hours each year. That's a lot of wasted time!
One of the major CMMS benefits is that your company can stay organized while cutting down on the time required to file and keep records with features like:
Easy maintenance scheduling
Easy inventory and asset management
Track maintenance history and upgrades
Automated work orders and checklists
Portal for work requests
Imagine if scheduling maintenance work no longer involved a paperwork order, a string of 13 emails, and three phone calls to your technicians! When you've got less paperwork and administrative hoops to jump through, the job becomes a lot more enjoyable.
Reduced overtime
When you hear "overtime," you might automatically see dollar signs. And you're right — overtime is expensive for companies. If you can reduce breakdowns, you'll improve your bottom line, too.
But that's not the only benefit of reducing overtime.
Imagine not having to stay late at work on a Friday night because of a critical breakdown, where you just know you'll have to work all weekend. You miss the barbecue with your family and your nephew's soccer game.
Sure, the extra pay can be nice from time to time. But what's also nice is knowing that your time off is truly your time. In the long run, a maintenance team with a better work-life balance is a happier team. And a happier team is a more effective team.
Get your team the support they need
What if you knew exactly which employees needed extra training? How might you use that information to streamline your maintenance operations?
Limble CMMS tracks employee performance and can help you stay on top of who's performing adequately, or which employees need more support. This performance data can help you devote training time to the right staff members on the right things.
When employees get the training they need, they're more productive.That results in a team that takes pride in their work, feels satisfied by a job well-done, and stays more loyal to their company.
Feel like you're winning
It's not out of the ordinary for maintenance professionals to feel like they're set up to fail at work. Two unexpected benefits of a CMMS are less pressure on you, and more easily anticipating future needs.
Less pressure (and more confidence)
Imagine your boss asks you for key maintenance metrics for different warehouse locations (like in the image below). These are not numbers you could just come up with on the fly. It takes time and effort to track them — if you do it by hand. With a CMMS like Limble, it all gets tracked automatically. All you have to do is pull the report.
It doesn't feel good to be put on the spot and then worry that your boss thinks you're unprepared or disorganized. With a CMMS, you will have all the metrics and historical data you need in real-time at your fingertips, so you can always be the "guy with all the answers."
Get ahead of the game with planning
Ever said to yourself, "I wish I wasn't putting out so many fires all the time. Wouldn't it be nice to do things right and actually get ahead?" Every maintenance manager's dream. But without a CMMS, it's hard to pull off.
Instead of always responding to equipment malfunctions, you can perform preventive maintenance. Instead of getting fined for not following safety standards, you can have safety checklists built directly into your automated work orders.
In the long run, a CMMS will assist with maintenance planning and scheduling and simplify your maintenance operations.
This could be anything from staffing, capital improvements, adjustments to maintenance strategies, and beyond. Whatever the future needs may be, the data from your CMMS will help you make better choices.
If you can get ahead rather than barely treading water with your workload, people around you notice. Even more than that, you'll feel a huge relief that something is finally going right.
Benefit 3: Get the recognition you deserve
If you're a maintenance manager, it's almost certain that the hard work you do often gets overlooked. People notice when things are broken, but somehow when things are running smoothly — crickets. (This is true in both facilities management and industrial maintenance.)
One of the benefits of a CMMS is automated reporting and custom dashboards, which can help you get the appreciation you deserve. Here's how.
Gain respect from key stakeholders
When you've got the numbers to make your case, not only is it easier to do your job, you'll also gain the respect of your company's key leaders.
When you can make your case in a way that speaks to your leaders, over time they'll recognize just how much of an expert you are at your job. They'll trust your recommendations and give you the support you need to do the job right.
Gain trust and cooperation from your team
Sometimes teams are resistant to adopting a CMMS because they're worried their every move will be watched — but we know that's not your intention.
You're trying to make your job easier and their jobs easier, too. Tell your team that your goal is to support them and help them enjoy their jobs more. (Better yet, show them.)
In Limble, you can see exactly who is doing what, as you see in the image below. If something suddenly comes up, you can easily change task priority so there's no confusion as to what's most important.
One of the major CMMS benefits is, if your maintenance techs know that a CMMS will make their work easier to manage, it won't be hard to get them on board.
And if you can get them on board once, it will be easier every single time after that because now they trust you.
Promotions and raises
Who couldn't use more cash at the end of the month? Believe it or not, a CMMS can help you get a raise or a promotion.
One of Limble's customers, Matt Haseman at Olympus Group, went from maintenance mechanic to maintenance director with the help of Limble CMMS. Limble helped Matt:
Get more work done in less time (and reducing his 80-hour work week!)
Document standard operating procedures and maintenance checklists
Train a team of mechanics and delegate his massive workload
Your CMMS can pay for itself
Just as every business has unique needs, every CMMS is different, too. Read our Essential Guide to CMMS to take a deep dive on CMMS software.
Ultimately, you're the real hero. A CMMS is only as useful as the team who's behind it. But, when you add up all the benefits a CMMS can offer your maintenance department, it doesn't take long to see how much easier your job can be.
If you're ready to see how a CMMS can help solve your maintenance problems, set up a demo or start a 30-day free trial with Limble.