Managing and maintaining large facilities is not an easy task. People and machines have to work in unison to deliver expected results. Operation and maintenance manuals help us standardize a variety of business activities to minimize operational disruptions and keep everyone on the same page.
To put an O&M manual to good use, you need to know what is it used for, when should you create one, and what info needs to be included. Let's dig right in. 
What is an O&M manual?
The operation and maintenance (O&M) manual is a detailed document containing the instructions to manage and maintain a certain facility or property. It is created by compiling data from many different sources. As such, it includes a variety of information and best practices, from how to operate each machine to detailed maintenance and safety guidelines.
The goal of an O and M manual is to help standardize business operations. The larger the facility, the more it has to rely on standardized procedures to ensure consistent output without compromising on quality.     
There are many good reasons why medium and large operations spend time creating operating and maintenance manuals.
Building operation and maintenance manual is a very common document in the construction industry. It is created by a (sub)contractor and features information on operation, maintenance, inventory, decommission, and demolition of the building, as well as warranties, certificates, built drawings, and similar specifications.

Why should anyone spend time creating O and M manuals?
The creation of an O&M manual has many different benefits. The following list discusses the major ones:
Data aggregation:

O&M manual brings together all the information on the operation of a facility in one place. Employees do not need to run around the facility or dig through file cabinets to find important asset information or instructions. 

Eliminating ambiguity:

O&M manual helps to avoid any ambiguity on what needs to be done in different instances. It becomes the go-to resource for all operation-related questions.

Speeding up training and onboarding processes:

O&M manuals can be a very useful resource for

training new employees

and can act as a guide while gathering hands-on experience. 

Setting clear standards and protocols:

O&M manuals contain well-defined standards, processes, and protocols. For services and products alike, standards are required to reduce variance in output volume and quality. The manuals will lay it all out in clear and unambiguous terms.
Facility management is a complex activity. It includes setting up preventive maintenance programs, dealing with emergency repairs and other corrective work, managing subcontractors and maintenance vendors, keeping an eye on the inventory of parts and materials, and much more. This requires a lot of teamwork and coordination. O&M manuals help facilitate this collaboration.  
Checklist for Creating a Preventive Maintenance Plan
Following a consistent Preventive Maintenance Plan can make life easier. Use this checklist to create your own!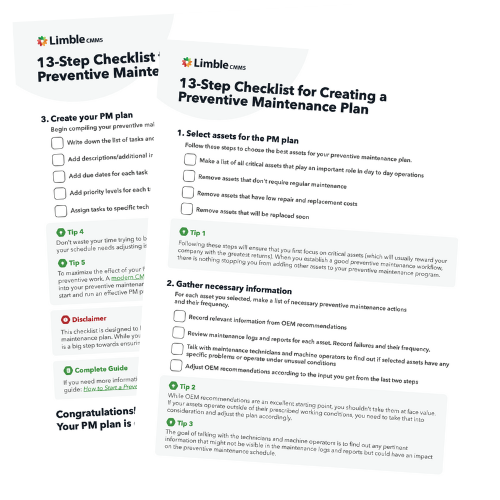 Types of operation and maintenance manuals
The operation and maintenance manual can be one large document that envelops the complete operations of the facility. But it doesn't have to be. 
Some organizations prefer creating manuals for different subsystems and machines and keep them separate. Those are less common nowadays as documents are kept in electronic form where the size is not a problem anymore. The document can be accessed from anywhere and the information can be found quickly using indexes, hyperlinks, and the search function.
If you want to create a few standalone documents, a better way to separate the information is based on the purpose of the manual. This way you can have separate manuals for things like maintenance, operation, installation, administration, support, etc.
When is a good time to develop an operation and maintenance manual?
When a facility is being set up, there are many moving parts (pun intended). The processes and protocols are not yet well defined. Developing an O&M manual right away might not be the best use of available resources. A lot of changes and improvements will happen to the initial procedures. The manual would have to be compiled and edited over and over again.
Once the factory operations have settled to regular schedules, the existing processes can be codified. The maintenance procedures and regular running of the plant will be well known to the engineers, technicians, and other employees. This will make creating a manual easier. Manuals can always be updated when new instances occur and new operating procedures are in place. 
Who creates O&M manuals?
O&M manuals are created by a collaborative team effort. External consultants and executives from similar facilities can be hired to help out on the project.
The stakeholders that can take part in the process are:
plant executives

operation managers

OEM representatives

plant engineers

operating technicians

maintenance personnel (

managers

,

supervisors

,

engineers

,

technicians

)

safety managers

HR representative

representatives from the finance department

other experienced employees who can provide practical insight, which is very important when outlining standardized procedures
Everybody provides insights based on their field of expertise. For example, an OEM representative can only provide information about the equipment they have supplied. Similarly, the finance and HR departments are not actively involved in writing the manuals. They are consulted to identify whether they have any particular objections.
Information that should be included in an O and M manual
The manual should have all the necessary information about the machines and processes involved in the plant or building it is written for. Below is an extensive list of details that can go into the O&M manual:
The scope of the manual, intended audience, appendix, definitions, and terminology needed to understand the document, and revision history. 

Fixed asset register with technical specifications of all machines that come under the purview of the manual.

Regular operating characteristics of the machine.

Information needed for decommissioning and disposal of physical assets.

Relevant tables and charts for machine operation.

Maps of the plant, assets, and facility

. Floor plans can be to scale or just indicative of relative position.

Detailed engineering drawings of the equipment and components.

SOPs for

routine maintenance

and other daily operations.

Recommended maintenance schedules, troubleshooting procedures, spare parts lists, and

PM checklists

for important assets.

Steps to check whether a machine has to

undergo maintenance

.

Flowcharts for procedures where important decision-making is involved.

Contact information of all the OEMs and maintenance vendors.

Safety guidelines and procedures.

Protocols to be followed in case of

emergency maintenance

and other emergency procedures.

It can include general information about the company and relevant personnel information.
The organization creating the O and M manual will ultimately decide what they find worthy enough to include in the final document.
Standard Operating Procedure (SOP)
Create your own routine maintenance SOP with this customizable template.
Steps for creating and maintaining operation and maintenance manuals
Creating O&M manuals can be a long and arduous process. It is better completed in different installments. After each step, it is a good practice to reflect on the work done before and note how it can be improved. 
We have outlined the steps you can follow to create and maintain a purposeful O&M manual.
Make a plan and the outline of the document
The manual and what goes into it should be planned well in advance. This is a perfect time to create an outline and think about stakeholders that will need to be part of the process. The purpose of creating the manual has to be clearly defined and include the audience the manual is intended for. A general outlook of the next steps should also be thought through in the planning phase.
Gather necessary documentation and information
You have to observe the daily routine of the technicians and operators to write procedures and outline best practices. You have to interview the technicians, operators, and engineers to understand how they perform their duties. 
Grab OEM guidelines, user manuals, warranties, flowcharts, and other documents you want to include in the O and M manual.
Create the first draft
Segregate the information according to the outline created in the planning phase. Give a structure to the information collected. Make formal procedural steps that could be understood. Create flowcharts with relevant drawings and tables when applicable to visualize important information and make it easier to digest and follow. Review and compile the work done so far.
When you're finished, you should have the first draft of the document.
Gather feedback
You should share the first draft with the stakeholders and its future users. Gather opinions from everyone and note down what needs improvement. Depending on the feedback, you might have to go and collect additional information. This can be done multiple times until the final draft can be created.
Finalize the document
Have one final look at the document. You can check if some things can be bolded or highlighted in any other way. After you've done polishing the document, it is time to publish and distribute the manual. Make sure everyone knows where it can be found, what it covers, and how to use it. 
Regularly update the manual
Over time, you are bound to come across new information and details that should be included in the document. Likewise, you will purchase new assets, change existing workflows, and expand existing operations. The manual has to be updated to stay relevant. 
As your operations grow, so should your operations and maintenance manual. For this reason, it is better to create an electronic version and store it in a CMMS and other digital systems. This way, it can be easily updated and accessed from any device.
O&M manual templates and examples
You do not have to start everything from scratch. You can rely on existing templates to outline your version of the document. 
There are many O&M manual examples and templates from various industries and facilities you can use for inspiration:
While the structure of these documents is similar, the contents vary depending on the purpose of the document. That reiterates how important it is to have a plan in mind before creating the operation and maintenance manual.
Maximizing the usefulness of maintenance manuals with a CMMS
Operation and maintenance manuals are the perfect places to outline general procedures and guidelines. To avoid cluttering the document with overly specific information, most maintenance departments will want to keep machine maintenance manuals separate. However, that makes sense only if you are using a computerized maintenance management system like Limble.
Why? Because Limble is a cloud-based software with barcode integration and a centralized asset card and barcode integration.
Cloud-based means that the manuals can be accessed via any mobile device with an internet connection. Barcode integration means that a technician can just scan the barcode on an asset and the app will automatically open the centralized asset card (seen in the image below) which contains all maintenance information about that particular asset (general info, maintenance history, maintenance manual…).
Having quick and easy access to maintenance manuals is one of many benefits of having mobile maintenance software as it leads to significant workflow improvements. It cuts down on inefficiencies, boosts productivity, and reduces idle time.
Key takeaway
There is no point in creating an operation and maintenance manual if nobody is going to use it. Structure the document in a logical manner, use visual aids to explain and summarize complex processes, make the document easily accessible, and push people to use the document instead of interrupting their colleagues in their daily activities. It takes time to develop and maintain an O&M manual and this is the best way to maximize its utility.
If you think we've left anything up in the air, start a thread in the comment section below. For more awesome content, browse through our blog!