CMMS ROI Calculator | How To Calculate CMMS ROI
The most effective maintenance departments do more with less by using a computerized maintenance management system (CMMS) to automate their workflows.
If you don't already have a CMMS, how can you prove to Finance that buying one would save time and money?
In this article, we will show you how to estimate your department's key performance indicators so you can calculate your potential CMMS ROI (return on investment).
CMMS ROI formula
CMMS savings can be calculated by adding productivity gains, downtime savings, and spare parts inventory savings.
CMMS costs can be calculated by adding together implementation costs, the software itself, onboarding costs, and the potential hardware costs.
Imagine the total savings due to the implementation of the CMMS in one year are $360,000 and that the costs of implementation and running the software for one year are $41,000.
CMMS ROI = ($360,000 – $41,000) / $41,000 = 7.78
This would mean that return on an investment after a single year is almost 8 times (or 778%) its value.
CMMS Buyer's Guide
Learn the questions to ask and the features to look for during the CMMS selection process - and find the right CMMS for you.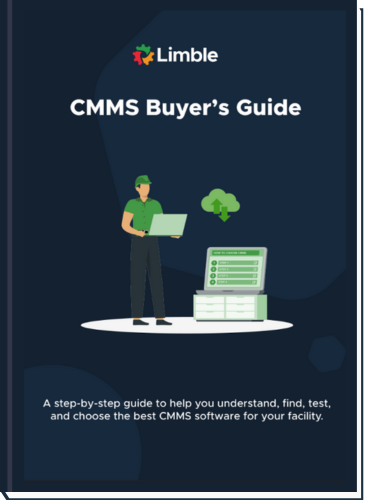 How much can you save with a CMMS?
Giving exact numbers is impossible since calculating ROI pre-implementation is just an estimate. Do your best to make that estimate as accurate as possible. The benefits of a CMMS go beyond just dollars and cents, too — all of which drop down to the bottom line. 
1) Calculating productivity gains
CMMS solutions can improve your current workflow by giving everyone a firm structure to follow, quick access to important asset information, and uninterrupted communication flow.
To calculate productivity gains, you need to know 4 things:
What is your hourly cost per employee?
How many people will be using the CMMS?
How many hours can CMMS software save you in a given timeframe?
How many working days per year?
Now you can do the calculation yourself, following this formula. Here's an example:
Hourly cost per employee (USD/hour) = $40 ($30 wage + $10 benefits)

Number of people using software = 8

Number of hours CMMS saves per user each day = 2 hours (which in translation means making your technicians 25% more productive when based on an 8-hour shift schedule)

Working days in one quarter (3 months) = 66
Calculation = $40 x 8 x 2 x 66 = $42,240 (or you can look at it as 1056 working hours saved)
Productivity gains with Limble CMMS
Limble has made such a difference in our customer's productivity that it's like they have a whole other team member. With Limble, their team of 4 can do the work of 5. Talk about productivity gains! Take a look.
2) Savings as a result of decreased downtime
For many businesses, a CMMS is a stepping stone towards proactive maintenance. It gives you the ability to quickly schedule and track all maintenance work, improve communication flow, and stay on top of your inventory. These are the pillars of a successful proactive maintenance program.
To calculate downtime savings, you need to know 3 things:
How much does downtime cost you (per hour)?

How much downtime do you experience every month?

How much downtime are you expecting to eliminate with a CMMS?
Downtime costs are the hardest to work out. Here's a resource on how to calculate your downtime costs if you're interested in learning more.
Keep things simple. Don't spend too much time on unimportant details. Focus on high-priority assets as their downtime is usually directly connected to losses in revenue, and that is the biggest part of the downtime cost calculation.
Decreasing downtime is one of the big goals with a CMMS. Your numbers will vary from provider to provider. To give you a rough number to work from, Limble users have measured an average decrease in downtime of 26%.
Total downtime report inside Limble CMMS
3) Spare parts inventory cost savings
To calculate spare parts inventory cost savings, you need to know two things:
How much do you spend on spare parts inventory each month?

How much savings can you expect with a CMMS?
Keeping spare parts in stock is not free. The room they are stored in must be maintained and, in some cases, kept under certain conditions (lighting/temperature). This will be reflected in the increased cost of your utilities. Here is a resource that could help you calculate your spare parts inventory cost more accurately.
Your savings will differ depending on the software solution you're using. Limble customers reduce their inventory spend by an average of 17% when using parts inventory management features (like stock level notifications, automatic part usage tracking, barcode lookup, etc.).

Hidden bonuses of implementing a CMMS
There are other indirect cost savings you can take advantage of by implementing a modern CMMS. Two that are worth mentioning the most are increased:
Increased asset useful life

Decreased labor costs
Both of these come as a result of fewer unexpected breakdowns. Fewer breakdowns, combined with proactive maintenance, are known to increase asset lifespan. Unsurprisingly, the fewer breakdowns you experience, the lower your labor costs (be it because you have less overtime to pay or fewer calls to expensive independent contractors).
While these are often considered optional and rarely put into CMMS ROI calculations, it is important to keep them in mind.
What costs come with a CMMS?
The initial costs of licensing and implementation are the most obvious. They will give you an excellent base to start from. If you want to get really detailed, look at the exact cost breakdown we've put together. 
1) Implementation costs
Implementation often doesn't arrive with a price tag on it. It comes in the form of time. Someone needs to make sure that the data is there and ready to be fed to the system. You'll need to set up the following: 
Most CMMS vendors have tutorials and customer support that will help you speed up this process. Ask your provider for a time estimate based on the number of items you need to enter. If you're replacing an old CMMS, you might be able to just export/import asset information to save you time.
Implementation cost = implementation time x hourly wage of team members(s) working on implementation
Limble CMMS implementation timeline
2) Cost of the software itself
This is the most direct cost to calculate. As most CMMS providers base their pricing plans on users — like most other SaaS solutions. You can multiply the number of people using the CMMS with the price per user.
Often, a yearly subscription will be cheaper than monthly subscriptions. Still, it does mean a higher upfront cost as you are basically paying to use the software for the whole year ahead.
Let's imagine you have 13 technicians and 1 maintenance manager that will be using the Limble CMMS. You decided you want our Professional plan on a Yearly subscription.
The total cost of the running Limble CMMS, in this scenario, is: number of users (14) x cost of the license ($70) x months of use (12) = $11,760 per year (or $980 per month)
Make sure you check for any hidden costs that could creep up on you. These could be: 
Paid add-ons

Consulting fees

On-going support fees
Ask your potential CMMS vendors the right questions to avoid uncomfortable surprises later down the line.
3) Onboarding costs
Onboarding is another time-based cost. It boils down to the number of working hours people who will be using the software need to spend on learning how to use it. This is also something you should talk to your CMMS provider about. They probably have some average numbers regarding the onboarding process. 
The onboarding process can consist of activities like:
Watching video tutorials

Watching live webinars

Participating in the scheduled training program
To estimate your onboarding cost, follow this formula:
Time x Number of Users x Average wage = Total Onboarding Cost
4) Hardware costs
Your technicians are regularly on-the-move. Therefore, you should plan to implement mobile maintenance software. While still useful, desktop-only solutions will limit the ease of use for your team. The fewer barriers your team has to using the software, the more you can optimize your maintenance program, and the higher ROI you can expect from your CMMS. 
Hardware costs usually come in two forms:
Mobile devices

Setting up a decent wireless network (might not be necessary if your facility has good enough coverage so people can use

data plans

)
Calculate your CMMS ROI using the Limble calculator
We know that writing all the numbers down and doing the calculations can be a drag. To speed things up, we created an interactive online calculator you can see below.
Before you start throwing in your numbers, here are a few things you should keep in mind:
Some fields are automatically populated with numbers that reflect average savings Limble users have measured in the past.

These numbers are there to give you an idea of real savings you can expect to see yourself (they are not exact).

If you expect to see different numbers, feel free to change them.

When you're finished entering the numbers, just write in your email address. We will send you the whole cost/savings breakdown to your email and give you the link with full access to the calculator, which you can use to test different scenarios.

All calculations are based on the time span of 1 year. They show you what your return on investment could be one year after the implementation of Limble CMMS.
---
---
Maximize your CMMS ROI with thorough implementation
Maximizing your CMMS ROI depends largely on how well you implement your CMMS. Limble makes implementation easy.
Once your plan is put together, and your data is ready to go, you can contact your Customer Success Manager to help you start the process. You can use this great self-implementation guide to help. The steps of your strategy will be pretty similar to this:
Easy and fast implementation with Limble CMMS
When Director for Facilities at Myriad Genetics, Joe Romero, stepped into his role, the company managed maintenance with verbal reporting and spreadsheets. It took a week to implement Limble, and the results were outstanding. Within with first three months, 975 preventative maintenance tasks were completed, and by the end of four months, productivity was up 20-30%. Watch Joe's complete video.
Learn more about CMMS software
Trying to learn more about CMMS software? Here are a couple of excellent sources that will teach you everything you need to know:
Now that you know how to calculate the ROI, getting Finance on your side should be much easier. It's decision-making made easy.
We are here to support you and answer any questions that come up. Feel free to get in touch with us.