What is hotel maintenance?
Hotel maintenance encompasses all maintenance actions that are taken in order to maintain and repair all systems, components, and equipment that are a part of a hotel property. The exact scope of maintenance work greatly varies from one hotel to another, based on the size of the hotel and the range of services it offers.
Hotel maintenance can be looked at as one type of building maintenance that places extra focus on issues that concern hotel guests. In other words, hotel maintenance puts more emphasis on things like plumbing, HVAC, lighting, and visual representation of the whole establishment.
After all, having all building systems running smoothly puts the hotel in the fast lane that ends in a positive word of mouth.
Places that use hotel maintenance
Hospitality industry is a very broad category. Hotel maintenance can be applied to every business that offers some type of lodging and guest accommodations, be that its main purpose or something that just supports their core services.
Hotel maintenance can, therefore, be applied to:
Hotels/motels/hostels

Guest houses/vacation rentals

Some recreation and rehabilitation centers

Ski/spa/mountain/lake and other types of resorts
While the exact range of maintenance activities will vary based on the type of facility/business we are looking at, the core range of duties generally stay the same across the hotel industry. Let's briefly talk about them next.
List of common hotel maintenance duties
Since there are a lot of things to cover, you need to have a well-rounded hotel maintenance and housekeeping team. This is nothing new for maintenance technicians as they are expected to be a jack-of-all-trades regardless of the industry they work in.
Here's what maintenance does in a hotel, grouped in a few bigger categories:
Maintaining major building systems

(plumbing system, electrical infrastructure, lighting, HVAC systems)

Housekeeping tasks

(cleaning rooms and hotel public areas, restocking guest room amenities, collecting dirty linens and transferring them

through laundry chutes

, reporting problems to the maintenance team…)

Specialized maintenance work

(upkeep of elevator system, refrigeration units, various kitchen appliances…)

Maintaining technical equipment

(phone lines, TVs, wi-fi system, computer equipment…)

Maintaining hotel
Room interiors

(room furnishings, carpentry, fixing/replacing broken furniture, flooring, wallpapering…)

Maintaining building exteriors and landscape
Why is hotel maintenance management so important for hotel operation?
Things are very simple to understand here. Subpar hotel maintenance management directly correlates with decreased profits for hotel owners, in more ways than one.
The first way is what we already discussed in the intro. Broken systems lead to bad reviews, which leads to fewer people that want to stay at your establishment, which lowers your revenue.
The second way is again tied to the occupancy rate. However, in this scenario, your hotel rooms are empty not because of the low number of interested renters, but because you have technical issues that prevent you from renting them out. It can be an electrical problem that poses a safety risk, a plumbing issue that resulted in flooding, broken lock/key system, and so on. Every night that a room is unavailable is a potential loss of revenue.
The third and final way we want to highlight revolves around maintenance costs. The maintenance budget is a part of a hotel's operational budget. If maintenance costs start to climb out of control they will increase your operational budget and eat into your profit margins.
A clear hotel maintenance strategy supported by the right maintenance software can prevent all of these issues.
Checklist for Creating a Preventive Maintenance Plan
Following a consistent Preventive Maintenance Plan can make life easier. Use this checklist to create your own!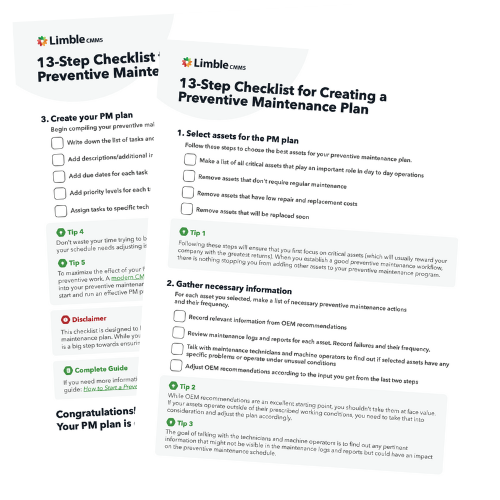 4 ways to improve hotel maintenance management
Staying on top of hotel maintenance tasks with a limited budget takes quite a bit of optimization. Here are 4 tips that will set you on the right path.
1) Implement mobile maintenance software
Right of the bat, we start with a software recommendation. You simply can't have an optimized, cost-effective maintenance workflow without the support of mobile maintenance software.
Don't get us wrong. You can optimize the processes up to a point without it, but mobile CMMS app saves you so much time and offers so much data that it's not even a contest.  If you don't know what a CMMS is check out our What is a CMMS System and How Does it Work guide.
This is just a snapshot of what it offers:
Maintenance planning and scheduling.

Includes using a maintenance calendar to schedule everything from heavy-duty maintenance work to simple routine maintenance tasks, all in a way that takes into account available resources and when the work will be minimally intrusive for all guests.

Tracking performed maintenance work.

A mobile CMMS lets you accurately track who does what, was the work performed on time, how much reactive vs preventative maintenance you are doing, as well as

view and manage all open work orders

.

Additionally,

if you outsource a lot of work to subcontractors, you can give them access to your CMMS and track their work too.

  
Managing inventory.

You can't do a lot of maintenance work if the required spare parts and tools are not available when the technicians need them.

Finding the balance between over and understocking

is much easier when you have a CMMS like Limble that tracks how many spare parts you use on a monthly basis.

Optimizing overall maintenance workflow.

With instant access to asset logs and the ability to create maintenance checklists, maintenance technicians need less time to carry out assigned work – be that a simple preventive maintenance task or

handling a maintenance emergency

.

Making informed improvements.

A good CMMS tracks all relevant data about your assets and the performance of your maintenance team. All of that data can be used to generate a variety of useful reports and spot potential bottlenecks.
2) Stay diligent with proactive maintenance
As we concluded earlier, it is in the interest of every hotel manager and owner to keep asset breakdowns to a minimum. This simply can't be done without a strong focus on preventive maintenance.
I'm sure that even the fish in the ocean know this by now, but we still see so many businesses trying to get by waiting for things to break down and then sending in the maintenance techs.
With a plethora of CMMS solutions available, there is little excuse to remain stuck in the reactive mindset. With all of the features we covered earlier, running proactive maintenance is a breeze. Those $200 or $300/month you will spend on a CMMS for a small maintenance team is nothing compared to the cost-savings you achieve through workflow optimizations and revenue increase that comes with a stronger brand image.
Being proactive is a staple of any good maintenance program.
3) Coordinate housekeeping and maintenance teams
To make their life easier, hotel managers should ensure that the housekeeping and maintenance teams have a clear line of communication. The same goes for the reception.
Why? Because if guests have any problems they will either complain to the front desk or to the housekeeping team. You want those issues quickly relayed to the maintenance team.
One way to do that is to use a maintenance software that has a simple work request portal that any hotel employee can use to submit maintenance requests. In addition to that, you can have your whole team connect on one of many available communication apps so they can easily discuss specifics of a particular problem.
This is way faster than reporting problems to a hotel manager first and having him forward messages to the maintenance manager or maintenance supervisor.
In addition to communication, scheduling work is an important part of coordination. There are many situations in which a housekeeping and maintenance team can perform their routine tasks at the same time, in the same room. One could adjust the maintenance schedule to take advantage of that and maximize room availability.
4) Control maintenance costs with maintenance data
Many organizations implement CMMS for the sole reason of lowering their maintenance costs. As we teased throughout the article, having the right data at your fingertips is the most straightforward way to close expensive leaks and make cost-efficient improvements across the board.
Here's one specific example.
Let's say you have an air conditioning unit breaking down unusually often. You can look at how many spare parts you are spending on repairs (cost of spare parts), how many man-hours are you spending on maintenance and repair of that asset (cost of technician per hour), and if the breakdown meant a room was unavailable for a while (potential loss of revenue). Having all of this data makes it easier to conclude if the asset should be repaired or replaced.
Here are some important things you can easily track with Limble CMMS:
Inventory costs

Labor costs (with close attention paid to overtime costs)

Cost of reactive vs proactive maintenance work

Overall maintenance costs (which can be compared by different locations if you run more than one facility)
It is not always easy to pinpoint the root cause of a bloated maintenance budget. Do the assets break down because you use cheap replacement parts, because a technician performs poor maintenance work, because customers misuse it, or because of a combination of said reasons?
Whatever the case might be, when you have a maintenance system that automatically aggregates a whole bunch of maintenance data, finding the culprit becomes that much easier.
Key takeaways
There is no hotel management without hotel maintenance so it's best to do it right from the start. Build a strong proactive maintenance team, implement hotel maintenance software, and make informed improvements that will increase the quality of maintenance work and reduce overall maintenance costs.
If you're interested in learning more about Limble CMMS and how it can help streamline your hotel maintenance operations, don't hesitate to contact us.
Related Content
Explore our blog for insightful articles, personal reflections and ideas that inspire action on the topics you care about.