Hospitals are one of those facilities we can't live without. We expect them to always be able to deliver an adequate level of service. However, that holds true only if facility managers give enough attention to hospital maintenance.  
Although downtime, equipment failure, and other asset issues can heavily disrupt workflows in any industry, in the context of a hospital, they are literally the line between life and death.
Fortunately, problems with physical assets and infrastructure are avoidable by following best practices and using maintenance software to organize and streamline all aspects of healthcare facilities management. Let's see how. 
Why are hospitals different from other buildings?
From the outside, most hospital buildings appear relatively calm and quiet. Upon closer examination, you'll see that the structure contains a complex mix of interacting parts like: 
Diagnostics  

Pharmacy

Nurseries

Clinical laboratories 

Treatment and emergency rooms

Surgery halls

Food service 

Housekeeping

In-patient housing
…and many more.
Although this sounds like quite a handful already, that's not all; each of these units is subject to a unique set of strict operating procedures that are regularly monitored by regulatory authorities.
What are the main functions of healthcare facilities management?
Healthcare facilities management (often abbreviated as HFM) has the same purpose as any other maintenance department: to ensure optimal asset reliability and performance while working within the budgetary and regulatory constraints. That includes:
Managing day to day maintenance operations and resources
Proactively maintaining assets and infrastructure
Making sure your healthcare facility complies with all of the regulatory requirements
Managing maintenance vendors and contractors
Planning for and managing capital projects (facility and equipment upgrades, buying new physical assets)
Staying on top of the healthcare facilities maintenance budget
much more (see the image below)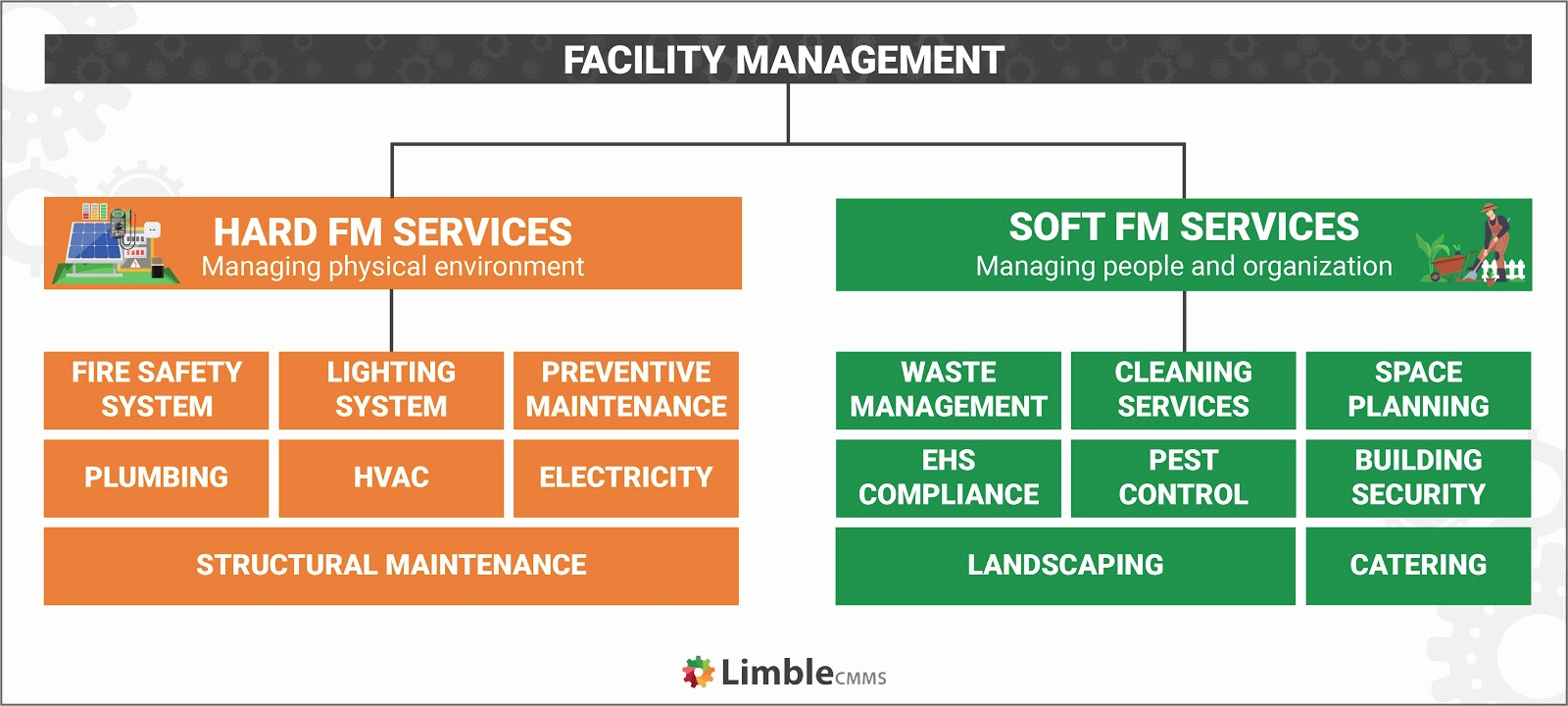 The unique challenges of hospital maintenance 
As you can imagine, the maintenance team in a hospital has their work cut out for them. Yet, they must remain efficient despite some major constraints.
Organizing maintenance work around a 24/7 service
Walk into a hospital at any hour, day or night, and there's some important activity going on.
For the maintenance team, this can be particularly challenging. They'll need to keep a number of systems running continuously and still, somehow, find a time and place to perform scheduled maintenance. 
In practical terms, the maintenance team will need an airtight schedule, most likely with different machines being serviced on a staggered timetable. In situations where equipment must be shut down for maintenance work (such as electrical or other high-risk equipment), arrangements must be made for an alternative or a backup. Routine work like that should be scheduled with enough wiggle room for it to be postponed if necessary. 
To accommodate these maintenance requirements, the maintenance team will need to adopt a 24/7 working schedule. They'll also need to be prepared to grab little windows of opportunity to quickly service machines that become unexpectedly idle.
The grave implications of maintenance mistakes
Imagine what would happen in any of these scenarios: 
A defibrillator doesn't power up when needed

A monitor tracking a patient's vital signs is faulty and doesn't send an audible alarm at a critical stage

The imaging machine suddenly stops working

The system responsible for creating negative pressure rooms doesn't do its job properly 
Any of these situations can lead to a nasty outcome for both patients and the hospital.
In hospitals, there is very little – if any – allowance for maintenance mishaps such as missed equipment maintenance or improper cleaning/disinfection. 
Avoiding healthcare compliance violations 
The American Hospital Association reports that hospitals are expected to comply with 629 regulatory requirements across nine domains. 
Your hospital's maintenance management program, and how efficiently it is executed, has a direct and measurable impact on the outcome of compliance audits. Implementing software like CMMS is a great way to organize maintenance resources, create hospital maintenance schedules and, most importantly, stay on top of those schedules. 
Unfortunately, that might not be enough. You do not only want to know that the work is being done. You want it done right. And not just because of compliance reasons. 
This is where standardization comes into play. Review compliance requirements and combine them with best practices to create standardized operating procedures (SOPs). Include SOPs into the employee onboarding process. Attach them to a CMMS or other cloud-based app so everyone has a quick and easy way to access them, regardless of their location. 
You can use SOPs to optimize processes across different departments, not just maintenance.
[limblecta formid=21]
Controlling maintenance costs
Although lives must be saved and patients undoubtedly deserve the best care, the fact is that, like any other industry, healthcare is subject to budgetary constraints and financial scrutiny. 
It is not a secret that hospitals are expensive to run, with US hospitals taking the lead worldwide.
Hospital administrators are under constant pressure to deliver care under tight budgets (not unlike maintenance managers). Maintenance management is a major cost center and can spiral out of control. Although maintenance can bloat your operational budget, when executed as a part of a larger strategy, it has the potential to significantly reduce your overhead expenses.
Just slashing the maintenance budget will not do. In fact, arbitrarily cutting maintenance budgets is likely to cause even bigger problems later down the line. The maintenance department needs to understand the unique nature of the hospital and strategically research avenues to lower costs without compromising patient care. 
Major areas they can start from include energy management, inventory control, and proactive maintenance.
Hospital maintenance best practices 
Medical equipment can be very expensive. However, well-managed medical assets can remain functional for upwards of two decades. It should make perfect sense to do everything you can to protect that investment and keep it running for a long time.
1) Apply proactive maintenance management measures 
You do not have the luxury of waiting for equipment to break down before scheduling maintenance work. You have to be proactive. 
If the budget is tight, focus on preventive maintenance. If you have some cash to spend, consider investing in predictive technology.
Consider this. What if we told you that instead of your surgeon facing the unpleasant surprise of a faulty anesthesia machine just minutes before a surgical procedure, it's possible for the machine to have warned your maintenance team days or weeks before the surgery that it needs repairs? Yes, it sounds like sci-fi but that's the power of predictive maintenance (PdM).
In the simplest terms, PdM is a precautionary maintenance strategy ideal for high-risk assets. It monitors the real-time condition of equipment (through methods like vibration analysis) and alerts maintenance when there's a potential problem. By doing so, they have the required information to make timely interventions.
2) Digitize inventory management and asset tracking
Logistics problems, supply chain bottlenecks, missing gadgets, and unavailable spare parts are intolerable issues in hospitals. Your team can control these problems by doing the following: 
3) Prioritize assets with a direct impact on patient well-being
From wheelchairs to generators, all your assets and equipment are important. However, there needs to be a clear value hierarchy.
It is only natural that more important assets like electric generators, life-support machines, surgical laser machines, anesthesia machines, infant incubators, firefighting systems, etc. get more attention.
That being said, the frequency of testing and inspections for each asset will ultimately depend on OEM recommendations, asset age and usage, operating conditions, and compliance requirements.
Here is a great guide on the prioritization of medical equipment and its management through its lifecycle for those interested in learning more.
4) Conduct regular in-house audits and assessments
Encourage the practice of regular in-house audits and assessments of your hospital's maintenance performance. This will serve many benefits:
create a proactive maintenance work culture

meet and exceed the expectations of external auditors 

keep track of performance measurements

provide reliable data for audits and disputes (especially when everything is recorded inside a CMMS)
5) Implement computerized maintenance management software
You might be wondering, do I really need one more software solution? Well, let's look again at what maintenance management encompasses.
Do you really think you can stay on top of shift schedules, asset health and procurement, safety and compliance guidelines, inventory management, vendor management, and contractor management, while constantly balancing preventive maintenance with workers' and patients' service requests, in an already dynamic environment where a situation can change on a dime?
You need a modern software solution like Limble that will help you automate, organize, and streamline all maintenance-related activities. As an added bonus, having all of the maintenance data in one place will help you track costs and find sensible cost-cutting measures/improvements that can remove some burden from your operational budgets.
[limblecta formid=8]
6) Recruit and train a skilled maintenance team
You can avoid a host of operational headaches, technical issues, liability claims, and regulatory fines by investing time and effort into recruiting and building a competent maintenance workforce.
For more info, read our guide on How To Establish An Effective Maintenance Training Program. It is geared towards manufacturers, but most of the advice can be applied in any industry.
It is also very important that medical experts and other personnel that come into contact with sensitive equipment know what they are doing and how to safely interact with it. Operator mistakes are one of the most common causes of equipment damage and failure in other industries and, while we didn't find any relevant statistics, we doubt that the medical industry is any different.
What does a typical hospital maintenance team look like? 
The composition and size of your maintenance team will naturally depend on the size and complexity of your facility and physical assets. In general, you should expect to hire for the following positions:
Facilities manager
The facilities manager leads the maintenance team and is responsible for maintenance planning and execution on a strategic level. You may not see them moving around the premises like other maintenance workers but their work ensures that everything maintenance-related runs smoothly. If you want someone with industry experience, it is best to look for a healthcare facilities manager. 
Maintenance supervisor
The maintenance supervisor works like a go-between the facilities manager and other members of the team: they work directly with the team on interpreting policies, handing down instructions, passing information across, and generally assigning and co-ordinating daily work tasks. 
They constantly report back to the facilities manager and strive to ensure that instructions are fully and completely implemented. 
Hospital maintenance technicians
Maintenance technicians are skilled blue-collar workers with the hands-on training required to work directly on machine repair and servicing. There are many different types of maintenance technicians but for a hospital, you'll most likely need electricians, plumbers, HVAC technicians, and medical equipment technicians.
Whether you are a hospital administrator or facilities manager looking to recruit new technical members for your maintenance team, or you are a skilled worker thinking of switching over to the medical equipment maintenance field, several organizations now offer a number of recognized and accredited certifications like:
Certified Biomedical Equipment Technician (CBET) by

(AAMI)

Biomedical Electronics Technician (BMD) by

ETA International

Master Certified Electronics Technician (CETma) also by ETA international
Janitorial staff
Janitorial staff generally refers to a group of maintenance workers that are responsible for completing a variety of cleaning tasks. The scope of their duties and their level of skill and training will vary depending on the facilities to be cleaned. For instance, janitorial staff in a medical facility may need different skill sets compared to those working in a casual office space or a public park. 
Nevertheless, their duties include sweeping, mopping, and vacuuming floors. They'll also be involved in keeping the external grounds clean (removing snow and debris, trimming bushes, etc). 
Their duties are normally assigned daily or weekly by a supervisor, coordinator, or some other overseer. Although they'll usually have entry-level or basic education, before employing janitorial staff, it's important to confirm that they have extensive experience handling a facility similar to yours. Cleaners and gardeners belong to this group.
Maintenance contractors to take care of specialized work and equipment
While you may want to keep your maintenance activities in-house as much as possible, the fact remains that for a hospital, especially a large one, keeping every maintenance task in-house would demand a considerably larger workforce, more logistics, and resources that might end up distracting you from your core business – providing the best medical care. 
It is only natural to outsource maintenance services that require highly specialized training, tools, and software such as elevator maintenance, plumbing, or imaging equipment maintenance. For more information about working with maintenance service companies, read our guide on finding and qualifying competent maintenance contractors.
Take care of your physical assets 
We cannot overemphasize the importance of hospital maintenance.  
Proper, regular maintenance gives healthcare the confidence to rely on equipment and tools they use to save and improve patient lives. As an added benefit, it also saves hospital facilities from scrambling to make expensive emergency maintenance calls and bleed money into liability issues. 
You have to take care of your physical assets so they can take care of your patients.
The first step in making your life easier is to implement maintenance software like Limble CMMS. It will reduce your cortisol levels by eliminating the stress associated with managing maintenance work and physical assets.
Schedule a demo or send us an email to learn more about Limble and what it can do for your medical facility.