April 28 2022
What to Look for in Manufacturing Maintenance Software
Equipment breakdowns in an asset-intensive industry like manufacturing lead to large production losses and bloated maintenance costs (increased labor and parts expenses to name a few). A capable manufacturing maintenance software must be able to help you reduce these unexpected and unnecessary expenditures. 
Join us as we discuss the main benefits of digitizing maintenance management on production floors and outline must-have CMMS features manufacturers should be on the lookout for. 
Why manufacturers need maintenance software
When we talk about manufacturing maintenance software, we are talking about Computerized Maintenance Management Software (CMMS). After all, CMMS solutions first appeared 50 or so years ago, right on the production floors.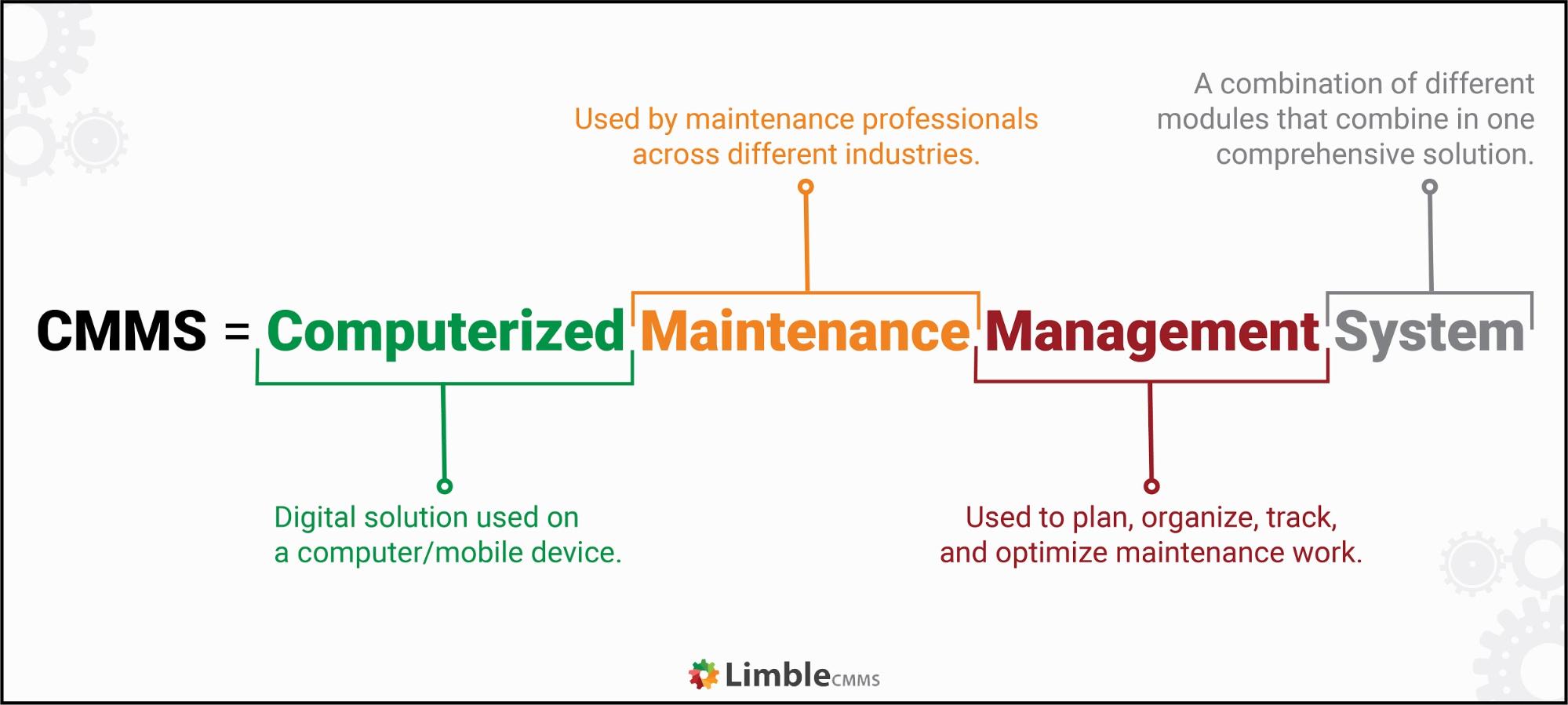 Ideal manufacturing maintenance software helps maintain manufacturing systems, machines, lines, or entire facilities by providing real-time visibility into maintenance work and asset performance. It automates repetitive, tedious tasks, so that your plant personnel can focus on real value-added work.
From the plant floor all the way to the senior leadership team, using modern manufacturing maintenance software can directly improve your maintenance, repair, and operations (MRO) efforts across the organization. 
A few of the key benefits are:

Reduced unplanned downtime: Develop a reliable, data-driven, preventive maintenance program to reduce breakdowns and extend equipment service life across the plant.
Improved handover and communication: Share the maintenance work management schedule between maintenance and operation in real-time.
Mobilized workforce and increased information accessibility: Store equipment and maintenance data and documentation in a centralized database, accessible on the go from a mobile device.
Continuous improvement: Documented equipment service history helps engineers and technicians review lessons learned and continuously improve preparation for future repairs.
Digitized maintenance documentation: Provide instant access to equipment manuals, checklists, drawings, and operating procedures.
Streamlined inventory management: Automatically update your spare parts and consumables as you use them. Receive notifications as you start to run low so you can optimize bulk just-in-time ordering and reduce inventory costs.
Maintenance software must be equipped with certain key features in order to deliver the benefits discussed above. Let's see what those features are.
Features every manufacturing maintenance software should have
Before committing to a specific CMMS vendor, it is important to identify problems you are trying to adress. Knowing that will help you decide what are the must-have features for your plant.
For better or worse, most CMMS solutions offer a similar set of features. Alongside factors like pricing and customer support, the real difference lies in how easy-to-use those features are. To find the best maintenance software, you will need to shortlist a few systems and do some testing.
Now, let's explore some of those indispensable features. 
Asset management
The asset management functionality within manufacturing maintenance software helps simplify asset tracking by storing all your equipment and component information in a single centralized repository. Key asset details – including location, installation dates, criticality, maintenance history, and reference documents – should all be easy to find and access. 
Knowing how all your assets relate to one another is critical for developing an asset maintenance plan. Limble CMMS, for instance, allows you to identify, visualize, and modify the relationships between your assets, equipment, and subassemblies through child-parent relationships. 
Such functionality is a critical part of complex work planning and scheduling as it helps provide visibility into the various equipment dependencies on the downstream and upstream ends.
Work Request & Work Order Management
It is very important to start the process in a streamlined manner – and that begins at the work request initiation stage. Users must be able to navigate the work request portal and submit work requests alongside the ability to search, sort, and track their tickets through mobile devices or desktops. 
Limble's Work Request Portal can be accessed via URL or by scanning asset barcodes
On the downstream end, maintenance assessing teams should be empowered with the functionality to quickly set up effective work orders. That might require the ability to add contingency parts, detailed task instructions, reference documents, permit requirements, resource requirements, and automated follow-up activities if the inspection fails, among others.
With the Limble CMMS work order management features, you can streamline work request creation and automate work order activation, assignment, and distribution, ensuring that important work doesn't don't fall through the cracks.
Elements of a Work Order inside Limble CMMS
Capturing relevant maintenance history can be a catalyst for future repairs. In addition, this functionality allows users to manage and control the level of information required to be included before work orders can be closed out. 
For example, the approval process for work order completion can be customized based on the required sign-off from supervisors and management, and depending on criticality, along with the improved functionality of customizing the required data entry fields.
Mobile accessibility
Mobile access across connected devices helps eliminate the time wasted running between the plant floor and offices, computers, and printers. Maintenance software supplemented by mobile software empowers employees to go from one task to another with minimal interruption.
With Limble, your team can create, view, complete, and close work orders right from a mobile device. During repairs or routine maintenance, they can quickly pull up details like troubleshooting checklists, SOPs, maintenance logs, safety guidelines, etc. If there is a major breakdown, you can send instant notifications about task priority changes.
For more info, we have a separate article that discusses how mobile maintenance software helps automate your maintenance workflows.
Maintenance calendar for preventive maintenance
Manually creating recurring preventive maintenance tasks for dozens or hundreds of assets is a colossal waste of time for every maintenance manager/supervisor/planner. 
Limble CMMS allows you to automatically create PM tasks based on predetermined maintenance intervals, last completed date, or even based on sensor data you installed on your critical production assets.  
An example of Limble's maintenance calendar
Quickly creating and managing PM tasks is great but it means nothing if you don't have the resources available to execute them. This is why manufacturing maintenance software has to give you a way to oversee your current maintenance workload.
One of the ways Limble helps managers track maintenance workload
A robust PM program is the foundation for strong equipment reliability and plant performance. Having a drag'n'drop maintenance calendar combined with a clear overview of technician workload makes planning and managing maintenance work a whole lot easier.  
Reports and Dashboards
Robust manufacturing maintenance software must be able to provide snapshot information to help understand plant performance and make business decisions. With the capability to develop custom Key Performance Indicators from over 10,000 different dashboard possibilities, Limble CMMS' reporting and dashboard features allow users to transform raw, real-time maintenance data into actionable insights.
With the resulting level of transparency and visibility into plant operations, everyone from the senior leadership team to the floor level can better understand maintenance, from every angle, and be aligned on top priorities, drivers, and targets such as Overall Equipment Effectiveness (OEE), average equipment maintenance cost, and top backlog items.
Spare parts inventory management
With the spare parts inventory management functionality, you will always know how many spare parts you have in stock and when your inventory hits its reorder point. This ensures you can strike the difficult balance between overstocking your warehouse and running out of critical spares and consumables.
Aside from standard functionalities such as tracking stock on hand, demand sources, shelf life, and manufacturer information, Limble enables you to track parts utilization and consumption rates – which makes forecasting future MRO supply needs easier. Additionally, when inventory hits a reorder point, procurement and supply chain teams can be automatically notified to initiate the requisition process.
Additional features worth mentioning
Limble CMMS comes loaded with all these features and more, including vendor management and predictive maintenance. It is available in 14 different languages and provides you with the toolkit needed to implement a robust maintenance management program for all assets and infrastructure at your facility.
Take your plant operations to the next level with Limble CMMS
If you are interested in testing Limble CMMS, you have three options:
The low cost of a modern CMMS makes it a viable solution for big and small manufacturers alike. Digitizing maintenance management is the way of the future. The sooner you start the process, the better.
X
Limble
Ranked #1

by maintenance experts in the field
>
<
Nov 07

Very easy to use, functionality is great

"I can track my inventory and it sends me emails when I'm running low on an item. Also that I can track how much time I'm spending on certain jobs over an extended period of time."

Dec 19

Very easy to use, access

"I like the price, the fact I can see it on my phone or the computer. I like that it is internet-based."

Dec 03

It just works

"Honestly - the customer support has been fabulous. We had a minor feature request that was deployed within 24 hours - which is unheard of. Even better when you consider our business is located in a completely different time zone (somewhere in Australia). Limble is quite intuitive and I love the ability to have assets nested within each other."

Jan 30

Great for smaller or larger facilities

"We haven't fully integrated Limble yet but we are already seeing improvements in our efficiency. As we fully integrate Limble we expect to see more benefits and increase our response and completion times. The customer support has been outstanding. The Limble team is very quick to respond to any questions and they are very open to suggestions."

Jan 18

Limble is the best thing to happen to this company

"Limble does such a good job at keeping track of what's been done and letting me know when and what I need to do next."

Jan 11

Great product at a great price

"Terrific customer service, easy to use, and at a great value. Our old Maintenance software was very difficult to use and was very expensive."