Manufacturing is the ultimate asset-intensive industry. Every millisecond of production time is valuable.  
But without manufacturing maintenance software, the length and frequency of downtime (planned or otherwise) can lead to big financial consequences. 
Manufacturing maintenance software can help your organization reduce losses, save money, and improve efficiency with the power of data insights and improved planning and communication. We'll show you how.
CMMS features and their benefits
Many systems offer a similar suite of CMMS features that are useful for just about any organization that requires maintenance. However, some features are especially crucial for manufacturing. 
Asset management
that minimizes unplanned
downtime
A good enterprise asset management software will simplify the complex work of planning and scheduling asset maintenance. 
The benefits of an asset management function are: 
Reliable data that drives smart

preventive maintenance

planning, reduces breakdowns, and extends manufacturing equipment service life with minimal impact on operations. 

Helps simplify

asset tracking

by storing all your equipment information like location, installation dates, criticality, maintenance history, and reference documents in one central, easy to find location. 
Limble CMMS users reduce their downtime by 37% on average as a result of efficiencies gained by using the software.  
Work requests
and
work order management
A work order request portal allows users to submit work requests to the maintenance team in real time — so when you've got a big problem on your production line, your maintenance team can be notified right away. 
Additionally, it allows users to search, sort, and track tickets through any wifi-enabled device for updates and other helpful communications. Limble's Work Request Portal can be accessed via URL or by scanning asset barcodes
Key work order management functionality for maintenance teams includes the ability to: 
Add contingency parts

View and follow detailed task instructions

Consult reference documents, permit requirements, and resource requirements

Automate documentation, supervisor approval request, and other follow-up activities.
The benefits of a good work order and request function are: 
Efficiently assigning, managing, and completing

work orders

. 

Improved communication between requestor and

maintenance team

on

work order

initiation and status. 

Thorough and automatic documentation of

work orders

. 

Improved quality of resolution on

work orders

. 
Mobile accessibility
Mobile access helps eliminate the time wasted running between the plant floor and offices, computers, and printers to complete documentation or communication.
With Limble, your team can create, view, complete, and close work orders right from a mobile device. 
And because Limble has its own distinct mobile application (as opposed to a website you navigate to through your browser), it is designed specifically to be easy to learn and use on the go.
During repairs or routine maintenance, they can quickly pull up details like troubleshooting checklists, SOPs, maintenance logs, safety guidelines, and more. If there is a major breakdown, you can send instant notifications about task priority changes.
The benefits of mobile accessibility are:
Access to all maintenance information while out in the field, eliminating delays for key  information, approvals, or communications. 

Ease-of-use for systems that have a distinct mobile application designed for use on a

mobile device

. 
For more information, learn all about how a mobile CMMS app helps automate your maintenance workflows.
Maintenance calendar
A robust PM program is an indispensable foundation for strong plant performance.  But manually creating recurring maintenance tasks for all your assets is a colossal waste of time without preventive maintenance software. 
Limble CMMS will automatically create preventive maintenance tasks based on set maintenance intervals, last completed date, or even asset sensor data.  
Manufacturing maintenance software must also give you a way to oversee and easily adjust your team's workload. 
Drag and drop maintenance schedules and a workload overview makes planning and managing maintenance work a whole lot easier. 
The benefits of a robust maintenance calendar are: 
Quick and easy creation and management of a

preventive maintenance schedule

. 

Workload oversight that improves staff productivity and satisfaction.

User friendly

calendar that makes schedule changes simple and efficient.
Productivity improves by an average of 41% when companies implement Limble CMMS. 
Reports and dashboards
Manufacturing maintenance software makes documenting maintenance activities automatic. Good maintenance management software must make use of the historical data it stores to help managers understand and improve performance. 
With customizable key performance indicators from over 10,000 different dashboard options, Limble CMMS reporting and dashboard features are second to none. They allow users to transform raw, real-time maintenance data into actionable insights.
It makes calculating and aligning on top priorities and targets such as Overall Equipment Effectiveness (OEE) a lot easier.  
The benefits of a reporting and dashboard function are:
Improved visibility into the value of maintenance to plant operations for everyone from floor technicians to senior leadership. 

Greater awareness of productivity and opportunities for efficiency.

Continuous improvement of maintenance practices over time, improving efficiency and lowering costs. 
Spare parts inventory
Imagine being able to check which parts are on hand to address an urgent breakdown simply by opening a mobile app? Even better, imagine if you had the confidence that you always had important parts on hand because your manufacturing maintenance software is up-to-date? 
The best part is, it's not too good to be true.
With the spare parts inventory management function, you will always know how many spare parts you have in stock and when it is time to reorder. It is the key to striking the balance between overstocking your warehouse and running out of critical spares and consumables.
The benefits of a good spare parts inventory function are: 
Automatic and

real-time

updates to your

spare parts

and consumables inventory as you use them. 

Inventory

notifications

to help

optimize

bulk just-in-time ordering that reduces inventory and shipping costs.
On average, Limble CMMS customers save 29% on their parts budget after implementing the parts inventory management module. 
The Essential Guide to CMMS
The Essential Guide to CMMS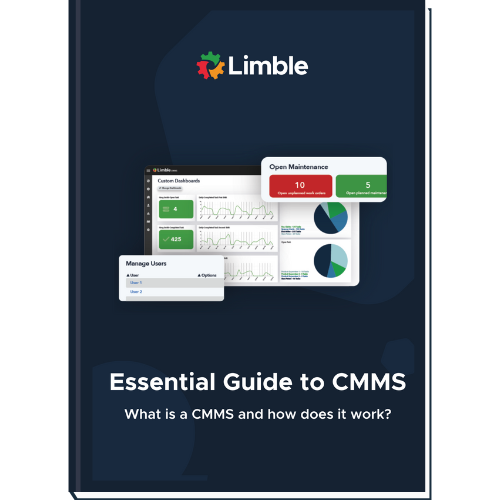 Integrations
There are a lot of great software solutions out there for every aspect of running a business. Smart organizations typically have a number of them in place to streamline their day-to-day work. 
But what if you need data from one system to flow into or talk to another? 
To keep the data in your systems clean and accurate, integrations are essential. That is why some CMMS systems offer integrations like the Limble API to allow maintenance integrate with data in other software systems such as SAP and Quickbooks. 
The benefits of system integration are:
Instant access to a central repository of key asset details and

equipment maintenance

histories.

Streamlined setup and data entry when information from one system is needed by another. 

Simplification of downstream processes managed by other departments. 
Limble CMMS comes loaded with all these features and more, including vendor management and predictive maintenance. It is available in 14 different languages and provides the toolkit needed to implement a robust maintenance management program for everything at your facility.
If you want to learn more about the impact of a full-featured CMMS like Limble, check out Sulzer's story or the Midwest Materials case study. 
How a CMMS supports manufacturing maintenance
When we talk about manufacturing maintenance systems, we are talking about Computerized Maintenance Management System (CMMS). CMMS systems help businesses manage, automate, and streamline all of their maintenance operations. 
A CMMS will hold all of your maintenance information, facilitate and streamline the work of your maintenance team, and allow you to manage all of the chaos of maintenance in one single spot.
Choosing the best
manufacturing maintenance software
for you
Every organization is different. 
The type and scale of products produced at your plant will determine the unique maintenance needs of your team. 
Everything from the size of your company to the experience of the staff will be important factors to consider when choosing your maintenance manufacturing software. 
A first important step in finding the right software is to determine your organization's key characteristics and needs such as:
The number and types of assets your team is responsible for maintaining

The size, scope, and technical ability of your

maintenance team

Your organization's most significant maintenance pain points

The budget your organization has in order to evaluate CMMS

pricing
That said, there are many key features that absolutely all manufacturing plants will need. Make sure they are included in whatever software you eventually put in place. You'll be glad you did. 
The best
CMMS software
There are a lot of factors to consider when choosing the best CMMS for a manufacturing facility. Many find that Limble CMMS checks all the boxes in one user-friendly package. Check out the experience of others in the manufacturing industry who have implemented Limble in this case study. 
If you find yourself interested in testing Limble CMMS, you have three options:
The low cost of a modern CMMS makes it a viable solution for big and small manufacturers alike. Digitizing maintenance management is the way of the future. 
The sooner you start the process, the better.