January 3 2019
Using Limble CMMS To Optimize Your Maintenance (Video Tutorials)
For better or worse, we operate in a capitalistic environment that forces us to always look for a competitive edge that will help us stay relevant in the market.
For many businesses, implementing a CMMS is one way to acquire that competitive advantage.
While all computerized maintenance management systems are designed with a single purpose of optimizing your maintenance operations, some are vastly better at it than others.
Of course, everybody claims that their product is superior. We could do the same, but empty words aren't going to help anyone.
That's why we decided to make a few videos and show you how you can use Limble CMMS to optimize your maintenance operations and also to give you a better grasp of what Limble can do.
Focus on user experience
Talking with our current and potential clients, we noticed that there is one complaint that gets repeated quite often.
What they have found very frustrating in the process of selecting a maintenance software is that everybody says the same thing and everybody claims that they have a simple to use the software. But not many can deliver on that claim.
"I have tried and tested at least five different CMMS systems before trying Limble, and I must say I haven't come across something as intuitive yet powerful as Limble CMMS. Three features will make me recommend this to anyone: The robustness of the system, ease of use, AND the customer service."
– Mohammad Hassaan Akram, Unilever
Reduce Reactive Maintenance by 73.2%
See the Results Red Hawk Enjoys With Limble
As a CMMS provider, we witnessed first-hand how challenging it is to create software that has powerful features and can adapt to many different industries but still provides an awesome user experience that fits into a maintenance manager's job description easily. Limble provides maintenance optimization software to help with preventative maintenance.
How did we achieve that?
Duplication. Speed up your setup process and enter new information faster by just duplicating existing elements and changing the necessary information. You can duplicate things like assets, PM templates, and more.
Drill down. All numbers in our reports are clickable, allowing you to drill down and find any information you need. After all, the only way to improve your maintenance operations is to understand the actions that lead to the numbers in your reports.
Drag and drop. Want to assign a newly created task to a maintenance technician? Want to quickly reschedule a PM task for another day? Use the drag and drop function to quickly perform the desired action.
Search. Looking for a specific PM task, asset, technician…? Use the search function and forget about manual search.
Automation. Can a process be automated to save you from boring and repetitive tasks? Limble has your back.
Videos speak louder than words so take your time and watch how Limble performs in action!
Limble dashboard overview
For starters, here is a quick overview of our software:
"I needed a solution that was flexible, automated, and most of all easy to use for my technicians. After about a month of using Limble we witnessed a drop in our downtime. After using Limble for over a year I can say that it is paying for itself and worth every area of implementation."
– Ethan Closson, Little Giant Ladder Systems
Setting up your first preventive maintenance program
One of the many reasons why businesses choose our software is to implement an effective preventive maintenance plan.
Here's how simple it is to start preventive maintenance with Limble:
Inventory and spare parts management
Based on the research we've done last year, inventory management was the second most requested feature by businesses that were looking for a CMMS at the time (behind work order management).
Here is another statistic for you.
On average, our customers successfully reduced their inventory spend by 17% when using the Limble inventory management features that include (but are not limited to):
setting a threshold limit so the system automatically notifies you when the number of parts in stock reaches the defined level
a detailed log so you can track how the parts move through the organization
looking up parts through QR codes
assigning parts to certain assets and PM tasks which enables Limble to estimate how many of those parts you will need in the next quarter or a year
Here's how these features look in action:
"With Limble, I can track all of our supplies that come in, how they are getting used, look at the usage rates, and then also be able to forecast budgets for next year. It has dropped my budget tremendously. I was actually able to hire another guy because of what we were able to save."
–Benjamin Scott, Facilities Supervisor, Intercontinental Hotels Group
Using QR codes for work requests and inventory management
Barcodes and QR codes are a good representation of what Limble tries to achieve every day. A simple and elegant solution for asset inventory management that saves time and, in extension, reduces your operating costs.
There are 3 ways you can use QR codes with Limble:
they can be used to speed up the process of reporting a problem
they can be placed on assets so technicians can just scan the code and quickly see all important information about that asset
they can be used to improve your inventory management
For more info, take a look at this video:
Managing users
Maintenance management is as much about managing people as it is about maintaining assets.
That is why it is essential; you can quickly add new technicians to Limble so they can immediately start receiving assignments and notifications through their mobile devices.
In the user management section, you can assign roles that decide who can see what, you can turn on/off things like email and push notifications, mark inactive users, and more.
"It only took, really, a week or so for the maintenance staff to get the hang of the software. Since then, I've seen an increase in productivity by about 20-30%.."
– Joe Romero, Director of Facilities, Myriad Genetics
More details can be found in the video below:
Advanced features
Keep in mind that the above tutorials are designed for new users. If you are interested in seeing more specific features like how to share tasks with outside vendors or how to submit material requests, feel free to visit our Youtube channel.
Before we wrap this up, we would also like to mention some advanced options.
One of them is our modular IOT sensor setup that significantly simplifies the implementation of predictive maintenance.
The other one is Asset Hierarchy. We use Asset Trees to help you not only know what assets you have but also have a clear and easy visual view of where they are and what they are made up of.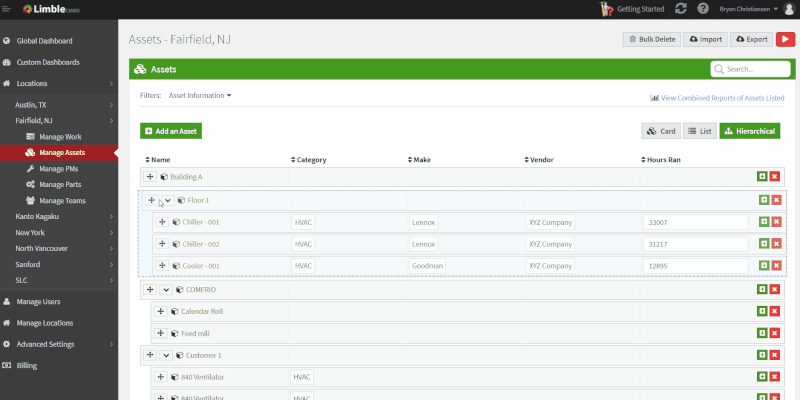 When you look at this you can clearly see Chiller – 001 is on Floor 1 in Building A. The levels of nesting can go much deeper for more clarity as people need to organize their equipment.
The usability of this feature goes beyond just knowing the location. For example, an HVAC is made up of several components so that those components can be sub-assets themselves. This means you can get reports on a very granular level.
I was looking for a proper asset management software with locations, assets, sub-assets, components and not just a maintenance management software. I stumbled upon Limble, and honestly, I was pleasantly shocked. I like everything… I love the interface… I love the ease of use… I love being able to see my full factory in one place.

A tiny thing which Limble does and which I did not find any in software that I tried and which is probably of the most value – you can choose the generality of statistics that you want. If I want statics on Asset level 1, I can get that. If I want statistics on Asset level 5, I can get it with just one click.
– Mohammad Hassaan Akram, Factory & Maintenance Manager, Unilever
Optimize your maintenance with Limble CMMS
We hope that these videos gave you a good insight into Limble's capabilities and ease of use.
If you have any questions about Limble's features, pricing, or want to schedule a demo, just send us a short message, and we will be in touch shortly.
Alternatively, you can click here to start a live test drive. We will load Limble in a new tab, and you can start testing it in a matter of seconds.
For an in-depth look at CMMS, check out our What is a CMMS System and How Does it work guide.
Limble
Ranked #1

by maintenance experts in the field



>
<
Aug 09

A great tool for Facility Managers.

"Limble is very easy to get involved in and no contracts, with simple monthly billing. I have auditioned other CMMS companies and they make it too difficult, to try out. Limble strategy is very simple - here is our software, you can customize it in most categories and let us know if you have any questions. As a multiple building County Facilities Director, I highly recommend trying it!"

Dec 03

It just works

"Honestly - the customer support has been fabulous. We had a minor feature request that was deployed within 24 hours - which is unheard of. Even better when you consider our business is located in a completely different time zone (somewhere in Australia). Limble is quite intuitive and I love the ability to have assets nested within each other."

Jan 30

Manufacturing

"Great experience. Solved our obvious PM tracking issues but also addressing our SHE&S requirements (safety audit task tracking), Environmental checks are being logged, Corporate Audit items tracked"

Jul 10

Great user friendly product

"Love the fact that the product can be used on my phone, tablet, and laptop. It also has made several updates to make an even better product."

Jan 18

Limble is the best thing to happen to this company

"Limble does such a good job at keeping track of what's been done and letting me know when and what I need to do next."

Nov 21

Awesome Product with REAL support!

"Our team reviewed & demoed 6 different CMMS companies and the decision was easy! The functionality was extremely easy, but still provides the analytics needed to track our companies time and money spent on maintenance. Their support is top-notch! I've dealt with numerous software companies in my position and can tell you, you will not find one better!"