Regular maintenance inspections are an essential part of a preventive maintenance program. While their concept sounds simple, it's execution doesn't always have to be.
Join us as we discuss how to design, plan, and execute an effective preventive maintenance inspection. Before that, let's take a quick detour to define the terms we are going to discuss. 
What are PMIs?
Preventive Maintenance Inspection (often abbreviated as PMI) is a systematic process for identifying performance deficiencies and signs of degradation in any asset or piece of equipment through the assessment of its current condition. 
Maintenance and inspections can be interpreted as two distinct actions that can happen at different times: 
Maintenance – the repairing or servicing tasks that restore equipment to optimal condition

Inspection – an assessment of equipment conditions and performance without actually performing any servicing or

corrective action

 
Maintenance often follows the inspection as the earlier establishes the deficiencies and provides a scope for maintenance. In other words, based on the maintenance inspection, technicians can schedule future maintenance work or adjust the existing schedule for the inspected equipment. 
Checklist for Creating a Preventive Maintenance Plan
Following a consistent Preventive Maintenance Plan can make life easier. Use this checklist to create your own!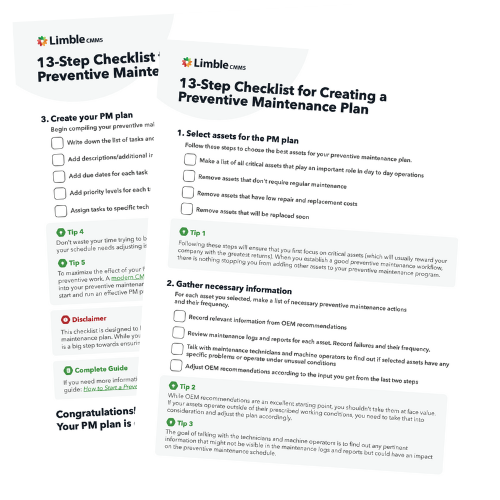 The concept and purpose behind maintenance inspections
The concept of PMI is to merge inspection as part of the preventive maintenance (PM) program that just involves repetitive maintenance activities based on fixed intervals, without a strict focus on inspecting the condition of the asset. 
The purpose of PMI is to leverage the information on the condition, collected during inspection, to improve the efficacy of your preventive maintenance program. 
From the aspect of reliability engineering, it is well understood that equipment failure rates do not remain constant throughout asset lifecycle. They generally increase as the asset approaches its end of life. 
Now, if the preventive maintenance program is simply developed as part of the Original Equipment Manufacturers (OEM)'s recommendations – which are often very conservative – you will end up undermaintaining the asset towards its end-of-life period. 
In an ideal world, you would have condition monitoring sensors installed that would feed you real-time data about the condition of your asset. But that can be expensive. The next best thing is to add regular inspections to your maintenance calendar. This will help you determine the true condition of your assets and inform your maintenance planning efforts. 
Establishing an effective preventive maintenance inspection
Not all maintenance inspections are created equal. Here are four crucial things you need to get right to squeeze the maximum value out of your PMIs.
1) Right maintenance at the right time
Implementing preventive maintenance inspections brings various benefits. One of the immediate efficiencies that can be realized is coupling preventive and reactive maintenance work. 
Unlike the old model where an inspection has to be performed first, followed by a scheduled maintenance action later, you can use PMIs to speed things up. Give technicians the liberty to perform inspection and the subsequent maintenance work on the spot. The caveat is that this can only be done if the technician has access to the right maintenance tools and spares to execute the required work. 
For example, in the case of the automobile PMI program, the mechanic can perform a series of inspections on air and fuel filters, checks for leakages in oil piping and radiator systems, and perform visual checks for any broken or torn down components. 
Such inspections would be considered a part of the maintenance program and, therefore, the necessary tools and spares to rectify the issue of potential failures would also be provided to the mechanic at the time of inspection. 
Now, in the case of a maintenance program that lacks regular preventive inspections, the mechanic would give attention only to the component that is part of the conservative maintenance checklist – and may end up overlooking issues they could have caught at the time of opening up equipment for maintenance.
2) Continuously evolving maintenance schedule
In addition to the short-term efficiency, regular maintenance inspections can be used for continuous improvement. Essentially, they generate a lot of historical information on equipment condition and failures. Maintenance planners can utilize that data to improve maintenance schedules for problematic assets and optimize resource allocation. 
For example, let's imagine that technicians during maintenance often find the defective sensor on a specific type of Computerized Numerical Control (CNC) machine. Checking that specific sensor is not included in the maintenance schedule. However, if there is a trend that indicates a repetitive failure of that sensor, the scope of future PMIs should be expanded to include it.
3) Implementing a CMMS
The ability to collect and analyze machine data and technicians' notes is a prerequisite for continuous improvement. Implementing a CMMS allows you to automate a decent chunk of data collection and quickly generate useful reports. 
In more flexible solutions like Limble CMMS, you can create custom fields that enable only relevant data to be recorded in the CMMS database. This way, generating analytics on emerging failures and asset needs becomes a breeze. 
Of course, CMMS is much more than a repository of maintenance data. It enables automation of the maintenance work order system and minimizes human errors throughout the PMI planning, scheduling, and execution phases. You can learn more about how CMMS works here. 
4) Having adequate technical skills and competencies
At the end of the day, the effectiveness of a PMI will depend on the person performing it and the tools they have access to. Lack of knowledge and experience could result in the misidentification of problems, as well as overlooking arising issues. 
Moreover, the lack of technical training will also slow down the execution of PMIs and, in turn, reduce performance metrics like MTTR and MTBF. 
There are several ways to mitigate the impact of human errors. One of the easiest ways is to develop preventive maintenance checklists that define steps in clear, concise and easy-to-follow language. A good checklist can be supported by visuals that tell the technician what they should watch out for. 
Example of a PM checklist inside Limble CMMS
The long-term way to improve the efficacy of PMI is to train people through consistent refresher courses that increase their level of confidence, expertise, skills and knowledge about the equipment, systems, safety, and operations. 
Let's get you checked
The development of an effective preventive maintenance inspection can be a complex exercise that has to take different aspects of the machine and its operating environment into account. 
A good PMI is one that is easy to follow for technicians, personalized for the asset it is performed on, and flexible enough to be improved over time, based on the data and metrics stored in your CMMS software.
As a leading preventive maintenance software on the market, Limble CMMS can help you schedule and organize all of your preventive maintenance resources, from parts and assets to labor and schedule. Learn more by scheduling a walkthrough or playing around in our self-demo.