Restaurant businesses face a rare kind of pressure — an extremely short product lifespan. Restaurant maintenance is here to ensure no technical difficulties compromise food production, preservation, or presentation.
No matter what stage you are in your restaurant business – early days or with years of experience – it is never a bad time to learn how to improve your restaurant operations and battle decreasing profit margins by streamlining and optimizing your restaurant maintenance activities.
But first, let's start by looking at what restaurant maintenance typically covers.
The scope of restaurant maintenance 
The scope of a restaurant's maintenance needs will vary depending on the establishment's size, the variety of food served, and the style of cooking. However, we can broadly group all restaurant maintenance considerations into two categories.
#1) Miscellaneous maintenance activities
This encompasses all the maintenance tasks and activities that, though important, are fairly straightforward. These activities are also carried out on a very frequent basis, i.e. daily or weekly. They include activities like cleaning/disinfection, janitorial work, and trash removal. 
These activities typically do not require specialized maintenance training, skills, or equipment to complete; a detailed preventive maintenance program is also not needed here. However, the tasks in this group have an immediate impact on the first impressions that customers have when they enter your building.
#2) Restaurant equipment maintenance
Like any other production facility out there, your machinery and equipment are critical for smooth production and operations. 
From faulty heating, ventilation, and air conditioning (HVAC units) that result in uncomfortable customers, to faulty ovens that prevent your cooks from preparing their dishes promptly, malfunctioning equipment and breakdowns can seriously impact the entire customer experience at your facility.
Therefore, it's always ideal to optimize equipment maintenance processes following   
OEM recommendations combined with a proactive maintenance strategy.
This second category of maintenance work will usually be the responsibility of specially trained maintenance technicians. To mention just a few, the equipment they'll oversee includes:
Industrial ovens

Commercial exhaust hoods

Dishwashers

Firefighting equipment and systems (manual or automatic)

Commercial gas ranges

Deep fryers

A variety of refrigerators, coolers, and freezers
….and much more.
The typical maintenance tasks for this category of equipment are inspections, cleaning, lubrication, servicing, parts replacement, and repairs. 
With that out of the way, let's go through some pesky issues that can make your life miserable and leave a bad taste in your mouth.
Checklist for Creating a Preventive Maintenance Plan
Following a consistent Preventive Maintenance Plan can make life easier. Use this checklist to create your own!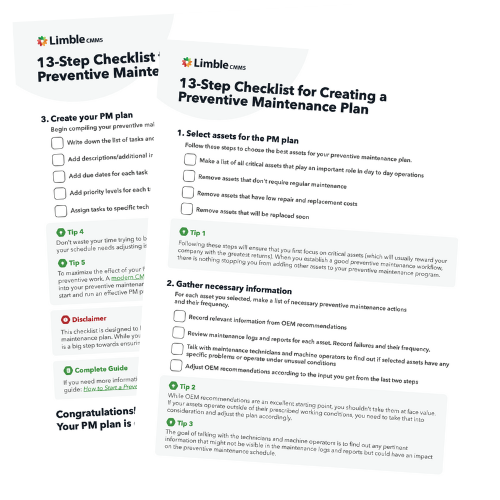 The most pressing challenges of restaurant maintenance 
In their bid to deliver optimum operational results, restaurant maintenance teams need to be mindful of the following constraints: 
#1) Controlling maintenance costs 
Apart from the money spent on the "cost of goods sold" (i.e. food and beverages for their menu), restaurant owners will usually spend heavily on energy bills and the general upkeep and routine improvements to the appearance of their buildings:
Energy use:

Restaurants predominantly consume electricity for HVAC and cooking. According to the

Environmental Protection Agency (EPA)

, the average

restaurant uses about five to seven times more energy per square foot than other commercial buildings.

Check out this

guide

for some ideas that you can implement right away to start saving on energy bills.
Building upkeep:

These are unavoidable expenses, usually done yearly, that aim to improve the appearance of your restaurant. These are periodic renovations, touch-up painting, lighting upgrades, interior decorations, etc. Although spending on building upkeep is important, instead of buying something new, you can invest in

routine maintenance

of your existing infrastructure to

extend its lifespan

.
#2) Health and safety
In a fast-paced setting where large amounts of food and liquid are being handled, accidents like slips, trips, and cuts are hard to avoid. Because of these hazards, there are multiple federal regulations and industry-specific guidelines that restaurants and restaurant kitchens must adhere to. 
These regulations cover everything from food handling to transportation and storage. Without going into too much detail, here are some regulations that restaurant maintenance will need to know and work with:
We can't write about the risks and hazards in commercial kitchens without mentioning fire risks. Grease buildup and griddles are never a good combination when it comes to fire prevention. We can't discuss all scenarios here extensively, but one particular piece of equipment that should be handled with extra caution is the commercial deep fat fryer. Routine periodic inspection and maintenance of this tool, as well as other kitchen equipment, will help minimize the risk of staff burns and fire outbreaks.

#3) Routine asset maintenance
In the restaurant business, the maintenance staff has to constantly be at their best. Wherever food consumption is involved, people tend to be cautious and observant. And rightfully so.
While customer-facing activities like food preparation and presentation are typically your main focus, it is a big mistake to overlook things like dirty toilets, leaking HVACs, full trash bins or poorly cleaned dining furniture. Bad impressions travel fast, especially in the age of social media and review sites. 
Restaurant maintenance best practices
A restaurant's bottom line faces challenges across the horizon. Considering all the challenges that restaurants face, statistics like this one from CNBC – stating that around 60 percent of new restaurants fail within the first year, and almost 80 percent shut down before they reach their fifth anniversary – come as no surprise.
Restaurants are also quite vulnerable to economic crises like the pandemic, with many of them shutting down permanently as a result of a grinding halt in walk-in traffic. Fortunately, it's not all doom and gloom. Many restaurants still succeed and make profits. Yours can as well if you can follow best practices.
#1) Learn to manage planned downtime
We've already discussed some of the benefits of restaurant asset maintenance (safety, improved customer retention, etc). However, the fact remains that most of the major equipment in your restaurant must be switched off during maintenance. This situation could potentially cause another set of challenges if not well coordinated. 
For instance, equipment like freezers and ice machines should ideally remain plugged in on a 24/7 schedule. But, they will require thorough cleaning, servicing, or repair at regular intervals.
In such cases, the maintenance team will need to coordinate planned downtime carefully. Understanding equipment failure metrics like MTTR and MTBF can help estimate how long can equipment "hold on" without failure and how much time the team will need to perform a specific maintenance task.
#2) Focus on proactive maintenance
To keep your restaurant business functional for as long as possible, one of the best decisions you can take is to implement preventive maintenance measures. If you have the available budget, consider more advanced maintenance strategies like predictive maintenance for your fire fighting/suppression equipment and other mission-critical assets.
#3) Utilize CMMS
The adoption of computerized maintenance management systems (CMMS) has effectively revolutionized maintenance management of physical assets by allowing businesses to streamline and organize all of their maintenance resources (maintenance plan, labor, spare parts, tools) within a single digital maintenance platform.
#4) Establish thorough training programs
From your kitchen staff to the members of your maintenance department, you'll need to design a restaurant onboarding process that increases their ownership of the equipment they are working with and sets them up for success. 
For example, devoting time for maintenance staff training from day one will help to improve overall productivity, it will save time and money, and benefit your restaurant in the long term. However, note that there is a limit to how much information new staff will remember, especially if they are relatively inexperienced. 
To overcome this challenge and limit your exposure to human error, consider defining standard operating procedures (SOPs) and include maintenance checklists. It is a great way to increase consistency and make sure all staff follows best practices. 
#5) Choose and manage vendors carefully 
It is not feasible to handle every aspect of maintenance in-house. You'll need support from local maintenance contractors in areas like spare parts supply, plumbing, specialized equipment repair, electrical works. 
In other words, you'll need a solution for creating and tracking contracts with each vendor. 
Luckily, Limble CMMS also comes with an all-in-one vendor-management solution.
Conducting vendor relationship management in this streamlined manner makes things easier for all parties and can help to guarantee timely deliveries, more flexible payment terms, better support in times of emergency maintenance, and a more consistent service overall.
Bonus tip: Hire a seasoned restaurant facility manager
The restaurant business is a hectic, high-pressure environment and no matter how well-trained they are, not every professional will thrive in this environment. A manager is bound to have a lot on their plate (no pun intended) with recruiting, hiring, and managing staff, as well as taking care of the staff's risk and safety measures. If done correctly, your restaurant staff will become your best asset, both as operatives and as brand ambassadors.
As a restaurant owner, you can cut down a significant portion of day-to-day stress and the issues that need your attention by hiring an experienced restaurant facilities manager. Their prior experience in this niche means that they'll come on board already knowing what to expect. This will help them preempt many of the challenges and issues that are peculiar to restaurant management. 
To help you interview and hire the best candidate take a look at some of the typical requirements for a restaurant FM on platforms like Glassdoor and Indeed.
Building upon restaurant maintenance  
Implementing proper maintenance practices is one of the ways you set up your restaurant for success. It is not hard to see that connection. Restaurant equipment has a direct impact on your food quality and output, while the surrounding infrastructure (chairs, lighting, bathrooms…) can make or break one's dining experience.
The easiest way to organize, automate, and streamline restaurant maintenance operations is to implement CMMS software like Limble. If you want to have fewer operational headaches while cutting operational costs, it is time to look into CMMS solutions. Request a demo, start a free trial or simply reach out directly to see how we can help.