Facility management is a lot of work. CAFM software is here to help by enabling a shift of facility management tasks into the digital sphere.
So, what exactly do CAFM systems cover? What are their main features and benefits? How do they compare with other FM software like CMMS, IWMS, and ERP?
Those are all good questions and can't be answered in a couple of paragraphs.
Let's dive right in. 
What is CAFM? 
CAFM stands for Computer-Aided Facilities Management. When it is spelled out like that, it is much easier to understand what CAFM software aims to do – it helps you streamline facilities management by keeping all relevant information in one place.
CAFM technology combines business administration, behavioral science, architecture, and engineering concepts in order to improve organizational functionality.  It helps facility managers track, manage, and report on day-to-day business operations at their facility. 
While CAFM has many different facets, it is useful to think of it as a comprehensive commercial facility or building management tool. 
Don't worry if you still do not understand what CAFM software actually does. To get a complete picture, you need to look at the core features (which we will cover later in the article).
The Essential Guide to CMMS
The Essential Guide to CMMS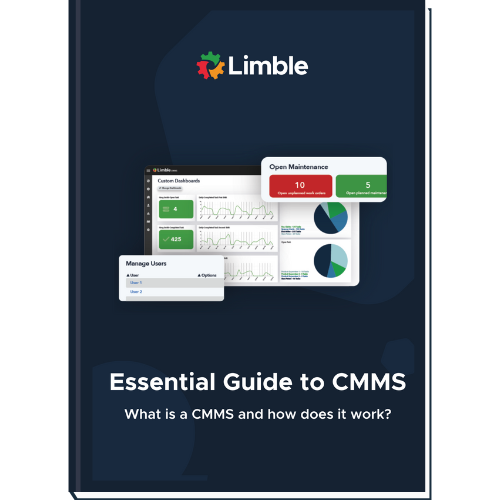 Who has a need for a CAFM system?
Well, anyone who needs to run a complex facility and has the feeling that things are slipping out of their hands. 
Constant complaints, mountains of paperwork, no way to gauge operational costs and other critical information, operational losses due to inefficient processes, equipment breakdowns, or poor space and asset utilization – these are just some of the problems CAFM is trying to solve.
Computer-aided facility management is useful for putting together the puzzle of finance, HR, management, and logistical physical concerns. 
Companies are even starting to hire CAFM administrators due to their widespread usability. They take care of the procedural details so facility managers can stay focused on the big picture and plan accordingly.
Key features of Computer Aided Facility Management software
Different CAFM systems provide different functionality. That being said, the core features we discuss below should be found in any better CAFM solution.
Space planning & management
Integrated CAFM systems give you a well-rounded picture of how your facilities are being used. They do so by offering a convenient way to store asset information, floorplans, equipment location, and more. 
Most of these tools are built to optimize space planning & management. They can prescribe the best layouts based on allotted space. Some of them go as far as to map out how equipment should be utilized to optimize processes.
Maintenance management
CAFM lets you schedule maintenance operations at various time intervals, or based on equipment performance directly within the software. These preventive maintenance check-ups keep costs much lower than what emergency repairs or (worse) replacements would cost. Beside that, the software enables you to manage your assets throughout their whole lifecycle. 
If you plan to run more advanced maintenance strategies like predictive maintenance or you need a more detailed insight into your maintenance operations, your best bet is to utilize a computerized maintenance management system (CMMS).
Physical building administration
CAFM software has the ability to connect to HVAC units, lighting, lock systems, and other equipment in your buildings. These features let facility managers turn equipment on and off without necessarily being present. Most CAFM systems monitor your meter readings too and alert you when an equipment needs supervision.
Space reservations
Computer-aided facility management software allows you to rent out portions of facilities to clients. Managers, by charging for the utilization of each space in your facilities, generate extra revenue for their organizations. CAFM can optimize your facility's space for business uses as well. The software lets every property manager navigate through leasing and real estate management by:
Managing long-term leases

Tracking contract statuses

Renting facility spaces

Monitoring renters' needs 
Incident/Event tracking
CAFM solutions can also act as databases for tracking and storing incident reports. Anytime a safety issue is reported in your facility, you get to add it to the reports and retrieve it at any point in time in the future. This helps managers prepare for audits and inspections.
Energy performance analysis

CAFM software helps track your energy usage and performance by monitoring utility bill data. This data includes energy and non-energy sources. CAFM then benchmarks this against your competing facilities of the same size to better evaluate your environmental footprint. 
These insights help you gauge if your sustainability projects are being well implemented. They also allow every manager to determine whether or not further sustainability projects need to be implemented to improve performance and manage reducible costs.
Benefits of using CAFM software
While you could infer most of them from everything we covered so far, here is a quick outline of the benefits you can reap by utilizing CAFM software.
Prolonged asset lifespans
CAFM offers some basic maintenance management features which will help you keep your physical assets (equipment, furniture, infrastructure…) in good condition. This can also lead to a noticeable increase in asset performance, utilization, and lifespan.
Increased safety
Properly serviced equipment that is cared for is exponentially less likely to break down or malfunction. In 2019 alone, OSHA reported around 3,500 fatal workplace accidents that were caused by a hazard or safety violation.
CAFM systems help facility and building managers track all kinds of safety incidents, which can but do not have to be related to equipment malfunction The safety records can then be used as a baseline to implement new or improve existing safety procedures and make other necessary changes.
All facility data in one place
As you keep using a CAFM system, your data keeps being collected and stored on a centralized platform. This is data on all of your equipment and physical assets, buildings and space, capital projects, and more. 
You can set up customized dashboards to showcase the data and track key performance indicators. You can quickly and easily generate reports for accurate and in-depth insights. With that at your disposal, it is much easier to optimize your internal resources. 
Cost savings 
CAFM software is not only extremely functional but also has tremendous cost saving powers:
Fewer equipments breaking down = less money spent on repairs and purchasing replacement equipment

Better organized spaces = better space and asset utilization, without losing money on unused spaces

Control of your energy consumption habits = more money left in your pocket for other expenses. 
CAFM, IWMS, CMMS, or EAM: Which one's for you? 
The facilities management world is full of acronyms. For anyone just starting out as a facilities manager, it can be really confusing. Even seasoned managers might need to brush up on their acronym game.
There are tons of different maintenance software providers out there. The confusion arises due to the considerable overlap between the features they offer.
That's why we took it upon ourselves to answer one very reasonable query: What's the difference between IWMS, CMMS, CAFM and EAM?
IWMS
An integrated workplace management system (IWMS) is a software platform designed for administering and optimizing workplace resources, including real estate, infrastructure, and facilities. 
The easiest way to describe IWMS is that it usually offers everything you can find in a CAFM software, and then some. A CAFM on steroids, if you will.
Aside from the CAFM features listed above, IWMS can also include:
flexible real estate and lease management features

project management features

environmental management features

mailroom management features

visitor management features
CMMS
A computerized maintenance management system (CMMS) is a centralized digital platform that can be used to automate, streamline, and simplify all of your maintenance operations. It does that by keeping all relevant information about your maintenance resources (labor, assets, inventory) in one place.
CMMS software is used to:
Schedule and monitor all maintenance work

Track spare parts inventory and forecasting future inventory needs

Track and manage maintenance costs

associated with assets, parts, contractors, vendors, etc.
CMMS can be used by any organization that wants to proactively care for their physical assets. It is crucial for organizations that have complex assets and are in dire need to minimize unexpected equipment breakdowns.
EAM/ERP software
Enterprise asset management is used by production-oriented organizations to plan, optimize, execute, and track all maintenance activities with the associated priorities, skills, materials, tools, and cost. And EAM software is designed to support that idea.
Head-to-head feature comparison
Use this table as a guideline, not as a rule written in stone. The table is meant to represent what you can find in an average software. That doesn't mean you can't find a robust CMMS solution that offers features which are specific for CAFM software and vice versa.
Before any kind for purchase, you first need to look at your organizational needs. What are your challenges at the moment? What should the software be able to solve? What is your budget?
When you know that, you need to do some research. Shortlist vendors by cross-referencing their available features with your needs. After that, take a demo or a trial so you can have some hands-on experience. Most cars have four wheels, but they do not drive the same. It is the only way to test if the software is user-friendly.
A while back we wrote a guide on how to review and choose a maintenance software. For anyone interested, that guide lays out the above process in much more detail.  
A false dilemma
A false dilemma is a logical fallacy that says you have to choose between two options, when you actually have more. Don't run away just yet, we are not starting a philosophy class, this will all make sense in a minute.
Many facility managers might fall into this trap, thinking how their only two options are to buy one of these software solutions or just don't use any. That is simply not the case. 
While there is bound to be a little overlap, more often than not, the optimal choice is to opt-in for a combination.
For instance, many ERP and CAFM solutions have very limited functionality for managing maintenance work. In that scenario, an organization can integrate a CMMS with their ERP/CAFM solution to offer comprehensive support for all of their maintenance management activities.
For example, Limble CMMS can integrate with your SAP to form an all-encompassing facility management solution for big and small manufacturers alike. 
Ultimately, it all depends on the specific needs of your organization.
Facilities management in the new era
Facility management for the modern day is now responsible for more than just the workspace. It is about asset utilization, physical and cyber security, employees' well-being, resource consumption, and risk management.
Your work and your knowledge as a facility manager is instrumental to the future of your facility. Use CAFM, CMMS, and other available resources to support your daily work and deliver the best possible service.