Churches have been around for centuries. They represent much more than their physical structure. They represent a welcoming place of worship and serve as a focal point for their communities. Yet, for a church to continue meeting these needs, the building and its surrounding grounds need to be well maintained. 
If you are a church administrator or someone involved in church maintenance, keep reading. In this post, we'll discuss everything you need to know about church facility management.
The need for proactive church maintenance
Church maintenance refers to the upkeep of all property and equipment that belongs to a church. It encompasses every maintenance task required to keep a church and its entire premises functional, safe, and presentable. 
Like any other building out there that is subject to high footfall, churches are prone to wear and tear. Again, many churches are older structures that have stood for centuries or were remodeled again and again over time. In other words, they need adequate maintenance systems and processes in order to keep the building in good shape.
The scope of church maintenance
You are likely to find at least one place of worship in any community worldwide. While many of them are old, some are ultra-modern structures with state-of-the-art equipment. 
Whatever the case may be, the systems and assets typically found in churches can be loosely divided into 3 major categories:
The building exterior and surrounding grounds

The building interior

Machinery and equipment
Here's s a very brief overview of each of these three categories and the typical maintenance tasks required to keep each component in good condition.
1) Church exterior and surrounding grounds
This refers to the outer parts of the structure that are immediately visible as you approach it.
Building facade 
This is the more elegant component of the building exterior that defines the architectural aesthetics of the church. Ideally, the exterior walls of a church should be inspected annually at least. If the structure is complex, these inspections can be done by specialized contractors. 
The goal is to discover cracks, loose mortar, moss, water penetration, paint or sealant deterioration, and to catch the early signs of building movement.
The intensity and frequency of maintenance required on the building facade will be influenced by the age of the building and the type of finishing. In general, maintenance tasks will include: 
Sealing of cracks 

Periodic touch-up painting

Retiling, depending on the type of finishing

Reapplication of waterproofing materials
Grounds maintenance
The church's parking lot, playground and sports fields (if available), lawn, vegetation, pathways, gutters, drainage canals, memorials, and monuments fall under this category. 
Ground maintenance activities will include the following:
Lawn mowing, trimming plants, trees, and shrubs.

Clearing gutters, proactively checking for drainage problems (e.g. rainwater shouldn't run towards the external walls or pool around the walls and walkways). 

Attending to and removing infected plants and trees.

Keeping

parking lots

clean and free of cracks and potholes.
Roof and ceiling 
Your church roof plays a key role in preserving the structure's integrity and longevity. With the right amount of care, roofs can last for between 30 and 50 years. To avoid the need for a premature replacement of your roof, ceiling, and eaves, do the following:
Clean out roof drains and gutters regularly (especially during autumn) to remove accumulated debris/dead leaves and prevent rainwater pipe blockage.

Check roof felt for wear and tear and signs of water penetration. Replace damaged portions.

Check for signs of dampness, moisture, or rot in roof timbers and repair as required.

Check for and remove bird nests and bat infestation in roof spaces.
2) Church interior 
This section comprises the building envelope and every element that makes up the internal space in your church. Some major parts of the interior and maintenance tasks include:
Wall maintenance
Maintaining walls in modern church facilities won't be a daunting task. However, the walls of ancient churches are a part of heritage and therefore require special care. In order to preserve the history you should:
Check for signs of dampness on interior walls. This indicates water penetration from the external walls, so make sure to address that as well.

Make sure to use proper materials and techniques while making repairs (especially repairs on historic churches).

Check that all doors and door hardware are in good condition, that doors shut firmly,  and that wooden doors are free from any kind of infestation.
Floor maintenance
Similar to wall maintenance, cleaning and maintaining modern church floors is easy. The complicated part is the restoration of historic church floors. Naturally, that is best left to specialized contractors.
Upkeep of offices, meeting rooms, and other premises
It's important to keep the premises clean and disinfected. The best option would be to hire janitorial staff or outsource the services. If you decide to assign the task to community volunteers make sure to follow the checklist below:
Remove trash to the designated disposal area.

Dust off cabinets, shelves, and chairs.

Clean and disinfect all the surfaces.

Vacuum/sweep floors and carpet areas.

Make a note of items that require repair – broken windows and doors, inoperative lights, damaged cabinets, etc.
Bell maintenance
The best option would be to hire someone who'll keep the record of bell maintenance. If you decide to do it yourself, here's a brief checklist:
Conduct a visual inspection of the tower and the bell.

Note down any signs of cracks or aging.

Check the state of bolts – replace rusty ones and tighten loose ones.

Check the ropes and make sure to replace damaged ones.
3) Church machinery and equipment 
This includes a wide variety of machines and equipment that keep the church functional and contribute to the comfort of everyone while they're in the building. Note that the assets in this category usually have specific manufacturer recommendations for maintenance. Therefore, it's advisable to have them professionally assessed and serviced on a regular basis. 
Examples of this equipment include:

Firefighting installations:

Regularly crosscheck dates of last servicing and schedule convenient times to test each system.

Electrical equipment:

Check for burnt light bulbs, loose or frayed cables, excessive heat, vibration, and unusual noise. 

HVAC equipment:

Make sure to service the equipment in accordance with

OEM recommendations

.

Audiovisual equipment:

Check for loose or frayed cables, excessive temperature, vibration, and unusual noise. Service strictly in accordance with OEM recommendations.
These assets are usually quite expensive to replace. Their working condition also directly impacts the functionality of your church, so it's crucial to manage them proactively.
We've spoken extensively about the work involved in maintaining your church. Next, we'll discuss who gets to do all this work, the options churches have when looking for maintenance labor, and how to manage each option without missing a beat.
Building Maintenance Checklist
Use this helpful template as a starting point for your building maintenance program.
Who handles maintenance-related tasks?
Although some churches can afford to hire a dedicated in-house maintenance team, the majority usually rely on volunteers for cleaning and basic routine maintenance. 
Let's look at both options in a bit more detail and guide you through what you need to know in each case.
1) A dedicated internal team
The person in charge of maintaining the church facility is called the sexton. In the past, their original role was a gravedigger. Nowadays, sextons are responsible for all tasks related to church upkeep.
Their typical duties are:
Unlocking and locking entrances.

Interaction with maintenance vendors and suppliers.

Vacuuming carpets and sweeping floors.

Cleaning office and other premises.

Making minor repairs and the supervision of large repair projects.

Handling landscape tasks (watering plants, mowing grass, shoveling snow, etc.).
In larger parishes, there can be a group of sextons with one senior sexton who's in charge of dividing and organizing duties among the group. Because of the limited church budget, the sexton's position is often a part-time job.
2) Working with volunteers
If your church doesn't have the budget for hiring an internal maintenance team/a group of sextons, that constraint shouldn't jeopardize your church's upkeep. A viable option is to solicit help from your parishioners and your immediate community.
A few tips to help with managing volunteers:

It's vital to always remember that most of them would be amateurs at maintenance work. Manage your expectations – don't expect professional-level results immediately.

Focus on helping them build their capacity gradually. 

Instead of starting them off with large projects, steadily help them to increase their capabilities by organizing half-day volunteer events with a list of tasks that need attention. With time, their skills will most likely improve.
What do we recommend? Either of these two options can work for you. Many churches decide to use both, with the maintenance of complex mechanical and electrical equipment being outsourced to local contractors.
Now, before we wrap things up, let's take a look at church facility management best practices.
Tips for effective church facility management
Facility management is a term used to encompass all activities you have to perform to manage both people and the physical environment at your facility.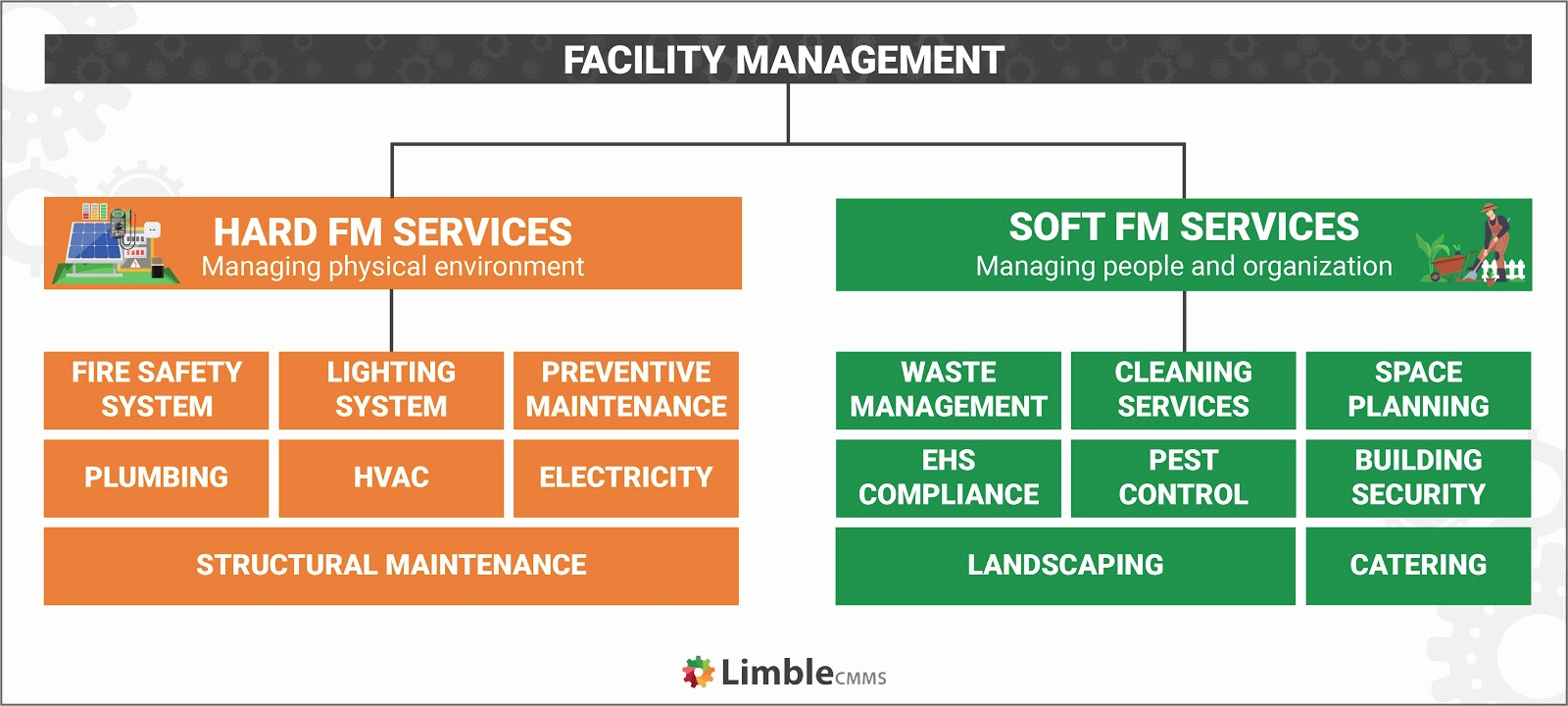 As you can see, maintenance and related activities comprise 90% of church facility management. The tips below will reflect that division as well.
1) A well structured and proactive maintenance schedule is vital 
To effectively manage your church with minimal maintenance-related distractions and disruptions, a well-planned maintenance program with proactive maintenance tasks is your best option. 
That might sound harder than it actually is. If you're not quite sure how to go about this, we've got you covered. These tips will get you on the right track:
Start by creating a simple but thorough

maintenance plan

.

Ask maintenance vendors to include preventive checks and inspection in

the maintenance contract

. Their purpose is not to just get called in to fix broken equipment – many of those equipment failures are preventable with regular checks.  
Proactive maintenance simply means that you are looking into the future and making intentional plans today to avoid significant maintenance problems in the future. Doing this will help to keep your church infrastructure running smoothly and reduce the potential of sudden equipment failure.
2) Conduct regular facility audits and assessments
You might have large groups of people coming into your church weekly – even daily. This tends to increase the rate of wear and tear on your installations and fittings. It is good practice to regularly check the building's condition. Use these inspections to prioritize repairs and replacements.
3) Automate church maintenance management with a CMMS 
You can streamline and organize your maintenance needs better and gain insights into what is going on and what needs to be done by adopting a modern, user-friendly computerized maintenance management system like Limble CMMS. 
Among other things, Limble CMMS allows you to: 
Track maintenance spending and detect areas of excessive expenditure. You can check how much each asset, spare part, and maintenance contractor are costing you on a monthly basis, and why.

If you are using it to manage more than one church/building, you can use Libmle CMMS to track and compare maintenance costs between multiple locations.

Store and retrieve asset information and history for all your equipment and machinery.

Give you and your volunteers an easy way to report problems they notice during regular upkeep.

Create, assign, and track maintenance work. We have a neat feature where your foreman/sexton can create a Work Order and share it with one of your maintenance contractors with just a couple of clicks.

Organize and lead capital projects (like a roof replacement).
4) Proactively control O&M costs
Churches are predominantly non-profit establishments – yet no matter how limited the budget is, their facilities must remain functional and safe. This unique limitation often requires strict budgetary controls. But like any other kind of building maintenance, you can summarize church maintenance as "pay for it now to keep it healthy or pay much more to fix it later." 
Some tips to help control costs:
If you need to use the services of suppliers and vendors, invite them to bid. Compare bids thoroughly before proceeding. 

Monitor energy consumption closely. Appoint someone to check that lights and HVAC units are switched off after each service.

As much as possible, use energy-efficient fittings.
5) Provide church building security 
Churches are open-door sanctuaries where people come in search of peace, comfort, and belonging. Many of them are open 24/7 and welcome a vast number of people. Some are even open for tourist sightseeing, so it's crucial to create a secure environment in order to preserve all the valuables and provide the safety one is seeking.
Steps for increasing church security:
Create a comprehensive security plan that will include policies for break-ins, theft, robbery, physical altercations, fire, etc.

Provide training for church leaders on how to respond in emergency situations.

Invest in security technologies such as security cameras and alarms. 

Keep member donations in secure areas – you can even provide the option of digital giving in order to reduce the amount of cash.
Simplify the upkeep of your religious institution
There's a lot involved in church facility management and maintenance. But, it doesn't have to be complicated or stressful. An active local community and a capable sexton – supported by a modern maintenance solution like Limble – will make your daily maintenance activities a breeze.
If you're ready to see Limble in action, don't hesitate to start a free trial and schedule a quick demo. If you are a non-profit organization with unique needs, contact us with more info and we can create you a custom plan.