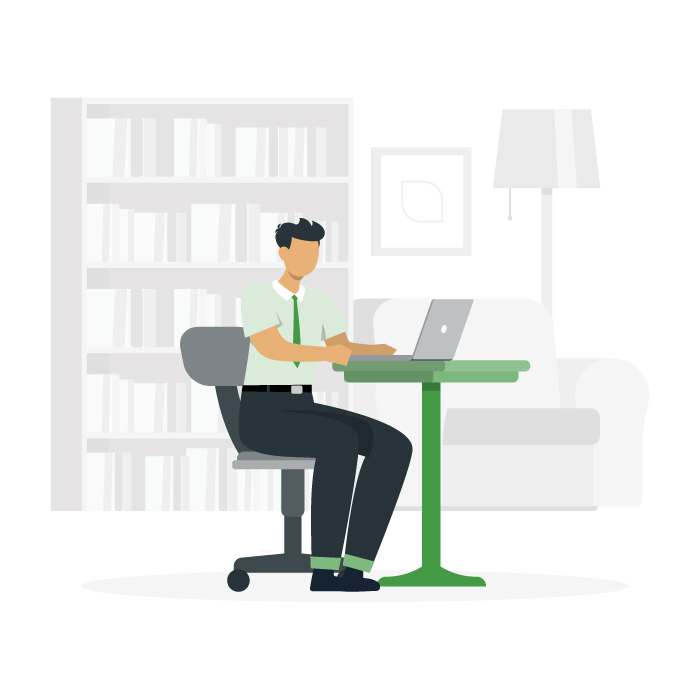 If you were to closely examine an efficient maintenance team, you would likely notice that a key element of their success is that, no matter how many activities they have planned for the day, there is a central person holding it all together. Every team member gets support from this person from time to time, while focusing on their primary assignment. 
In some organizations, that person's job title is maintenance coordinator.
It is a maintenance role that has a lot of overlap with other maintenance jobs. In this article, we will try to distinguish the most common responsibilities of a maintenance coordinator, how much they make, and what is their usual career path.
Maintenance coordinator job description
You'll find maintenance coordinators working in almost every industry. Their services are necessary – as long as the organization has a team of maintenance workers to manage. That said, you'll often find them liaising with tenants and customers to handle upkeep (as a part of building maintenance and property management).
Depending on what kind of organization they work in and the size of the company's operations, a maintenance coordinator may be responsible for different types of general maintenance activities on any given day. Usually, they are expected to do the following:
Work closely with managerial staff like the

maintenance supervisor

,

facility manager

, and

maintenance manager

to draw up and execute the organization's annual maintenance plan.

Communicate directly with service providers, vendors, and maintenance contractors to schedule repairs, servicing, preventive maintenance, and other projects required to keep the company's physical assets running smoothly. 

Assist with interviewing and hiring potential cleaners, maintenance technicians, and HVAC professionals, as well as scheduling and managing their work orders. 

Assist with developing a comprehensive maintenance budget and sometimes handle payments for maintenance services and necessary equipment and supplies.

Oversee inventory management and facility management.

Monitor usage of tools and equipment and ensure tools are readily available for assigned tasks.

Assign tasks to workers, coordinate them, and ensure completion of work.

Monitor use of PPE and other resources; recommend replacements when due.

Monitor safety and health compliance.

Support technicians during their daily

equipment inspections

and take care of maintenance logs.

Provide a wide variety of administrative assistance to managers, especially in the areas of managing work orders and tenant communication.

Handle miscellaneous maintenance tasks, like changing light bulbs or cleaning HVAC unit air filters, on hectic days when maintenance technicians are occupied.
Handling the above responsibilities effectively requires someone with specific qualities. Let's look at some of those qualities next. 
What makes a good maintenance coordinator
Are you a potential employer looking to hire a maintenance coordinator, or are you considering a career as a maintenance coordinator? If so, you'll want to read the following section, where we discuss some key qualities and traits of a good maintenance coordinator.
Technical background
Looking at the roles and responsibilities we listed above, a maintenance coordinator is responsible for assigning work and monitoring staff at work. They need to know enough about the task to make the right resources available and spot potential problems. Hence, some basic building and equipment repair work experience would help.
Communication skills
There's no doubt that technical knowledge is important. But merely understanding the task at hand isn't enough. The ability to communicate well will help a maintenance coordinator translate their knowledge to a maintenance worker, and achieve the desired action. This is one area where a great maintenance coordinator can truly shine. Also, they will need excellent customer service abilities to relate with tenants, negotiation skills for handling vendors, and motivating maintenance personnel towards common goals.
Time management skills
Time management can be a struggle in any job, especially in the maintenance department of busy facilities. A good maintenance coordinator needs to be skilled at multitasking and time management. That requires prioritizing tasks properly and figuring out how to complete them in a timely manner, even when unexpected challenges arise.
Proactivity
They can think ahead about tasks that must be completed and work to provide exceptional administrative support. For instance, ensuring that arrangements have been made to receive all the tools and resources required for a major overhaul that's taking place next week.
Maintenance Acronym Guide
Confused by PMs, MTTR, and DFMEA? This maintenance acronym guide will have you talking the talk in no time.
How much does a maintenance coordinator make?
With such a vital role in a maintenance department, what can you expect to earn with a "maintenance coordinator" job title?  Below are some current ballpark figures we pulled from major job platforms, to give you an idea of the expected income for this position:
The average salary falls somewhere between maintenance technicians and maintenance managers, which accurately reflects their job description and their position in the organizational structure.
Career path and common certifications
A maintenance coordinator plays a central role in bigger maintenance teams. In smaller departments, they may be expected to lead the team. As a result, they'd be responsible for interacting with and guiding a wide variety of staff with various skill sets, taking care of the required maintenance operations. 
At the barest minimum, most employers would require that a prospective maintenance coordinator should have a high school diploma. Further education up to college or university level in a field related to the desired industry is always advantageous. 
For instance, maintenance coordinators interested in working in fields like oil and gas services would typically have a bachelor's degree in engineering. Likewise, those looking at the communications sector may qualify for computer-related degrees. Whatever the industry, short professional courses in logistics, business management, and project management can also help them improve their chances in the talent pool. 
There are also some general certifications that can help maintenance coordinators get these positions and perform well on the job. A few of these certifications are:
Considering all that we have discussed above, you may be wondering what are the tools and resources designed to help maintenance coordinators handle their responsibilities effectively.
While executing their duties, one of the major solutions that can prove invaluable for maintenance coordinators is a computerized maintenance management system (CMMS). We'll discuss how in the next section.
How can maintenance coordinators save time with a CMMS
Looking through the list of maintenance coordinator roles and responsibilities we mentioned earlier in this post, a CMMS is applicable in practically all of their tasks. A CMMS offers them a user-friendly platform for:
maintenance planning & scheduling (PM)

assigning work via

work orders

instant communication and work reassignment via mobile CMMS

controlling inventory
…and much more.
Taking the example of time management which we described as a vital characteristic of a good maintenance coordinator, let's look at a typical scenario where a CMMS can save tons of time. Imagine that you're a maintenance coordinator responsible for coordinating resources and work, for multiple people at multiple locations. Your scheduling system needs to work like a well-oiled machine – get it done and move quickly to the next task – otherwise, your deferred maintenance and operational problems would be ridiculous. 
With CMMS software, you can view your maintenance calendar well in advance and be prepared without getting overwhelmed.
Parting thoughts
That's it from us on the subject of maintenance coordinators. Although it sounds like a lot to handle, with the right tools, training, and experience, this job can be done commendably.