Key CMMS Features and Platform Requirements
Finding the right CMMS can be time-consuming and overwhelming. You need to know which CMMS features will get you the most value, so you can focus on maintaining equipment. We've already done all the research for you.
In this article, you will learn which CMMS features are the most important for your maintenance team so you can streamline your maintenance operations.
CMMS features: What are the platform requirements?
If you're reading to upgrade from Excel spreadsheets, it's important to know what to look for in a maintenance management software. Here are the most essential functions you should look for in a CMMS:
Asset management
Work order management
Preventive maintenance
Spare parts inventory management
Reporting
Work request portal
User-friendly mobile app
The Essential Guide to CMMS
The Essential Guide to CMMS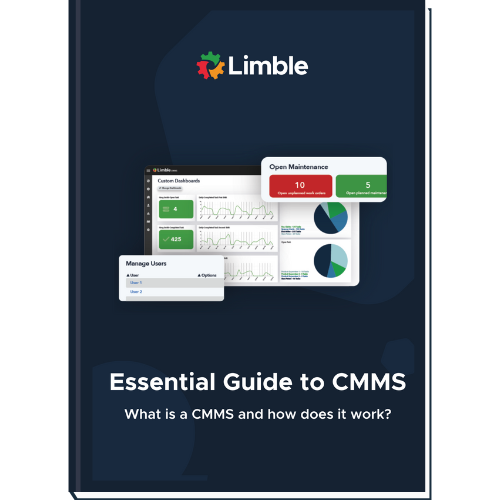 Preview features in Limble CMMS
Asset management
Here's what asset management looks like in Limble:
Maintenance logs reports: allow you to track everything that's been happening with your assets so far (breakdowns, repairs, PMs, MTTR and MTBF, data from condition monitoring sensors if you use any, etc.)
Centralized asset card: allows for a clear overview of everything related to your asset (view Asset Information, Work Orders, Preventative Maintenance, logs and reports for a selected asset in one place)
Asset hierarchy organization: the ability to organize your assets in a parent-child hierarchy is a huge time saver (you can see how this looks like in Limble in the GIF below)

Managing maintenance work
Here's what managing maintenance work looks in Limble:
Calendar of current and upcoming tasks: clearly see what's on the schedule in the near future and easily change dates (as illustrated on the picture below)
Set (and change) task priority: let your team know what order they should do their work in so the most important tasks are always completed in a timely manner
Automatic work logging: Work Orders and PMs are automatically logged into an asset's maintenance log when completed
Manage work dashboard: view all critical information like tasks that are currently in progress, due dates, task priority, and so on

Preventative maintenance
Here's how setting up PMs works in Limble:
Automatic PM scheduling (based on time, events, or sensor meter readings)
Drag-and-drop calendar: allows a quick overview of all open work and upcoming PM schedules
Task template builder: we also call it "PM builder" as most clients use it to outline the workflow for specific PM tasks, so all technicians have a clear process they can follow (you can see one example in the picture below)
Spare parts inventory management
Here's how managing spare parts inventory looks in Limble:
Barcode lookup: custom QR codes provide an easy way to track and access your inventory
Yearly forecasting for optimizing stock levels
Instant push and email notifications (when a part's quantity reaches a set threshold)
Automatic part usage tracking: the inventory is automatically updated to reflect the parts used in WOs and PMs
See how these features look in action:
Reporting
Here's how data-rich reporting works in Limble:
Dashboard overview for tracking critical KPIs
Reports that are automatically generated and updated based on your maintenance logs
Custom report builder for creating highly customizable reports (as seen on the screenshot below)
Completing thorough work orders is all that's required to compile powerful reports. Limble takes all the data and automatically aggregates it for a variety of reports — no extra work required on your part.

Work request portal
Here's how submitting work requests goes in Limble's work request portal:
Submit requests by scanning a custom QR code with a mobile phone that navigates to a unique URL. Maintenance technicians will receive the request connected to the exact asset that needs service.
Set up required fields in the work request portal so the maintenance team has all the information they need from the requester.
Easily notify the requester on the status of the repair by commenting on the work request — no outside calls or emails necessary.
Powerful CMMS features that level up your maintenance
Now that you know the basic CMMS features and how they work, we want to help you learn how to step up your game. Below we outline several powerful features that go beyond the basics and really help you take your maintenance team to the next level.
Integrations with other business solutions
Integrations with other business solutions might not be important for small or medium-sized businesses but will appeal to enterprises.
With Industry 4.0 and a growing interconnectedness of different assets and devices, companies can mine an extraordinary amount of data and are still searching for new ways to process and use that data in practice.
Predictive maintenance capabilities
Predictive maintenance is powerful because you can base maintenance decisions on the constant flow of sensor data collection. You can get notifications in real-time when an anomaly calls for repair.
Predictive maintenance has been proven to be the best maintenance strategy, with an ROI in the 10X range.
Condition monitoring sensors
As more businesses look to employ advanced proactive maintenance methods like condition-based maintenance and predictive maintenance, condition-monitoring sensors become a requirement for your maintenance toolbox.
These sensors track data directly from your equipment and send it to your CMMS so that you have the most accurate information at all times, without even being onsite.
With a wide variety of available sensors on the market today, there is no shortage of the conditions you can track. Learn more about using sensors to increase your ROI by reading about IoT sensors.
Workflow automations
Thanks to advancements in technology and cloud-based platforms that utilize the benefits of data automation, maintenance planning and scheduling can not only be automated, but the accuracy can also be considerably improved.
Workflow automations in Limble, you will be able to set triggers on specific events so that everyday common tasks are automatically completed.
Reach your goals with Limble CMMS
The name of the maintenance game revolves around balancing productivity and costs, trying to answer a question: How can a maintenance department be as productive as possible with a limited budget? A CMMS is one of the solution to this challenge.
For a deeper dive on all-things CMMS, check out our Essential Guide to CMMS.
Think Limble might be right for your team? Schedule a demo, or send us an email to learn more about how Limble can help your team reach your goals.