Most asset management strategies include both preventive and corrective maintenance action plans. However, many maintenance managers fail to invest in a crucial element of a high-functioning proactive maintenance strategy: predictive maintenance.
The most cost-effective strategies include both predictive and preventive maintenance work. But although they have the same goal and are complementary to each other, preventive and predictive maintenance are not the same.
We'll share all the benefits of predictive maintenance that make it worth the investment.
What is Predictive Maintenance?
The goal of predictive maintenance is to localize potential equipment malfunction as early as possible to avoid the need for more complex maintenance activities.
Predictive maintenance uses condition-monitoring techniques to track the performance of assets during regular operation, detect possible defects, and fix them before the asset failure happens.

An effective predictive maintenance program includes only assets that are more prone to have a failure due to a specific condition or circumstance. This means that the condition is detected and the maintenance is performed just before a breakdown or failure happens.
This decreases the cost of spare parts and supplies, minimizes the time spent on each piece of equipment, avoids the production hours lost with unplanned downtime, and increases workplace safety.

If we were to explain machines' "health" through an analogy with human health, predictive maintenance could be compared to exams performed in individuals who are more likely to get ill due to an existing condition. For instance, a patient who has a family history of heart disease will need to perform regular heart exams, since the patient is more likely to develop cardiovascular disease than the average patient.
Predictive maintenance schedules are associated with big cost savings related to the avoidance of machine downtime. Companies that invest in PdM reduce up to 30% of maintenance costs and significantly increase return on investment.
Checklist for Creating a Preventive Maintenance Plan
Following a consistent Preventive Maintenance Plan can make life easier. Use this checklist to create your own!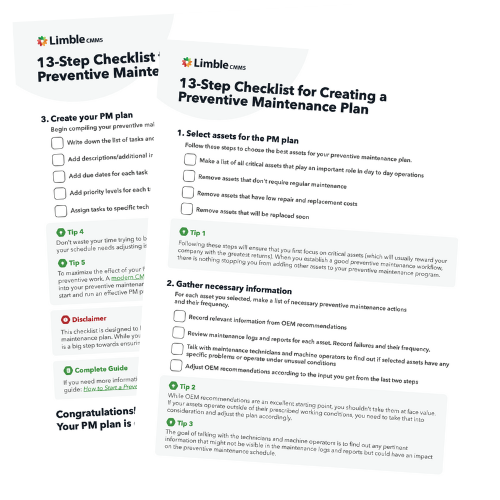 7 Benefits of Predictive Maintenance
PdM is the most advanced type of maintenance available to streamline facility management.
That's because with preventive maintenance alone — which is a time-based maintenance approach — organizations run the risk of performing too much maintenance and wasting resources or not performing enough maintenance and having to deal with mechanical failure.
And with reactive maintenance, technical work is performed when needed, but at the high cost of unscheduled downtime.
Predictive maintenance operations address these issues because the maintenance work is scheduled only when specific conditions are met and before the asset breaks down.
The premise of predictive maintenance is that constant monitoring of the mechanical conditions of assets and the operating performance of systems will provide the maximum interval between repairs, consequently optimizing investments.
Let's dive into other specific advantages of predictive maintenance can bring to your organization:
Fewer equipment failures
Equipment failure is something to be avoided by every maintenance manager as it can have serious consequences. Monitoring the conditions of the equipment and process systems on a regular basis can reduce the number of sudden machine failures by more than 50%.
Using a condition monitoring maintenance technique allows facility managers to get real-time data about asset health and take necessary action before the failure happens. A predictive maintenance program can reduce unexpected failure by up to 90% — which means almost eliminating breakdowns.
Reduced MTTR
Avoiding machine failures, predictive maintenance also reduces the actual time required to repair or recondition plant equipment.
That's because as the sensors indicate that there's something wrong with the equipment and it might break down soon, technicians can fix the problem before the damage is bigger.
The average facility leveraging predictive maintenance can reduce the mean time to repair (MTTR) by 60%.
Increased asset lifetime
Leveraging machine learning to detect machine and system problems early increases the service life of facility machinery by an average of 30%.
After implementing a predictive maintenance strategy, organizations reduce not only the severity of damages but also reduce the propagation of defects. That's because an issue in an inexpensive part can lead to damage in a vital part, which can make the asset lifecycle shorter.
Precise assets data
One of the benefits of predictive maintenance is the software's ability to use sensor data to make predictions about the mean time between failures (MTBF).
Having access to this data allows facility managers to determine the most cost-effective time to replace machinery, rather than keep scheduling costly maintenance tasks that won't keep the equipment in an optimal condition in the long-term.
Through the CMMS software algorithm, you will be able to see when maintenance and continuing operation costs exceed replacement costs. With that, it becomes easy to make a confident decision.
Verification of repairs efficacy
Predictive maintenance sensors can be used to conduct vibration analysis, oil analysis, thermal imaging, equipment observation, and more. And that's not only during day-to-day operations. PdM sensors are also used to verify whether a repair was successful before the machine starts up again.
That increases security and eliminates the need for a second shutdown, which tends to be needed to adjust inadequate or incomplete repairs.
Improved workplace safety
Risk management and workplace safety are primary concerns of facility managers. Accidents in the workplace related to machine failure are not only dangerous but can also represent lawsuits with significant financial impact.
Early detection of equipment and maintenance problems reduces the risk of catastrophic failures, avoiding injury, and even death.
In fact, several insurance companies currently offer benefit reductions for facilities that have an established condition-based predictive maintenance program.
Increased ROI
By avoiding complex machine breakdowns, maintenance teams need to invest less resources in maintenance tools and services. At the same time, maintenance technicians and managers are able increase work productivity as they have more time to focus on vital maintenance tasks.
With CMMS software leveraging the internet of things (IoT) to read PdM sensors data, maintenance managers no longer have to spend precious time going through work orders data analytics.
Also, optimizing equipment conditions reduces machine downtime, which directly affects the bottom line.
Leverage the Advantages of Predictive Maintenance
A predictive maintenance program associated with modern software, such as Limble CMMS, is the best way to increase cost savings in a building or manufacturing plant. Automation is key when it comes to maintenance management.
According to the Department of Energy, maintenance teams can expect an increase in production of 25% after implementing a PdM strategy.
Even with higher implementation costs than the other maintenance strategies, it tends to pay off in the long term.
Feel free to contact our team to help you understand what is the best maintenance approach to the specific needs of your facility or to book a demo to understand how our Predictive Maintenance module works in practice.
The Essential Guide to CMMS
Download this helpful guide to everything a CMMS has to offer.