If you jump over to popular software review sites, you will find a list of dozens, if not hundreds of different maintenance solutions. At a glance, they all offer similar features, testimonials, and pricing models.
How do you separate the wheat from the chaff? By setting up a proper research and review process that focuses on your company's needs.
Whether you're a first-time buyer or looking to replace your current maintenance solution, this guide will help you find the best CMMS software for your facility.
Key considerations for assessing CMMS software
Many CMMS systems offer similar features and functions. What differentiates one CMMS is how it will be applied in your organization. Taking stock of these key considerations will help you select a CMMS solution that aligns with your organization's unique requirements and maximizes the long-term value you get from the software.
A user-friendly CMMS should allow users to quickly and accurately perform their day-to-day activities without needing extensive training.
"Limble CMMS is a great product and is very intuitive. We have been utilizing this for over two years and we have had great success. We are able to keep an eye on our maintenance globally with the ability to capture performance and provide reporting."

 — Roger Beck, Global Facility Manager, IHG (Holiday Inn)
"This software is very easy to use. All CMMS suppliers say that, but I found this one to be exactly that. My team of maintenance techs got on board quickly and loves the app. Anytime you can get 8 of 8 maintenance techs to get on board, you have a winner."

 — Mark Quillin, VP of Operations, Roplast Industries
"The software is very well laid out. Easy for our team to use. Solved our obvious PM tracking issues but also addressed our SHE&S requirements (safety audit task tracking)."

 — Michael Babcock, Facilities Manager, Omnova
CMMS Buyer's Guide
Learn the questions to ask and the features to look for during the CMMS selection process - and find the right CMMS for you.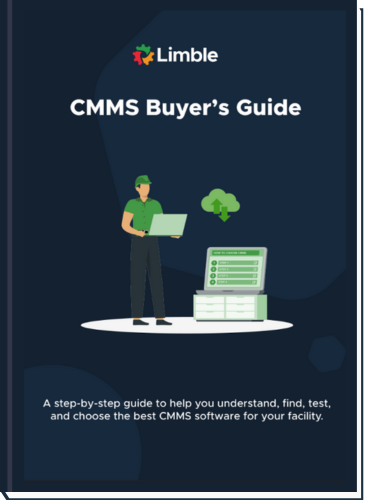 Customizability
Customizability allows you to adapt CMMS software to your unique processes and workflows. It doesn't force you to do things in a certain way that may or may not fit into your existing workflow.
A highly customizable CMMS will let you:
configure existing fields, forms, and interfaces
create unlimited custom fields
create custom templates (WO templates, PM checklists…)
configure approval workflows and manage user access
create custom dashboards and reports
By prioritizing customizability, you can choose a CMMS that adapts to your organization's specific maintenance needs. This creates an environment where technicians are excited to use the software as it makes their daily life a whole lot easier.
"I needed a solution that was flexible, automated, and most of all easy to use for my technicians. After about a month of using Limble we. . . witnessed a drop in our downtime. After using Limble for over a year I can say that it is paying for itself and worth every area of implementation."

 — Ethan Closson, Little Giant Ladder Systems
Implementation
A smooth and successful CMMS implementation sets the foundation for efficient maintenance management.
Your CMMS vendor should be there for you every step of the way — from project planning and data migration to software configuration and system setup. They should offer comprehensive training resources, including user manuals and personalized onboarding sessions, to facilitate a smooth transition for your team.
Look for vendors with strong customer support to ensure you get enough help during your CMMS implementation process.
"It is so easy to get Limble up and running! Implementation was a snap, and our technicians really like having all the information they need right on their tablets — no more shuffling through paper work orders and reference materials."

 — John Patterson, Equipment Manager, Atlanta Athletic Club
"Setup was a breeze and my CMMS advisor was quick to respond with any questions I had."

 — Jeff Burnham, Ameritex Services
Customer support
Responsive customer support ensures timely assistance when you encounter issues or have questions during the implementation process or day-to-day use. Prompt and effective support helps minimize downtime by quickly resolving software-related challenges.
The level of support varies from vendor to vendor and can also change depending on your pricing plan. Here are some questions to ask in the selection process to evaluate customer support.
How is customer support offered? Is there a dedicated representative for our account or around-the-clock service?
What is the typical wait time for support requests?
What communication methods are available for customer support (email, phone, chat, etc)?
Limble CMMS users can contact their dedicated account manager who is familiar with their needs and can provide personalized assistance.
Take time to investigate the vendor's reputation for post-implementation support. Research customer reviews and testimonials to gauge each vendor's track record for addressing customer concerns and providing ongoing support.
"…their customer support is fantastic, almost 24/7. They reply within 10 mins anytime. I am sure that Limble will really help your operations."

 — Natee Singhaputtangkul, Managing Director, Swift Dynamic
"I have tried and tested at least 5 different CMMS systems before trying Limble, and I must say I haven't come across something as intuitive yet powerful as Limble CMMS. There are three features that will make me recommend this to anyone: The robustness of the system, ease of use, AND the customer service."

 — Mohammad Hassaan Akram, Unilever
Security
When choosing CMMS software, security should be a top priority to safeguard your sensitive maintenance data.
Pay attention to the following security considerations:
Data Protection: Make sure your CMMS provider uses powerful data encryption, employs secure storage protocols, and performs regular data backups. They should also comply with industry-standard security practices to minimize the risk of data breaches.
User Access Controls: Assess the CMMS's user access control capabilities. The software should provide granular control over user permissions, allowing you to restrict access to sensitive data and features based on user roles and responsibilities.
Authentication and Authorization: Verify if the CMMS supports secure authentication mechanisms, such as multi-factor authentication (MFA).
Compliance and Certifications: Determine if the CMMS complies with relevant data protection regulations, such as SOC 2, GDPR, or HIPAA (if applicable to your organization). Look for certifications or attestations that demonstrate the vendor's commitment to maintaining high security standards.
Involve your internal technology team member to help evaluate security based on your organization's standards. Your vendor should be forthright and open about their data security practices and share details willingly. For instance, you can find a list of Limble's certifications, attestations, and recent audit reports here.
Scalability
As your business expands, your maintenance needs are likely to expand with it, requiring the CMMS to handle a larger volume of assets, users, and locations. A scalable CMMS should be able to handle larger data sets, increased user activity, and higher demand without sacrificing performance.
Look for a CMMS solution that can accommodate your future growth without significant disruptions or the need for expensive upgrades.
Most CMMS vendors offer tiered plans based on the number of assets or facilities you manage, allowing you to scale up gradually. This ensures that you pay for what you need when you need it, and have the flexibility to add more resources as your organization expands.
Pricing
Most CMMS vendors offer subscription-based pricing at different tiers. Higher tiers provide access to advanced features but come at a higher cost per user.
While the cheapest options on the market might seem attractive, they often lack the flexibility and advanced features needed to streamline complex maintenance operations. The market for CMMS solutions is competitive and you generally get what you pay for.
Since pricing structures can vary widely based on your needs, be sure to ask for detailed information from the vendors you're interested in. Include various subscription levels in your analysis to accommodate for future growth.
"The pricing has been great for an expanding small company."

 — Jared Nickle, Owner, United Disposal
"This software, in my opinion, is the best value out there in the CMMS world."

 — Mark Quillin, VP of Operations, Roplast Industries
If you jump over to popular software review sites, you will find a list of dozens, if not hundreds of different maintenance solutions. At a glance, they all offer similar features, testimonials, and pricing models.
How do you separate the wheat from the chaff? By setting up a proper research and review process that focuses on your company's needs.
Whether you're a first-time buyer or looking to replace your current maintenance solution, this guide will help you find the best CMMS software for your facility.
Step #1: Form your internal CMMS taskforce
The first step is to form the group that will guide the CMMS research, testing, and selection. This should be a cross-functional team that consists of key stakeholders and subject-matter experts:
Maintenance managers
Maintenance supervisors, technicians, and other end users
Operations Manager
IT personnel
This group may vary depending on the size and complexity of your organization. Define the roles and responsibilities and designate one person as a project leader to manage timelines and drive the process forward.
This collaborative approach will ensure that the final decision aligns with the organization's goals and meets the requirements of all stakeholders.
Step #2: Identify your company's needs
Before starting with the research process, ask yourself the following questions:
What is the primary need we will use the CMMS to address? The answer to this may be multifaceted, but identifying the core solutions your organization needs will help focus your selection process.
Do you want cloud-based or on-premise implementation? Most organizations today opt for a cloud-based implementation because of the lower upfront costs, easier implementation process, and automated software updates. The exceptions are organizations with a strict policy to keep their data on internal company servers.
Will my team use CMMS on their mobile devices? If so, you need a mobile-friendly CMMS solution like Limble that will run smoothly on both Android and Apple devices.
Does the CMMS support the languages we need? Some organizations need a CMMS with the capacity for multiple translations for their team members. For instance, Limble is available in 16 languages — and each user can set their preferred language.
Which maintenance strategy will my organization run? If you plan to run advanced maintenance strategies like CBM, PdM, and RxM, you'll want a CMMS that can communicate with condition monitoring sensors and integrate with predictive analytics. For example, Limble CMMS integrates with AVEVA to help organizations build effective predictive and prescriptive data models.
What is my budget? Define how much you're willing to invest in maintenance software on a monthly/yearly basis.
By walking into the process prepared with answers to these questions, you'll have the information you need to begin narrowing down the list of potential systems.
Step #3: Perform preliminary research
If you don't know where to start, jump over to popular software review sites like G2, Capterra, and SelectHub. Where possible, sort the solutions based on User/Average Rating. Your best bet is to focus on top performers.
Look at reviews and awards
Overwhelmingly positive user reviews are one of the strongest signs that you are looking at a potentially great CMMS software.
Don't stop at just looking at aggregate user scores. Take some time and read actual user reviews. This will give you a better feel of what the software does well, and what it might be lacking.Every CMMS vendor says they have the best CMMS software in the market. However, truly great CMMS solutions have awards to back up such statements. Here are a few prestigious awards Limble CMMS has won (among many others).
Most software providers will prominently feature those awards on their website and in their marketing materials, so you should have no trouble finding them.
Compare features and pricing
With a defined budget and list of must-have features, you should be able to quickly eliminate solutions that don't match your criteria.
While reviewing pricing models, watch out for hidden costs. These can include fees for customizations, integrations with other systems, data storage limits, and ongoing support and maintenance costs.
Vendors will have high-level details of their plans like Limble's pricing overview. Ask your finalists to send you more detailed pricing information as you get closer to making your decision.
Create a shortlist
If you end up with more than five solutions that match your criteria, look for ways to trim the list down. Take another look at your specific criteria against customer reviews and concentrate on each system's reputation for ease of use and the features that are the most important to you.
If all else fails, concentrate on the highest-rated solutions with 100+ reviews. CMMS products with so many reviews — that are still near the top of the list — are doing something right.
Step #4: Test the finalists
At this point, you should have three or so solutions that match your criteria and show the most promise. It's time to put them to the test.
Most CMMS vendors offer free trials that last from two to four weeks. With a bit of preparation, this should give your team plenty of time to get a feel for the software and test all of the basic features.
Set up the test
To streamline the process, prepare a simple checklist of all of the features you want to test. Run each solution through that checklist to ensure a head-to-head comparison of similar functions.
Use your time wisely. Conduct thorough evaluations by including vendor product demonstrations and hands-on testing. It's the only way to assess how well the CMMS meets your specific requirements.
Pay special attention to ease-of-use
Ease-of-use improves software adoption, speeds up the onboarding process, and plays a crucial role in maximizing your team's productivity.
During testing, include team members with a broad range of tech skills and pay close attention to how intuitive the software is:
How long does it take to perform simple tasks like approving work requests, scheduling WOs and PMs, and adding new assets to the database?
Can you complete the tasks intuitively, or do you need a tutorial?
Since maintenance software is often used by, at least in part, older technicians that have less experience with mobile devices and IT technology, it's extremely important that your CMMS is easy to use.
Limble CMMS was built specifically to be a robust maintenance solution that is first and foremost simple to learn and use.
Gather feedback and finalize your decision
With the hard work behind you, it's decision time.
Gather and analyze feedback from the key stakeholders involved in the process. Consider all the factors your taskforce identified as important priorities for your organization's maintenance management strategy and goals.
More likely than not, people will find their favorites during the testing process, and the answer will crystallize even before you finish testing all of the shortlisted solutions.
If there isn't a standout winner, create a set of rating scales that each taskforce member can use to objectively evaluate the options. Aggregate the numbers to find your winner.
How long should this process last?
On average, the process will span five weeks to a few months.
Initial research phase: 2–8 weeks
The initial phase of forming your taskforce, assessing your needs, researching systems, and creating a shortlist can take anywhere from a few days to a couple of months, depending on the complexity of your organization.
Testing phase: 2–4 weeks
Each of your finalists should be tested for 2–4 weeks to understand the full functionality of the system. If you have multiple teams able to perform testing, you may do this concurrently. If the same team is testing each system, allow enough time to test each properly.
Final evaluation and decision phase: 1–2 weeks
The final decision-making process typically takes one to two weeks, depending on the size of the organization and the levels of approval involved.
Note that these timelines are general estimates, and the actual duration will vary based on your organization's internal processes, the complexity of the decision-making structure, and the availability of internal resources for evaluation and testing.
Sounds like too much work? Save time by starting with Limble CMMS
While developing Limble CMMS, we had hundreds of hours of talks with maintenance technicians and managers just like you. This helped us build something powerful yet easy to use.
You don't have to take us for our word. Take Limble for a spin and see for yourself:
We guarantee you'll instantly fall in love with the software and forget about testing other solutions.