What is industrial maintenance?
There isn't a lot of mysticism here. Industrial maintenance ensures that every asset is in peak operating condition. This is why industrial maintenance is often used interchangeably with the term plant maintenance.
In addition to making sure that your equipment is performing well, there is another component to industrial maintenance – controlling costs.
Maintaining your assets well is important when it comes to hitting production quotas and ensuring that your products are high quality. However, it's important that it doesn't cost more to maintain your equipment than you would make by selling those products. 
The best way to keep maintenance costs in check while still providing quality maintenance services is to set maintenance KPIs and implement the right (mix of) maintenance strategies supported by mobile CMMS apps. (More on this later).
Behind all of that, of course, is talented workers filling these essential roles.
Most common industrial maintenance jobs

If you google full-time industrial maintenance jobs, you can find dozens of different job positions. Some basic qualifications you might find with any career in the industrial maintenance field are:
Being good with your hands

Able to follow instructions and safety procedures

Willingness to occasionally work overtime

Basic computer skills to work with a work order system or CMMS
Beyond these basic skills, industrial maintenance professionals have a wide range of skills to develop. It's a whole profession in itself. Here's a list of typical industrial maintenance jobs.
Industrial maintenance mechanic
Industrial maintenance mechanics work on installing, repairing, and maintaining industrial equipment. This entry-level role usually only requires a high school education. You can work as an apprentice or work with skilled mechanics as an assistant as you begin your career.
The usual duties of an industrial maintenance mechanic are:
Performing preventative maintenance on all equipment

Performing mechanical and electrical troubleshooting and repairs

Performing hydraulic and pneumatic troubleshooting and repairs

Installation of new equipment

Welding and metal fabrication of parts in need of repair

Machine disassembly and adjustment of machine parts in control instruments
Are you looking for a boost in your job title? It may require some additional training. Check your local colleges for programs and financial aid opportunities to grow your skills and your career.
Industrial maintenance technician
Maintenance technicians usually have more training for specific applications than maintenance mechanics. Technicians are highly specialized in certain areas. Their work is typically focused on one type of industry/equipment, making them the "expert" in solving complex issues in one particular area. 
A maintenance technician's job can include:
Performing preventative maintenance on all facility equipment

Completing work orders on time while maintaining high-quality standards

Being readily available for emergency repairs in breakdown situations and potential on-call situations

Blueprint reading, analyzing, and interpreting technical procedures, electrical schematics, and service manuals

Troubleshooting mechanical breakdowns
Industrial electrician
Industrial electricians oversee the installation, repair, and maintenance of electrical systems in the industrial setting. They do the same thing as the previous two jobs we outlined, but they are focused mostly on electrical systems.
They are usually responsible for:
Installing new electrical systems

Updating, verifying, and maintaining electrical schematics

Troubleshooting problems with electrical equipment

Performing repairs and maintenance on existing equipment
Maintenance managers
Maintenance managers focus more on managing people and maintenance operations than on the equipment itself. 
Depending on the size of the maintenance department, a maintenance manager's job can be split into three different job positions, with the other two being a maintenance planner and a maintenance supervisor. In smaller facilities, however, a maintenance manager will cover all of those roles.
The responsibilities of a maintenance manager include:
Scheduling all maintenance-related work by coordinating their maintenance team

Ensuring that all maintenance operations are done following company policy and OSHA guidelines

Ensuring the facility satisfies all industry regulations

Managing maintenance budgets

Forecasting, ordering, and price negotiation for spare parts inventory

Developing and implementing a proactive maintenance program

Hiring subcontractors for specialized maintenance work

Looking for new ways/tools/assets to improve productivity and cut costs
Managerial positions are usually offered to those with a few years of experience under the belt. Their range of responsibilities is more consistent across all industries.
Industrial maintenance training
Although it varies from industry to industry, industrial facilities are home to many different assets. This is why an excellent industrial maintenance worker needs to have a relatively broad range of skills, from servicing hydraulics to welding and precision machining.
That being said, you can't be an expert in everything. Every large industrial facility will have some highly specialized assets, where you'll hire outside contractors to perform specific repairs. Their services are in high demand but are also often quite expensive. This incentivizes businesses to send their technicians to receive additional maintenance training to perform those repairs in-house.
To give you a better idea of what industrial maintenance training usually covers, here's a short video from Madison College that showcases their industrial maintenance program:

At some point, all mechanics and technicians are bound to go through an apprenticeship program to get hands-on training. Apprenticeships are not hard to find as industrial maintenance jobs are constantly in demand. Apprenticeships help trainees get familiar with the industry they are likely to operate in and give invaluable practical experience.
Industries that heavily rely on industrial maintenance
Industrial equipment is a broad term that includes various things from ball bearings and air tools, compressors, and valves, to bulldozers and cement mixers.
Knowing this, you can notice a little bit of industrial maintenance just about everywhere. However, we can still identify industries that rely on it much more than others like:
Manufacturing industry

Energy industry (oil, gas, mining, electric power industry)

Aviation industry

Construction industry

Automotive industry

It is interesting to note two things these industries have in common: 
They all work with heavy equipment that incurs

big capital expenditures

.

Maintenance costs

make a large chunk of their operational budget. In simpler terms, they spend a lot of money on asset maintenance.
Checklist for Creating a Preventive Maintenance Plan
Following a consistent Preventive Maintenance Plan can make life easier. Use this checklist to create your own!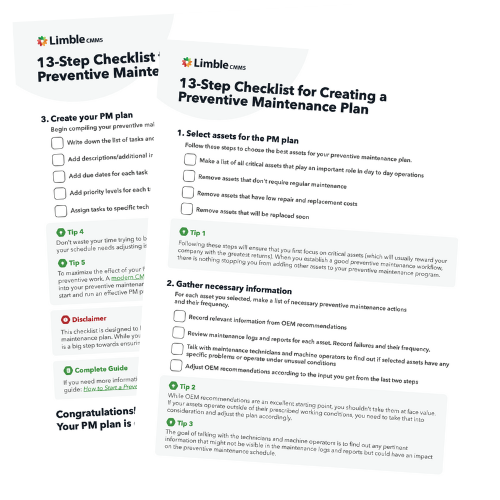 Maintenance strategies used in industrial maintenance
Generally, the best approach is to apply a mix of maintenance strategies. You'll decide which is best depending on your:
Assets

(their failure modes and maintenance requirements)

Internal resources

(budget, skills, access to tools and technology)

Maintenance strategies

(how they work, their pros and cons, implementation costs and requirements)

Below is a quick breakdown.
1) Preventive maintenance
Preventive maintenance is the best way to avoid problems before they happen. After all, "An ounce of prevention is worth a pound of cure." 
It's almost always the most cost-effective approach to invest in regular maintenance than to wait for your equipment to break down. Imagine how much downtime (and money!) you could save your company by beating breakdowns to the punch.
2) Run-to-failure maintenance
Though usually not ideal, this can be OK, depending on what you're working on. Since repairs are not planned with a run-to-failure strategy, it's a good method to use on equipment that is not essential for operations or has a low cost. 
For example, think of a $1000 belt feeder, whose lifetime value can be extended 10% by servicing it every three months. How hard are you willing to work to save $100? For a non-critical piece of machinery, the answer should be "not hard."
3) Condition-based maintenance (CBM)
Condition-based maintenance helps you determine the right time to perform maintenance activities based on your assets' current condition. It uses vibration analysis, ultrasonic testing, infrared testing, and other non-destructive testing methods to assess an asset's current condition. 
Instead of following a fixed schedule, maintenance managers can rely on condition monitoring data and the P-F intervals to schedule work based on the asset's current condition.
4) Predictive maintenance (PdM)
Predictive maintenance is one step ahead of CBM. It uses condition monitoring data and combines it with historical data on asset maintenance and performance to create predictive algorithms. 
These data models are able to pinpoint when an asset is likely to fail. With that info on your disposal, optimizing your internal resources (from labor to inventory) and schedule work right when it is actually needed become WAY simpler.
5) Prescriptive maintenance (RxM)
Prescriptive Maintenance is the most tech-fueled approach to asset maintenance. 
Here you are relying on machine learning and artificial intelligence to build prescriptive algorithms. These algorithms not only predict failure – they offer potential solutions for the potential problems they identified.
For a more detailed comparison, check out our guide on how to select the right maintenance strategy.
Four best practices for improving industrial maintenance
Industrial maintenance has to deal with a lot of moving parts, both literally and figuratively. Below you can find four actionable tips you should concentrate on to maximize the positive effects of industrial maintenance.
1) Run a proactive maintenance program
As we mentioned, there's a time and a place for most any maintenance strategy in the industrial maintenance field, but proactive maintenance is where you'll get the most bang for your buck.
You can't improve your results if most of your maintenance activities revolve around fixing things that are already broken. The best place to start is to choose one (or a combination) of the aforementioned proactive maintenance strategies.

2) Employ mobile maintenance software
It is nearly impossible to run an efficient maintenance department without the support of mobile CMMS like Limble.
With Limble CMMS software, you can:
Manage work orders

. Remotely schedule and track all the work your technicians do without having to check on them constantly. It all lives in Limble, which you can easily access from your phone.

Manage spare parts inventory

. Know when parts are removed, replaced, or running low with customized alerts.

Log asset history.

Store accurate information on everything, including maintenance and repairs, user manuals, checklists and images, asset health metrics, and task and time management. Use this information to keep your industrial machinery in tip-top shape.

Collect accurate data for work requests and work orders.

Instead of writing down or remembering what needs to be done, technicians can use a mobile app to see the information in real-time, document everything, and get the job done right while on location. 

Generate powerful custom maintenance reports.

Inform your maintenance decisions by collecting accurate, powerful data. Track how much things cost to maintain, how much time is spent in repair, and when your asset can be expected to be back online through documentation and data collection.

Customize everything.

From alerts on tasks, spending, and inventory to uploading photos and step-by-step instructions for your technicians, Limble is flexible and can be customized to fit your unique use case.
If you know nothing about CMMS, here is a one stop guide about CMMS software: What is a CMMS System and How Does it Work.
3) Define clear procedures
To have a well-oiled industrial maintenance program, your maintenance team needs to know when to do something and how to do it.
To ensure your whole team is on the same page, you should develop clear:
Keep in mind that, while these procedures can help, they can't compensate for lack of industrial maintenance training and experience. They should be paired together.
4) Set, measure, improve
Feeling things are going better is not the same as knowing that things are better. Setting goals is the only way to ensure continuous improvement. But if you aren't tracking your progress on those goals, the goals won't do much good for you.
To fine-tune your industrial maintenance activities, you need to define maintenance KPIs, use a CMMS to track metrics, generate reports, and make changes if the numbers show that you will not hit your maintenance goals.
Limble automatically tracks many maintenance KPIs like MTTR, MTBF, machine uptime, asset utilization, and more. 
Limble CMMS helps you track various metrics and KPIs
Simply by completing thorough work orders, Limble is putting data into easy-to-read automatic reports that you can use to improve efficiency (or brag to the people upstairs about how effective you and your team are).
Industrial maintenance news and resources
As your organization grows, you want to always keep up with best practices and the most innovative processes. 
Check out these links and stay in the loop with how the game is changing; new technology, regulations, statistics, and business development strategies:
The future of industrial maintenance
Industrial maintenance professionals have the luck (or misfortune) of working in a dynamic field that is changing quickly due to the impacts of predictive analytics, automation, Industry 4.0, 5G, and other related technology.
That being said, industrial maintenance workers should not yet fear technology and automation. Your jobs are here to stay. 
While the tools they use to monitor and repair assets might change, while the assets themselves might change, we are still far from assets taking care of themselves. Even as systems become more automated, we'll always need talented professionals as an integral part of the maintenance process.
For those looking to jump-start their maintenance efforts with a CMMS, you can use our contact form to find out how we can help you. Alternatively, you can schedule a demo or go straight for our free trial.
Related Content
Explore our blog for insightful articles, personal reflections and ideas that inspire action on the topics you care about.