August 10 2018
MTTR vs MTBF vs MTTF? – A Simple Guide To Failure Metrics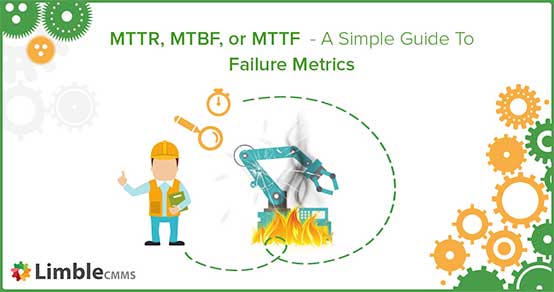 Measuring failure metrics is an integral part of asset management. MTTR can tell us how efficient our maintenance team is, MTBF points to the reliability of our equipment, and MTTF tries to estimate the average lifespan of non-repairable assets.
These are by no means the only
maintenance-related metrics and KPIs
worth tracking. However, they are very popular, so we are giving them extra attention.
Tracking and managing equipment and device failures is essential for any organization that relies on physical assets to deliver its product or service. It is the only way to keep operational disruptions down to a minimum.
For each of the stated metric, we will:
explain what it measures and why is it helpful
provide a graphical representation
use an example to show how it is calculated
and discuss what you can do to improve it
If you are only interested in one particular metric, use the content table to quickly navigate to that section of the article.
Introduction to failure metrics
Even the most efficient maintenance teams experience equipment failures. That's why it's critical to plan for them.
But first, what does equipment failure look like?
Failure exists in varying degrees (e.g.
partial or total failure
). In the most basic terms, failure simply means that a system, component, or device can no longer produce specific desired results. Even if a piece of manufacturing equipment is still running and producing items, it has failed if it doesn't deliver the expected quantities.
Managing failure correctly means minimizing its negative impact. To help you effectively manage failures, several critical metrics should be monitored. Understanding these metrics will eliminate guesswork and empower maintenance managers with the hard data they need to make informed decisions.
What are the key failure metrics to pay attention to? We'll discuss 3 of them:
MTTR (Mean Time To Repair)
MTBF (Mean Time Between Failures)
MTTF (Mean Time To Failure)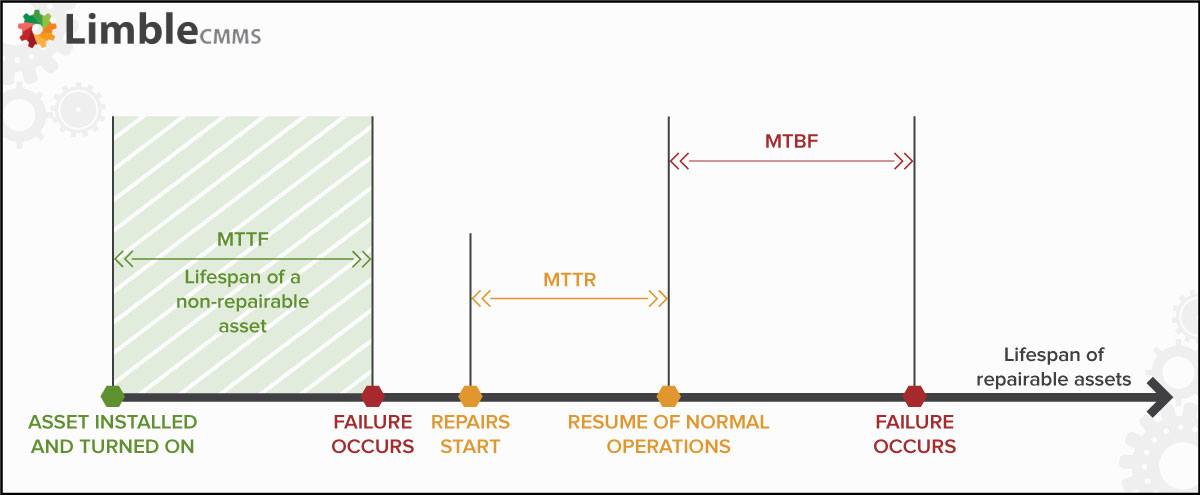 There is a more detailed graphical representation of each metric in its respective sections of the article. The above graphic is just a tease to present the relationship between these metrics.
Before we dive in, let's briefly touch on the importance of having reliable data behind your failure metrics.
The importance of reliable data
To make data-backed improvements in equipment failure, it's crucial for the right data to be collected and for that data to be accurate.
High-level failure statistics require a significant amount of meaningful data. As we'll show in the calculations below, the following inputs must be collected as part of your maintenance history:
labor hours spent on maintenance
number of breakdowns and repairs
operational time (can be calculated from total expected operating hours per week – total equipment downtime)
As tedious as recording maintenance figures can be, it's an essential part of improving maintenance operations – identifying items with a high failure rate and finding the root cause of those failures.
This process can be painfully time-consuming when done manually, but it's made simple with a
mobile CMMS
like Limble that lets you quickly and easily log reliable data for labor hours and downtime on your phone while you're performing maintenance tasks. Additionally, Limble runs all the calculations of MTTR and MTBF automatically for you, as seen below.
Collecting inaccurate data can cause a lot of issues. Maintenance technicians might occasionally write down the wrong figure is just one example. A potentially much bigger problem is neglecting to record tasks, which leads to incomplete data.
If data is missing or inaccurate, your failure metrics will be useless in informing decisions on improving operations. Worse still, if you are unaware that the data is unreliable, you might end up making operational decisions that could be counterproductive and harmful.
Now that we got that out of the way, let's focus on the things you came for.
What is MTTR (Mean Time To Repair)?
Mean Time To Repair (MTTR) refers to the amount of time required to repair a system and restore it to full functionality.
The MTTR clock starts ticking when the repairs start and it goes on until operations are restored.
It includes:
time to troubleshoot and diagnose the problem
repair time
testing period
time to assemble and start up the asset
How do you calculate MTTR?
To calculate MTTR, divide the
total maintenance time
by the
total number of maintenance actions over a given period of time
. In other words, you need to sum up the time you've spent on the repairs and divide it by the number of repairs you performed.
Imagine a pump that fails three times throughout a workday. The first repair lasted for 30 minutes, while the other two repairs lasted only 15 minutes. In this case:
MTTR = (30 + 15 +15) / 3
MTTR = 60 / 3
MTTR = 20
The conclusion might be that the average time for performing repairs on that pump is 20 minutes.
A few things to note:
Typically, every instance of failure will vary in severity so while some incidents will require days to diagnose and repair, others could take mere minutes to fix. Hence, MTTR gives an average of what to expect.
If your sample size is small, you might need to remove outliers that will skew the results. For example, somebody makes a huge mistake during the repair process that basically never happens, which prolongs the repair process by a couple of days (for a task that is otherwise finished in less than an hour).
To obtain reliable results, every repair should be handled by competent and trained personnel that can follow well-defined procedures.
Modern CMMS solutions will often track and automatically calculate MTTR for you. Technicians will be prompted to confirm how much time they took to perform the repair when they are closing a work order.
Why is MTTR helpful?
If an asset is under repair it means it is experiencing downtime. Frequent breakdowns and prolonged downtime periods lower equipment availability and equipment uptime.
That, in turn, has an adverse impact on business results. This is especially the case for processes that are particularly sensitive to failure. In a manufacturing environment, long mean time to repair leads to missed production deadlines, increased labor costs, loss of revenue, and a variety of operational issues.
Understanding MTTR is an important tool for any organization because it tells you how efficiently you can respond to and repair any issues with your assets. Most organizations seek to decrease MTTR with an in-house maintenance team supported with the necessary resources, tools, spare parts, and
CMMS software
.
Maintenance managers can use MTTR to inform maintenance decisions such as:
repair vs replace analysis
whether they need to invest more resources into training maintenance staff
do they need to upgrade operating procedures and workflow
Ways to reduce MTTR
Every efficient maintenance system needs to look at how to reduce MTTR as much as possible. That can be done in a few different ways:
Optimize spare parts management and asset inventory management processes. This ensures that technicians have quick access to tools and spare parts when they need them.
Use condition-monitoring sensors to track machine health and performance. While sensors should be utilized to prevent unexpected failures, sensor data can also be used to speed-up the diagnosing and troubleshooting process. Additionally, tracking deterioration signs can give maintenance personnel more time to arrange for all the resources needed to execute the repair.
Implement CMMS software. Mobile CMMS solutions like Limble allow technicians quick access to maintenance history (logs, reports, notes from previous repairs…) which can speed up the repair process.
Streamline the repair process. Create clear standard operating procedures and maintenance checklists for repairs that are performed regularly.
Ensure proper training. If you want the job done correctly and in a reasonable timeframe, technicians performing the repairs need to be qualified and know what they are doing.
Mean Time To Repair vs Mean Time To Recovery
The acronym MTTR has A LOT of
different meanings
. The two most relevant for our discussion are "mean time to repair" (discussed above) and "mean time to recovery."
Mean Time To Recovery
is a measure of the time between the point at which the failure is first discovered until the point at which the equipment returns to operation. So, in addition to repair time, testing period, and return to normal operating condition, it captures
failure notification time
.
Although both terms are often used interchangeably, the need for distinction becomes important in the context of Service Level Agreements (SLAs) and maintenance contracts.
Hence, all parties to such contracts will need to agree on what exactly are they measuring.
What is MTBF (Mean Time Between Failures)?
Mean Time Between Failures measures the predicted time that passes between one previous failure of a mechanical/electrical system to the next failure during normal operation. In simpler terms, MTBF helps you predict how long an asset can run before the next unplanned breakdown happens.
The expectation that failure will occur at some point is an essential part of MTBF.
MTBF calculation is used for repairable systems and it
does not take into account units that are shut down for preventive maintenance
 (re-calibration, servicing, lubrication) or routine preventive parts replacement. Rather, it captures failures that occur due to design conditions that make it necessary to take the unit out of operation before it can be repaired.
So, while
MTTR impacts availability, MTBF measures availability and reliability
. The higher the figure of the MTBF, the longer the system will likely run before failing.
How do you calculate MTBF?
Expressed mathematically, the lapses of time from one failure to the next can be calculated using the
sum of operating time divided by the numbers of failures
.

Looking at the example of the pump we mentioned under MTTR, out of the expected runtime of ten hours, it ran for nine hours and failed for one hour spread over three occasions. So:
MTBF = 9 hours / 3 repairs
MTBF = 3 hours
In conclusion, the pump fails every 3 hours on average.
Keep in mind this is a very simplified example. You need to have a much bigger sample to make any applicable conclusions.
As you can see from the example above,
the repair time is not included in the calculation of MTBF
.
Apart from the design conditions mentioned earlier, other common factors tend to influence the MTBF of systems in the field.
A major one of these factors is human interaction. For instance, low MTBF could either indicate poor handling of the asset by its operators or a poorly-executed repair job in the past.
Why is MTBF helpful?
MTBF is an important marker in
reliability engineering
and has its roots in the aviation industry.
For critical assets such as airplanes, safety equipment, and generators, MTBF is an important indicator of expected performance.  If the MTBF value is high, it means you are experiencing a significant number of breakdowns which will negatively impact
overall equipment effectiveness
and other performance metrics.
Therefore, manufacturers can use the mean time between failures as a quantifiable reliability metric and as an essential tool during the design and production stages of many products. It is commonly used today in mechanical and electronic systems design, safe plant operations, product procurement, and so on.
Although MTBF does not consider planned maintenance, it can still be used for things like
calculating the frequency of inspections for preventive replacements
.
If it is known that an asset will likely run for a certain number of hours before the next failure, introducing preventive actions like lubrication or recalibration can help prevent that failure.
Ways to increase MTBF
There are many small things organizations can do to increase the time between failures. Some of them are:
Do more proactive maintenance work. Assets that are properly maintained are less likely to experience critical malfunctions. Use CMMS to create and adhere to maintenance schedules.
Use quality replacement parts. The system is only as strong as its weakest link. Looking for the cheapest items is never the best long-term decision.
Use recommended input material. Whether it is the size of the chicken in the poultry processing system or the thickness of the foil used for product packaging, every machine is designed to work within certain parameters. Respect those parameters.
Ensure proper working conditions. Constantly pushing machines beyond their limits is a surefire way to decrease their useful life and MTBF.
Have a solid onboarding program for machine operators. Assets should be used in respect of how it is designed. Improper handling is bound to shorten MTBF.
Understand the kinks of old equipment and aging assets. Whenever possible, maintenance technicians should give tips to machine operators in terms of which actions they should avoid doing with old assets to manage avoidable recurring issues.
What is MTTF (Mean Time To Failure)?
Mean Time To Failure is a very basic measure of reliability
used for non-repairable systems
. It represents the length of time that an item is expected to last in operation until it needs to be replaced.
MTTF can be used to represent the lifetime of a product or device. Its value is calculated by looking at a large number of the same kind of items over an extended period and tracking how long they last.
In the manufacturing industry, MTTF is one of the many metrics commonly used to evaluate the reliability of manufactured products. However, there is still a lot of confusion in differentiating between MTTF and MTBF because they are both somewhat similar in definition. This is resolved by remembering that MTBF is used when referring to repairable items, while MTTF is used for non-repairable items.


When using MTTF as a failure metric, repair of the asset is not an option.
How do you calculate MTTF?
MTTF is calculated as
the total time of operation
, divided by the total number of items being tracked.
Let's assume we tested 3 desktop hard drives. The first one failed after 500 000 hours, the second one failed after 600 000 hours, and the third hard drive failed after 700 000 hours in use. MTTF in this instance would be:
MTTF = (500 000 + 600 000 + 700 000) / 3
MTTF = 1 800 000 / 3
MTTF = 600 000
This would lead us to the conclusion that this particular type and model of the hard drive is likely to fail after 600 000 hours of use.
Why is MTTF helpful?
MTTF is an important
metric used to estimate the lifespan of products that are not repairable
. Common examples of these products range from items like fan belts in automobiles to light bulbs in our homes and offices.
MTTF is particularly useful as a reliability metric. Engineers can use it to estimate how long a component would last as part of a larger piece of equipment. This is especially true where the entire business process is sensitive to the failure of the equipment in question.
Shorter MTTF means more frequent downtime as the failing items need to be replaced.
Reduce Reactive Maintenance by 73.2%
See the Results Red Hawk Enjoys With Limble
Ways to increase MTTF
The only surefire way to increase MTTF is to look for better quality items. Items that are made from more durable materials and have gone through a thorough quality control process.
Other ways to impact MTTF are actions that improve the asset lifespan of any type of physical item. You should make sure that the
devices are used for their intended purposes
and
in the conditions (humidity, heat, pressure, voltage…)  they are designed for.
It can also be helpful to double-check if the device was
properly installed/retrofitted
before it is used.
Scheduling maintenance is not really helpful in this case as there is usually nothing to maintain. You can maybe wipe off the dust, but you are not going to perform preventative maintenance on a computer hard drive or a lightbulb. You are just going to replace them when they stop working properly.
Final thoughts
Maintenance managers are here to ensure maximum equipment availability and uptime, as well as to
keep the plant operations safe and efficient
.
Understanding the calculations and use of failure metrics help maintenance professionals to holes in their maintenance programs and practices. Based on their findings, they can proceed to develop better asset management strategies and improve their overall maintenance processes.
By calculating failure metrics and planning maintenance based on the results, they can also
reduce their organization's dependence on reactive maintenance
in favor of proactive methods that will prevent unexpected breakdowns in the first place.
If you want more insights into how Limble CMMS can help you track and calculate these metrics, you can
reach out to us via email
. For everything else, feel free to join the discussion in the comments below!
55 Comments
M.IRANI

September 22, 2018, 2:14 am

greetings:
Regards, please explain my three questions about the MTBF and MTTR Indicators.

1. According to the formula for calculating the MTBF index, which is equal to the total operating time of the device divided by the number of emergency repairs in a specified interval, when the machine is healthy and not working, this time is considered as the working time and used in the calculation of the index. Or not?
2. How to calculate the MTBF index for a device that did not have any failures or emergency repairs during a one-month period?
3. How to calculate the MTTR index for several different devices in a given time period, such as one month?

Hi M.IRANI!

Those are some specific situation but I'll try to help as much as I can.

1. You should not take into account the time when the machine is not operational as that wouldn't give you a clear picture of how much wear and tear a machine can take before breaking down. You should include any time the machine is operating, healthy or not.

2. In those scenarios it may be best to get a MTBF index for a group of similar assets. That way you can measuring healthy assets with your problem assets and can have a good measurement of when you will likely experience a breakdown.

3. You need to look at each device and make a total sum of the time spent to repair and restore it normal operating conditions and then divide it with the total number of repairs that the device had. This data is obviously hard to accurately track manually so we set up Limble to calculate that automatically (as long as your technicians enter the time they've spent on the repair).

I hope this helps!

Vivek D

January 15, 2019, 12:57 am

Hi,

I have a query here. You mentioned that we should not take into account the time when the machine is not operational. So on the same context what is your thought on Starved and Blocked times on the MTBF of an equipment ? We term it as internal MTBF while dealing with the failure analysis at Equipment failure level and not system level.
So should we exclude starved and blocked times while doing the mtbf analysis because in these 2 states even though my machine is availiable it is not processing anything i.e its in idle state. Appreciate your insights on this !

Vivek D – +91-9900290780
vivek.india31@gmail.com

Hi Vivek!

Great question.

The answer is… it depends. In most situations I would personally not include the "Starved and Blocked" times since the machines are not being used and therefore the majority of the wear and tear is not occurring.

That being said the most important thing is to be consistent and clear with which way you choose to measure. If one month you take include the "Starved and Blocked" times, but the next don't you will run into inconsistent data. Therefore you should made it very clear for your company's best practices you are or are not including the "Starved and Blocked" times.

Another factor to consider is how other teams outside of your own consider what times to include when calculating how long an equipment is running. They may consider the equipment running even when it is in a "Starved and Blocked" time while you don't. For example, if you tell production to expect a machine to break every x hours of running, yet they think a machine is running even during "Starved and Blocked" times you will cause confusion which will cause problems.

I hope that helped answer your question… If not let me know!

Tushar

January 17, 2019, 5:58 pm

If MTTF of single processor is 10000 hours. What will be MTTF of 1000 processors? Assuming if one fails, they all fail.
my answer is 10 hours is it correct? Explain plse aslo

sunny

January 23, 2019, 6:51 am

How do we determine the index factor between MTBF and MTTR

Mariella Tabares

January 29, 2019, 6:48 am

It is possible to calculate the MTBF and MTTR when only occurred 1 failure during the working time period of the machine?

Hi Mariella,

For MTBF, you need at least 2 failures to calculate "time between failures". Keep in mind that basing any decision on just one small sample like this might not give you the most accurate information.

As for MTTR, you can technically calculate it with only one failure. But again, calculating "mean" in "mean time to failure" implies that you are measuring multiple values and calculating an average.

Another point to bring up is calculating these metrics on a group of similar machines so you can get more actionable results if the number of your data points are low.

I hope that clears things up a bit.

Joko Supriyanto

April 22, 2019, 12:43 am

Hi Bryan,

MTTR and MTBF is use for calculating every part on the machine (1 part 1 MTTR and 1 MTBF) or 1 machine (any problem part on machine 1 MTTR and 1 MTBF) ?

Hi Joko, It depends on how you want to set it up. Ideally you should have one report that does MTTR and MTBF for the top level equipment and all of its parts and then also another report for each part of that machine. A good CMMS will automatically do these calculations for you so you know exactly what your MTTR and MTBF is for every granular level.

Rajiv

April 22, 2019, 10:37 am

we need to see the performance of the 20 equipments individually. Failure rates variying from zero failures to 5 and so on. How I can distinguish the zero failure machine performance, one failure machine performance month wise. Please help.

Hi Rajiv if you are using a good CMMS you can have it automatically do those calculations for you. Other then that it would be hard to give help without looking at the actual data. Fill free to send it over to mail@limblecmms.com and we can take a quick look 🙂

jayakumar

April 24, 2019, 1:22 pm

thanku, this is very useful

Thank you and glad you liked it 🙂

MURUGESH

June 2, 2019, 1:02 pm

Hi,

Will you suggest me how to calculate MTBF for multiple equipment in single system?
Example: Petrol station in single city. i want to calculate MTBF of all station having same fuelling pump. How do I calculate the MTBF for whole system or Single station?

Luis Fernando Jaramillo

June 5, 2019, 6:10 am

Good Morning
I was Reading your Internet page, and it's very interesting but I have a question about how to calculate MTBF with the Formula, in this moment we calculated MTTR and MTBF every month for every machine, my question is:

If in the last month I didn't have any fail and the machine was working 150 hours, how I must to use the formula?

150 / 0 = ∞

Could you help me to clarify my doubt please?

Thanks In advance

mohamed sayed

July 3, 2019, 6:31 am

I have 4 shift , how i calculate MTBF for every shift although every breakdown have adiffrent frequency for every shift.

if i calualte MTBF / month for one shift = working hr per month / no of failures is correct or no although for every shift breakdown have diffrent frequeny of failure.

Aris

August 17, 2019, 5:08 am

Hi sir,

Do you have any idea what is repair success rate? is this similar to MTTR?

OMAR

October 16, 2019, 5:44 am

Good Morning
I was Reading your Internet page, and it's very interesting but I have a question about how to calculate MTBF with the Formula, in this moment we calculated MTTR and MTBF every month for every machine, my question is:

If in the last month I didn't have any fail and the machine was working 150 hours, how I must to use the formula?

150 / 0 = ∞

Could you help me to clarify my doubt please?

Thanks In advance

PLEASE THIS QUES VERY IMPORTANT PLEASE ANSWER IT

Senko

October 17, 2019, 7:10 am

Hi Omar,

If there wasn't any failure you can't calculate MTBF. I'm not sure how you use it at your organization but calculating it on a monthly basis doesn't seem like the best approach, especially if the machine isn't "breaking" multiple times a month.

Looking at the overall trend for a longer period of time for every particular machine would probably give you more useful info.

I hope that helps!

Agus

October 30, 2019, 12:26 am

Hello,
Thank you for the nice introduction, we would like to adopt this failure indicator as our KPI.
but may I ask as to calculate MTBF the Running time may effect to other non related with Machine. i.e. we are running 24Hrs = 1440 min, and there is Plan D/T for break and change model about 200min. and there is un planned downtime for change parts, set up, change tool and machine problem total about 350 min (in here the D/T is mix and ae we need to segregate?), and machine qty failure is 150 times. can I say that:
– Running Time = 1440 – 200 – 350 = 890 min or 1440 – 350 = 1090 min ?
– Machine Problem Qty = 150 times
so MTBF = 890/150 =6 min 0r 1090/150 = 7.2 min (this based on single machine)
Thank you.

Senko

November 6, 2019, 3:02 am

Hello,

Since the MTBF is concerned only with operational time, you should use the first calculation (890/150).

That being said, it might not be a bad idea to track how much of that downtime is planned and how much is unplanned as that will give you a greater insight on what you need to improve or spot potential issues.

Alex Gan

March 25, 2020, 10:56 pm

Hello,
I would like to verify about MTTF and Predictive Maintenance tracking were both similar to calculation for the spare part Usual life cycle?

Beside there commonly machine maker have the schedule for the replacement of consumable components/ usual life cycle, how we priority the Lean cost saving vs, TPM practical ?

Pls. advice

Senko

March 27, 2020, 9:19 am

I would love to help you Alex but I do not really understand the question. If you could explain it in more details, that would really help.

venkat

April 15, 2020, 12:34 am

Hi,
Can we use MTBF for daily monitoring of machine/equipments ? and if there is no failure in machine, how to calculate MTBF.

Senko

April 15, 2020, 6:15 am

Hello,

MBTF is probably not the metric you would want to use for some kind of daily monitoring. You will be better off making a PM plan based on OEM guidelines and schedule preventive work and inspections accordingly (more info here: https://limblecmms.com/blog/the-ridiculously-simple-preventive-maintenance-plan/)

If you do not have any failures, then you can't really measure MTBF 🙂

I hope this answers your questions.

BIKASH MOHANTY

April 29, 2020, 1:19 am

Hii sir,

some query.
1 – How to define MTBF a product run time 100days ?
2- How can improved MTBF a prouct service life ?

Senko

April 29, 2020, 3:08 am

Hi Bikash,

1. To define MTBF for a product, you need to know how much time did the product spent "in use/operating" for those 100 days and how many times did it fail and then you can use the formula given in the article.
2. MTBF can be used as one of the methods to help you predict when the product might fail so you can schedule preventive maintenance before that happens. The fewer breakdowns an asset experiences, in many cases, the longer the lifespan of that asset.

Not sure if I got your questions right though, I hope I did!

Andrew

May 6, 2020, 3:32 am

Hello
Thank you so much for this write up. It's really helpful.
How can a PM plan be built for a daily monitoring machine?

Senko

May 7, 2020, 1:07 am

Thanks Andrew 🙂

We actually have an in-depth guide on how to create a PM plan. It includes all the steps you need to now, gives examples, and you can even download a helpful checklist.

I hope that helps!

danny townsend

May 20, 2020, 11:23 am

very insightful.
I am working on calculating the maintenance ratio for two items, discrete numbers for field maintenance and sustainment maintenance. I am focusing the math one a count of one, versus the total number of fielded items. do you think this is the right approach? The MTBF I am using is a projected number, since this is a relatively new piece of equipment.

Senko

May 21, 2020, 5:43 am

Thanks for commenting Danny.

It seems like a pretty specific example. I'm afraid my knowledge of the subject matter doesn't extend that far so I wouldn't be comfortable giving you advice that might set you on the wrong path.

It does sound like you know what you're doing though 🙂

G Bhattacharjee

May 28, 2020, 12:06 pm

Very well explained.

manu verma

June 13, 2020, 11:40 am

As we all know that theoretically, MTBF = MTTR (repair) +MTTF (failure) but in your article under MTBF section, there is a figure which shows MTTR and MTBF are two different phases. why?

Senko

June 15, 2020, 1:47 am

MTBF does not include the time you spend repairing the asset, you only take "working" hours into account for calculating MTBF.

Jason David Carroll

June 14, 2020, 11:42 am

use some simple math:

10,000/1 = 10,000MTTF
(10,000(item1)+10,000(item2)+…+10,000(item1,000))/1,000=10,000MTTF

ahmed

June 16, 2020, 9:48 am

if there are 10 line of sight microwave links are arranged for a radio receiver. The time availability at the last receiver in the system (due to propagation alone) was found to be 99.82%. Use the most conservative method to find the time availability assigned to each microwave link. Justify how the method is conservative. thanks

Senko

June 18, 2020, 6:35 am

That sounds like it was taken from a quiz 🙂

I'm afraid we can't help you here, but there's always a chance that other readers of the article help you out!

Saravanan Baskaran

June 17, 2020, 11:05 pm

Hi Sir,
What is the bench mark for MTTR, MTBF and MTTF for used equipment say 10 yrs old.

Senko

June 18, 2020, 6:43 am

That vastly varies from one piece of equipment to the other, from working conditions, from how the equipment is handled, etc.

I'm afraid your best bet is to look at respective OEM manuals and try to see if you read any relevant info between the lines (or maybe try to google these benchmark for the machines in question).

Good luck and let us know if you find the answer – to help other readers that might be in the same situation!

Tom W.

June 22, 2020, 3:42 pm

Great intro and thanks for sharing. I have a question I'm hoping you can help with, or at least point me in another direction. I have 100 devices that I'm testing and each one has been continuously operating for a different amount of hours. I've had 4 fail after operating for 538, 583, 810, and 829 hours. Is the MTTF calculated as (538+583+810+829)/4 or is it all cumulative hours of the 100 devices divided by 100 even though this includes a bunch of devices which haven't failed yet? My other question is can this data be used to predict what percent of devices will result in failures at a defined time (after 1000 hours for example)? Thanks for your help and insights.

Senko

June 24, 2020, 3:59 am

Presuming that we are talking about the same type of device, I would go with your first suggestion "(538+583+810+829)/4". As more devices fail, you will have a bigger sample and you should be able to use that data to predict how long does a piece lasts on average.

I'm sure there are some statistical equations you can pump MTTF numbers in to try and predict things like which percentage of devices will last for 1000 hours.

Tom W.

June 23, 2020, 7:38 am

Hello – excellent summary, thank you! A couple of clarification questions: 1. I have data for 134 devices that show how many days they have been operational. There are 4 in there that failed at various times. I'm trying to figure out the correct way to calculate the MTTF and not sure if I do the calculation using only the 4 devices that failed, or if I use the entire data set even though there are devices in there that have yet to fail. I'm also wondering if I can use this data to predict some kind of reliability – something like X% of devices are expected to survive to 500 days, Y% to 1000 days, etc. Can you point me in the right direction on this?

Tom W.

June 24, 2020, 8:36 am

Thank you! This is helpful and much appreciated!

Ashish Batajoo

July 4, 2020, 12:25 am

Thanks for sharing!!! is there any formulae for calculate the service availability depending upon the MTTR MTBF?

Saket Fule

August 1, 2020, 1:41 am

It was a mindclear explanation. I was reading through books but honestly I couldn't understand anything. You've reduced my trouble. Thank You so much sir and keep making such nice article.

Maouchi Madina

September 1, 2020, 5:53 am

Hi , thank you for the summery. i have a question about the number of failures used to calculate MTBF and MTTR .I am in the ambiguity regarding wich stops are considered as failures. Exp : does stop more than 60s considered as a faillure? even overloading , setting, control….ext ?
How to set targets of MTBF , MTTR ?
Thank you in advance.

Senko

September 2, 2020, 4:10 am

It is on you to define what you will count as a failure. As a rule of thumb, if it is not something that requires the attention of the maintenance team, I would not count that as a failure.

The stops you mentioned seem like they would play a bigger role in calculating OEE than these failure metrics.

Regarding targets, that depends on the type of device/equipment you're looking at. Sometimes those numbers might come with the OEM manuals so you know what to expect. Otherwise, you can measure the metrics and then set targets for improvements you think are realistic depending on your available resources.

I hope this helps 🙂

Hanne

September 23, 2020, 1:25 am

Hi,
Thank you for the summary! I still have some questions:
1. How do you calculate MTBF over more than 1 device? Just sum the different operating hours and divide it by the number of failures? So for example Machine 1 operates for 200hours and fails, machine 2 operates for 300hours and fails, machine 3 operates for 150hours and fails –> (200+300+150)/3
And thus it depends if the machines are set in serial or parallel?

2.And what happens if you have multiple machines, but one of them never fails, do you include them into the calculation of MTBF? For example machine 1 runs for 500hours but never fails, Machine 2 runs for 200 hours and fails and machine 3 runs 100 hours and fails. Does MTBF gets calculated as (500+200+100)/2 or as (200+100)/2

Thanks in advance!

Senko

September 23, 2020, 2:38 am

Hi Hanne,
1. You can do that if you want to find an average for the exact same type of device. I would avoid doing that if devices work in different operating conditions as than I do not know how much value would you get from that average number (just something to keep in mind).
Series vs parallel discussion depends on what you want to measure exactly, MTBF of the whole system, machine, or machine components. If it is the system, then the serial vs parallel configuration should give diferent results.
2. I could see an argumeent for using both. Including "500-hours" into the calculation would give you a more accurate average MTBf on such a small sample (with a note that you recalculate it when it eventually fails). If you have a bigger sample, I would not include it in the calculation.

At the end of the day, as long as you understand the context so you do not missread the final number, you'll be good to go.

Mitchell Stockton

September 24, 2020, 8:17 am

Where can I find "typical" MTTF values for components? It appears that noone publishes "true" values?

Senko

October 2, 2020, 2:40 am

If the OEM manufactures don't include the numbers (or include misleading ones), I'm not sure if you can get "true values" without testing it for yourself. Maybe try to find other managers that used them and see what was their experience like.

Hanne

September 25, 2020, 2:56 am

Thank you very much! Is there actually a standard on how to calculate MTBF for mechanical equipment?

hicham

October 2, 2020, 3:29 am

Salam Omar,

from my point of view you need to calculate from your last failure until the moment you report your KPI, e.g
01/01/2020 first start of the machine and the machine works for 390 H then failure at 31/01/2020 , after repair for 10 hours, works for 350 H in 29/02/2020 then the machines works for 390H until 31/03/2020 then no failure and works 390H until 30/04/2020

for the MTBF that you will report will be as below :
Jan/2020 MTBF = 390H
Feb/2020 MTBF = 370H (390+350)/2
Mar/2020 MTBF = 565H (390+350+390)/2
Apr/2020 MTBF = 760H (390+350+390+390)/2

and so on for the others months
Hear what
Limble CMMS customers

have to say...




>
<
Jan 18

Limble is the best thing to happen to this company

"Limble does such a good job at keeping track of what's been done and letting me know when and what I need to do next."

Jan 30

Perfect for my business

"I run a coffee equipment service company and Limble is great for everything we do. We can store all of our assets and equipment and access it easily with a comprehensive list of all the work done on the equipment. Limble is by far the best CMMS on the market and I wouldn't dream of using anything else."

Jan 04

Best value for money CMMS

"Limble has all the features essential to maintenance management. It is very easy to use. Limble can connect with wireless sensors for Condition Based Maintenance. We are in Thailand, and Limble also supports the Thai language. Importantly, their customer support is fantastic almost 24/7. They reply within 10 minutes anytime. I am sure that Limble will really help your operations."

Sept 6

The best value available in CMMS Software

"This software is very easy to use. All CMMS suppliers say that, but I found this one to be exactly that. This software, in my opinion, is the best value out there in the CMMS world. My team of maintenance techs got on board quickly and loves the app. Anytime you can get 8 of 8 maintenance techs to get on board, you have a winner."

Nov 21

Awesome Product with REAL support!

"Our team reviewed & demoed 6 different CMMS companies and the decision was easy! The functionality was extremely easy, but still provides the analytics needed to track our companies time and money spent on maintenance. Their support is top-notch! I've dealt with numerous software companies in my position and can tell you, you will not find one better!"

Mar 6

A very simple and elegant CMMS system

"If you've had prior experience with CMMS systems, Limble is very intuitive. The ability to view and use the software on multiple platforms is very advantageous. I was able to become proficient and launched the system after only 2 weeks. Support from Limble is fantastic - very prompt and they work well with you to truly understand your questions."

Jan 30

Great for smaller or larger facilities

"We haven't fully integrated Limble yet but we are already seeing improvements in our efficiency. As we fully integrate Limble we expect to see more benefits and increase our response and completion times. The customer support has been outstanding. The Limble team is very quick to respond to any questions and they are very open to suggestions."

Nov 07

Very easy to use, functionality is great

"I can track my inventory and it sends me emails when I'm running low on an item. Also that I can track how much time I'm spending on certain jobs over an extended period of time."

Jan 28

Five star program

"This is one of the most easiest CMM Systems I have used. With unbelievable response times to questions. The Limble staff is very helpful. With this system, our equipment downtime has been cut by 20%."

Sept 17

Great Product, Even better support!

"I started using Limble after trying out many other off the shelf CMMS software and I quickly fell in love with the ease of use, intuitiveness yet the power this tool provided me and my team. The ability to see automatically generated and customized reports meant that I could choose whether I wanted to see things at a micro level or a macro one, or both of them together."

Jul 10

Great user friendly product

"Love the fact that the product can be used on my phone, tablet, and laptop. It also has made several updates to make an even better product."

Jan 1

Limble CMMS is a great product and is very intuitive

"This CMMS checks many boxes for what we were looking for. Flexible. Mobile App for in the field use. Cost-Effective. Reporting. Great Dashboard. Great Support. Cloud Based. Cost-Effective."